Kristen Bjorn Exclusive Cut Spanish Gay Porn Star, Gabriel Lunna
Years Active: 2015
KRISTEN BJORN INFO:
Kristen Bjorn would like to introduce you to our newest Exclusive Model – Gabriel Lunna.
   Gabriel is from Spain, is 5'10", 185 lbs., 8.5" cut and is versatile. See Gabriel now in his first production with Antonio Miracle.
Nationality: Spain
Height: 5'10
Weight: 185 lbs
Dick: 8.5" (21.59 cms) cut
Position: Versatile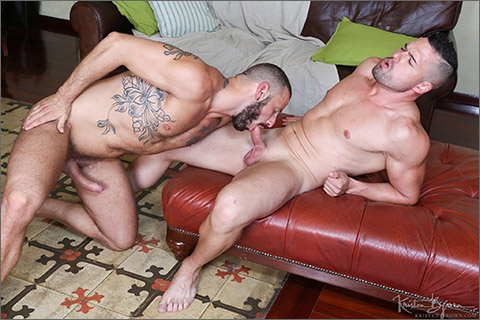 IN THE FLESH #2: GABRIEL LUNNA FUCKS ANTONIO MIRACLE
Antonio invites Gabriel to his apartment and the two men immediately begin stripping away their clothes and freeing their straining cocks. Both men are impressed with each other's cocks, Gabriel with his rock solid shaft and blossoming mushroom head and Antonio with his hooded, strong, cylinder rod. Antonio drops to his knees and takes in the full length of Gabriel's cock and encircles that mushroom head with his probing tongue. Gabriel then moves into position to show Antonio that he too loves to suck cock and is ready to swallow his massive cock and sky rocket him to the pleasure zone. Antonio is feeling so hot that he needs to feel that big head split his hole open. Gabriel drives his raw cock up and deep inside of Antonio's ass. Gabriel flips Antonio around and continues to plow his ass until Antonio blows his creamy load as Gabriel continues fucking him. Gabriel's cock has reached its full length and girth and is left with no other choice but to blow his load. Gabriel erupts a thick load of cum that drenches Antonio's ass and then penetrates Antonio's ass with his cum slicked cock.
CLICK HERE TO GO TO HIS KRISTEN BJORN DETAILS