Handsome Brazilian Gay Porn Daddy, Gabriel Fisk
Years Active: 2015 – 2016
TWITTER @GabrielFiskXXX
OTHER INFO:
2016: Husband of Russ Magnus
UK NAKED MEN INFO:
Gabriel is a sexy Brazilian – built like a bulldozer, and always ready for some uncut cock and bum fun. This heavy cummer is totally versatile and luvs having his big, meaty arse stretched as much as he luvs ploughing a hairy hunk.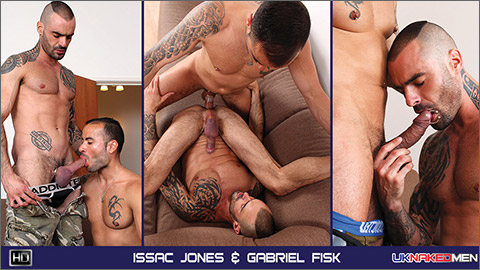 GABRIEL FISK FUCKS ISSAC JONES
Delicious Guapo – Gabriel Fisk, vs délicieuse 'Mec' Issac Jones, very passionate, very sticky, YUM! Gabriel is the sexy, estate agent, overfilling his tight trousers as he shows Issac around a city centre apartment, He's eager to sell and embarrassed when Issac finds a used condom (oops Logan Moore!) So eager-to-sell Gabriel had better make things up to his handsome client, and don't think he hasn't noticed the bulge in Issac's jeans. ( We luved shooting this "smart, formals guy and rough trade" series such a sexy combo) The guys get close and Gabriel slides down Issac's trousers to pay that long foreskin the attention it deserves, Issac's famously veiny cock is rigid in seconds, aroused by Gabriel's probing tongue pushing underneath his foreskin, rubbing the head of Issac's helmet. And surprisingly, one of our favourite tops is bottoming again, Issac's long, lean legs are up to expose his aching, twitching hole, Gabriel rubbers up and pushes the head of his girthy, uncircumcised dick to the warm, throbbing, wet hole of his bottom-boy's bum-hole…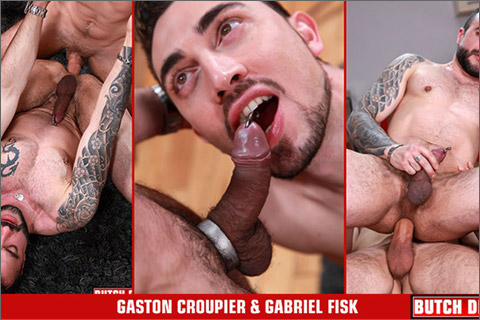 GASTON CROUPIER FUCKS GABRIEL FISK
Burly bugger – Gabriel Fisk VS Sexy, Italian hunk – Gaston Croupier. Oversexed Gaston is always ready for some raw piggery, and Gabriel is a very willing, pervy bottom with a ravenous fuck-hole. Gaston couldn't wait to show off his sub-daddy's arse hole, stretching wide before he ploughs it full of raw dick and cum. Gabriel luvs have his nipples sucked and flicked as he plays with his heavy, uncircumcised, pierced cock, ( thats quite a size of Prince Albert) as soon as Gabriel feels Gaston's gooey load squirting over his chest his cock explodes its hot load all over himself. Its a sticky one!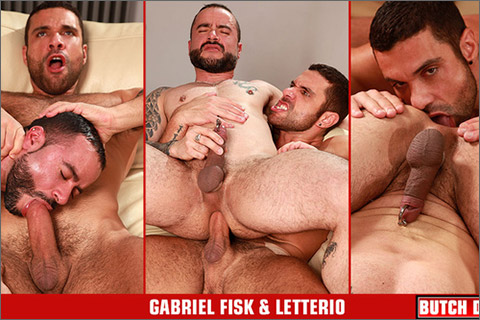 LETTERIO FUCKS GABRIEL FISK
Letterio's back and he's horny, we give him the run of the stable to satisfy his bareback cravings, this time he wanted a brand spanking new hole to ruin. Gabriel Fisk is a strapping Spanish guy with a broad, chest, VERY sensitive nipples, and heavy, dark, uncut cock and a 6mm Prince Albert. Letterio leads the way, taking his hunky partner in hand. Gabriel knows exactly what he's doing, he nurses on Letterio's big, uncut dick, as the hunky Italian flicks his nipples and eats out his chunky arse. Gabriel's crying out for that raw pole, bareback – deep inside him and he gets it good. Letterio fucks the eager muscle stud every which way, before unloading on and inside him.