William Higgins Czech Gay Porn Star, Filip Sebek
Known Aliases / aka:
Years Active: 2017 – 2018
WILLIAM HIGGINS INFO:
Model Name: Filip Sebek
Age: 21
Home Town: Teplice
Height: 177cm/5'9″
Weight: 69kg/151.8lb
Foot Size: EU43/US8.7/UK8.2
Penis Size: 17cm/6.69″
Profession/Student of: Waiter
Hobbies: Sport
Favorite Sports: Athletics
Active Sports: Soccer
Movie/Music/Sport Stars: Roman Vojtek
Visited Countries: France
Want to Visit Countries: Canada
Dream of My Life: I don't know.
Zodiac Sign: Scorpio (October 23 – November 21)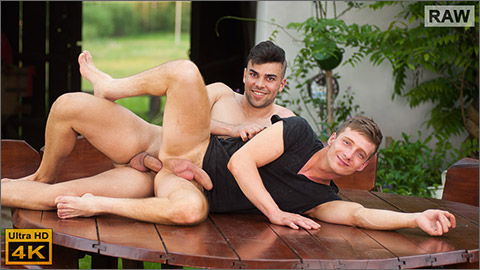 FULL CONTACT: FILIP SEBEK & PETR ZUSKA
Peter Zuska and Filip Sebek are just back from a trip, feeling tired, but enjoying the location. As they sit and have a drink of water their minds turn to other things with Peter rubbing his hands over Filip and kissing him. Filip responds to the kissing and Peter lays on the table. Filip releases Petr's stiff cock from his shorts and starts sucking on it. Petr's hand finds the back of Filip's bobbing head as the dick slides in and out of his mouth. Petr shoves his shorts down further so that he can spread his legs and Filip licks the tight balls before returing to sucking of the big, hard, cock. He licks up the shaft of the cock and sucks on it as Petr gently thrusts upwards. Petr then stands and pushes Filip down onto the table, so that he can suck him. His mouth finds Filips rock hard cock and he wucks and licks it. He sucks on the balls too as he enjoys the cock. He turns Filip around and bends him over the table, giving his ass a playful slap. Then he slides his throbbing cock deep into Filips waiting hole. The cock goes in deep and Petr starts to fuck hard, pounding the ass. He continues to spank the ass as he fucks, grabbing Filip by the hair too. PUlling is dick out of that hot ass he shoves it all the way back in and bangs away at the eager hole. Then he pulls out and Filip drops to his knees to suck on that big cock again. He sucks the dick and then the balls as well. Petr fucks his cock deep into FIlip's mouth. Then Filip lays ont eh table again, on his side, and Petr's dick goes back into his hot hole. Petr fucks him in a spoon position, slamming his dick in as hard as he can. He really pounds the hole as Filip grabs his own throbbing cock and wanks it hard. The wanking quickly causes Filip to cum as Petr's dick is slamming his ass. Petr keeps fucks as hard as he can then suddenly pulls out to shove his dick back into FIlips mouth. Then he wanks himself as Filip licks and sucks the balls. He takes the cock back into his mouth and sucks it. Petr wanks himself and shoots his sticky cum over Filip's face. Then Filip licks his lips to taste the cum and he takes the sticky cock into his mouth again to clean it off.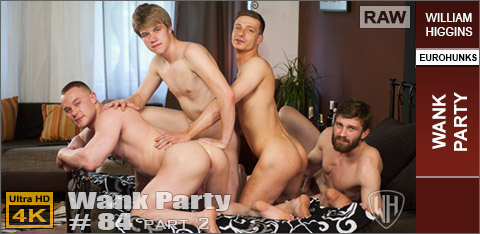 WANK PARTY #84
Nikol Monak, Jan Bavor, Ivan Sabada and Filip Sebek star in Wank Party #84. In this first part we join Ivan and Filip as they lay on the bed chatting. That leads to kissing as Ivan gropes Filip's cock which seems hard under the covers. Filip also reaches for Ivan's bulging underwear and then the phone rings and he answers it, saying that he needs 30 minutes. They return to their kissing and Filip climbs on top of Ivan. He kisses his way down Ivan's body and is soon sucking on his hard cock. As Filip's head bobs up and down on the stiff cock Ivan says he wants to suck too. So Filip moves to 69 with him. They both suck the stiff dicks. As they continue sucking Nikol and Jan arrive complaining that they have been waiting. They quickly get bare-chested and join in with the hot fun. They kiss the guys and then get naked so that Filip can suck Nikol's throbbing cock as Ivan gets to work on Jan's. Then Ivan moves over to join Filip in licking and suck Nikol as Jan works on Filips stiff cock. After sucking a while Nikol says he wants to fuck, as part one comes to an end.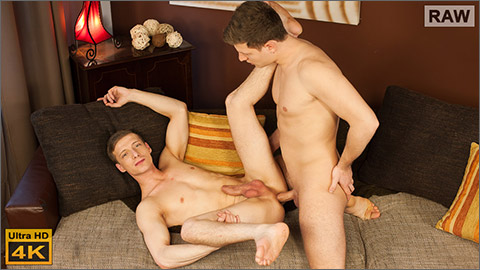 CHERRY BUSTING: FILIP SEBEK & ROSTA BENECKY
Filip Sebek is in for a a hot Cherry Busting by Rosta Benecky. He sits on the sofa and chats with Rosta about his experiences. Rosta quickly moves things along by kissing Filip. He runs his hands over Filip as they kiss. Then Filip's tee shirt is removed and Rosta's pants are opened to release his massive cock. Filip shows that he is keen by going down on the big cock and sucking it. He does a great job, his lips wrapping tight around the dick as it fucks into his mouth. Then Rosta returns the favor, sucking on Filips cock and getting it nice and hard. He wanks himself as he sucks the cock. Rosta gets naked and Filip takes another turn on his big cock. Then he turns over, onto his knees, with his ass bared. Rosta rims the hot ass and wanks on Filip cock. He then suggests fucking and Filip agrees, though says to be gentle as Rosta's cock is so large. He lays on his back with his legs up for Rosta to slide that massive pole into his ass. The cock works its' way into the hot ass, going in deep. Rosta fucks the tight ass, gently at first. Then the fucking speeds up as Rosta really pounds Filips hole. Filip grabs his own cock and wanks it as Rosta keeps up his fucking. Filip takes the cock so well and keeps wanking himself until his cum shoots all over his hot body. Rosta continues to fuck him until he is ready to cum too. Then he pulls out to dump his hot cum onto Filip's cock and balls. He milks his cock dry and then leans over to kiss Filip again after a great scene.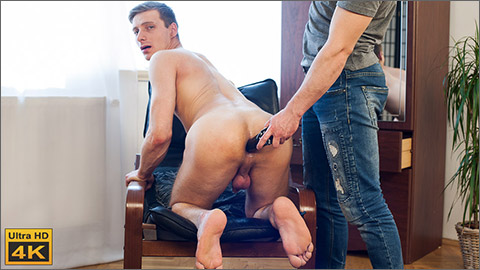 HOT ASS: FILIP SEBEK
Filip Sebek is a very hot guy. He looks great in this hot ass scene as he sits in the chair rubbing his crotch and chest. A helping hand joins him and pulls off Filip's tee shirt, running his hands over the sexy chest. Filip's jeans are then opened and removed and he gropes himself as the hands explore his sexy body. Then the hands rub the underwear and pulls it aside to rub Filip's balls. The underwear is then removed, freeing Filip's cock and balls and the hands go back to rubbing them. Some oil is dripped onto the cock and then gently rubbed all over it. The cock begins to grow as it is gently wanked. As it gets nice and hard Filips legs are raised to show of his hot hole. He wanks his cock as a finger probes and then slides deep into the hole. It fucks that hot ass hole nice and deep. Then two fingers slide all the way inside, opening the hole nicely. Filip continues wanking himself as a dildo is pushed into his tight hole. It is soon replaced by a fatter one that fucks the ass so deep. When it comes out the hole stays open a while. Then the dildo goes back to fuck some more. The hot ass gets fucked deep and hard and then opens wide as the toy comes out and the ass is spread. The dildo is rammed back into the eager hole and really pounds it, fucking deep and hard. When it comes out Filip slides a finger into the hole before a massive, black, butt plug appears. That is pushed against the hot ass hole and slides all the way inside, stretching it wide. Then it comes out and the hole is examined again as it opens up. The plug goes in again and slowly is pulled out, showing how wide the hole gets stretched. It fucks his ass, going in and out, really working that hole. Filip moves onto his knees, presenting that ass for more. The plug is moved up to the hole again and slides in, fucking that hot ass deep again. Filip then lays back in the chair, legs up and wanks himself. As he wanks a toy works his hole some more. He keeps wanking his stiff cock as his ass gets fucked hard. Then his cock delivers the creamy cum onto his belly as his hole continues to take the toy deep inside.
CLICK HERE TO GO TO HIS WILLIAM HIGGINS BIO PAGE
CLICK HERE TO GO TO HIS STR8HELL BIO PAGE