European Gay Porn Star, Fernand Dutch
Known Aliases:
Years Active: 2013 – 2014

SERGIO MORENO FUCKS FERNAND DUTCH
Catching up with two friends by the canal, Jack knows some serious hotties, and muscled men Sergio, dark hair and beard, with shaven headed stud Fernand make a damn hot pair of fuckers we can't wait to see getting down and dirty in their apartment! With some proper intense armpit licking, lapping up the sweat of the day from each other before moving to Fernand's smooth butt which takes a lick then instantly 3 fingers from Sergio, we can already tell who the bottom is going to be! The tattooed hunk with inked script all over his heaving body is a real top fucker with an appetite to match his throbbing dick! Teased with heavy fingering, Fernand's gaping ass is almost begging for more, and gets Sergio's dick finally pushed deep inside him doggy style, letting us take in his own inked body whilst also getting the pleasure of Sergio's dick working in and out of him until he shoots his load and Sergio flossing his fuck buddy's face and chest with sprays of spunk!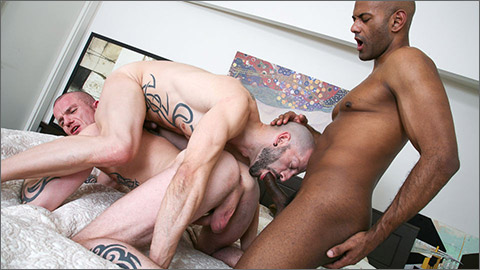 MADRID STORIES – BLIND SEX: Rainer, William Bravo DP Fernand Dutch
Fernand is out cruising on the street when William passes by and catches his attention. Fernand invites William over, but before they get wild Fernand goes into the bedroom and tells his lover Rainer that he has a surprise for him. He covers Rainer's eyes and William steps up and shoves his massive black cock into Rainer's mouth. Rainer is pleased with this surprise and engulfs this huge cock with his lips and swallows hard. Fernand and Rainer lay head to head on the bed and William begins to face fuck both of the guys mouths. William flips Fernand over and presses his huge knob against his tight pink hole. Rainer generously spits on William's long shaft and Fernand's ass to keep him well lubed for the onslaught of the enormous shaft driving deep inside his ass. Rainer continues to keep both hot hole and mammoth shaft well lubed with William pulling out completely so that Rainer can suck on his cock and keep it fully lubed. Fernand then flips over and postures himself over William's throbbing cock while Rainer comes in from behind and rams his hard cock in Fernand's ass as well. William and Rainer thrust their raw cocks deep into Fernand and give him a chocolate and vanilla raw double penetration. William loves the feeling of Rainer's rock hard cock massaging his cock inside of Fernand. William blasts his milky load deep inside of Fernand and Rainer sprays his white ass with his thick globs of cum.
ALPHAMALE MEDIA
CAZZO FILM BERLIN
KRISTEN BJORN