Mormon Boyz Blond Big Dick Twink, Kyle Evans / Elder Stewart
Known Aliases: Kyle Evans, Elder Stewart
Years Active: 2014 – 2015
TWITTER
GUYS IN SWEATPANTS INFO:
5'10"
135 lbs.
8″ cut
Hey guys, I'm Kyle! I was born and raised in Nebraska. I'm pretty simple when it comes to being entertained- just hanging around with my good friends doing nothing at all can keep me entertained for days. I play the occasional video game, but really prefer being active, like swimming, biking, running…stuff like that. I'm a small guy, but I have a huge dick. I'm not completely against using it, but I really prefer to bottom. Who doesn't like a great bottom with a big dick to hold onto while they fuck?? I really don't like clothes, which I've found to be a good thing in this industry. Half or fully naked selfies are my forte!
MORMON BOYZ INFO:
Age 18
Height 5′ 10″
Cock XL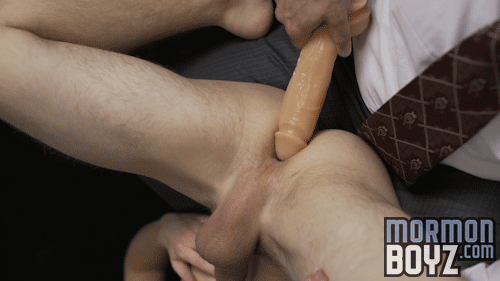 DISCIPLINARY ACTION: ELDER STEWART
All young mormon men who enter into the order are subjected to corporal punishment to atone for any past transgressions that are not in line with the standards of the order. This is also called, "Mandated Disciplinary Action."
   By the time a young Mormon man is old enough to be a missionary, even the purest of them has committed more transgressions than he can possibly remember. Every lustful thought, every lingering glance at a naked guy in the locker room, every sexual fantasy is considered a "sin."
   And then on top of the evil thoughts, there are all the sinful acts: every time he masturbates, every time he looks at porn, and (for many, if not all Mormon missionaries) every covert sexual encounter with another boy.
   These are acts so sinful that they must be confessed to a priesthood authority before a boy can serve a mission. And it is up to the discretion of that particular priesthood leader how to proceed.
   Priesthood leaders are encouraged to ask for as many humiliating details as possible. And many priesthood leaders who oversee them go a step further and demand that the anxious young men demonstrate their transgressions.
   But many of these boys have committed so many sexual sins that they can't remember and therefore can't repent for all of them. And then there are all the times the missionaries break the law of chastity while on their missions.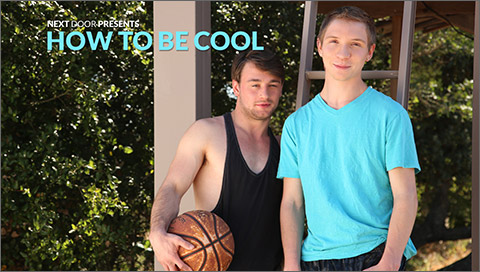 HOW TO BE COOL
Kyle Evans is the new boy in town. He's been too shy so far to introduce himself to other guys he's seen, especially Scott Harbor. Scott is the hot boy who's a whiz on the basketball court. Kyle heard Scott was on the Senior Varsity team at his school and is probably the coolest guy alive. When Kyle finds himself at the park with Scott, things get very interesting.As Scott shoots hoops by himself on the court, Kyle looks on from a tire swing. Kyle admires Scott's meat, bouncing all around underneath the thin layer of his gym shorts. When Scott notices Kyle checking out his junk, he does a very conspicuous 'readjust' and gives Kyle a wink.
   This made Kyle so nervous, he thought his heart would pump right out of his chest! Then Scott actually came over and introduced himself. Kyle could hardly look him in the eye. He told Scott he was new in the area and Scott seemed to have a wonderful idea. He lead Kyle over to an old barn nearby and took him around the back. When they were out of plain sight, Scott told Kyle that he wanted him to suck his dick. Kyle couldn't believe what he was hearing. His first instinct was to bolt. But he knew how much he would regret it, even if it meant pushing past his nerves.
   Scott saw how freaked Kyle was, so he did his best to talk calm him down. Scott asked if he was a virgin, and Kyle replied that he was. This made Scott ecstatic, and finally Kyle went to his knees, pulled down those gym shorts and took Scott's hardening cock into his mouth.
   He sucked, just like he had seen done in dirty movies. Scott threw his head back and smiled, enjoying the virgin lips pleasuring his thick muscle.
   Scott pulled Kyle to his feet, spun him around, and pulled his pants down. 'You won't be needing these,' he said to Kyle with a grin. Scott spread Kyle's ass cheeks apart and tasted his sweet, tender hole. It felt so good, Kyle thought his dick might burst right then! But it didn't, and Scott began sucking Kyle from behind.
   After some of this, Scott stood up and slid his pulsating erection into Kyle's ass. It felt even bigger than it looked. Kyle couldn't believe he was losing his virginity to SCOTT HARBOR! This was his ultimate fantasy.
   Join them both behind the old barn and find out what it's like to fuck the hottest guy in town, and what it takes to be cool.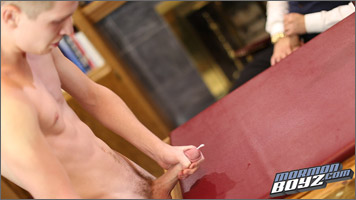 ELDER STEWART AND BROTHER CLARK IN THE BISHOP'S OFFICE WITH ANGEL THE INVESTIGATOR
Last month Bishop Angus was traveling with several area authorities to meet with potential missionary inductees. Brother Clark has been the presiding authority in the Bishop's absence. And he's had his eye on the missionaries in his ward. Specifically, the young Elder Stewart. The first opportunity he had, he called Elder Stewart to meet with him in the Bishop's office. Not knowing what to expect, Stewart walked into the office to see that Angel was already there. Terrified, he entered. And right off the bat Brother Clark asks Angel how many times he had sex with Elder Stewart. The boy sat quietly and waited for judgment.
   Angel looks at Elder Steward and says matter-of-factly, they had sex more times than he can count on his two hands. From the look on his face, it is clear that Elder Stewart is worried that his naughty behavior will get him sent home.
   He is forced to wait in silence as his anxiety builds. But the punishment Brother Clark has in store is more of a reward. The boy is extended an offer to be inducted into the priesthood.
   Filled with surprise and shock Elder Stewart knows all he must do now is follow every command Brother Clark gives him. In this case, even if it means having sex right in front of his priesthood leader while he sits and watches in this office.
   Elder Stewart is instructed to remove his clothes. Brother Clark molests his tight teenage body and makes him slowly stroke his impressively large dick. All the while, Angel watches and strokes his massive rod.
   This story has a happy ending. Elder Stewart and Angel bust their swollen nuts all over the bishop's desk. Brother Clark wipes cum on Elder Stewart's face. His induction has begun and will culminate several weeks later with a spectacular ordination.
Suggested Keywords:
missionary gay porn, gay mormon missionaries, gay mormon, mormonboyz, gay mormon bishop, huge mormon dick, elder stewart, mormon boy angel, jerk off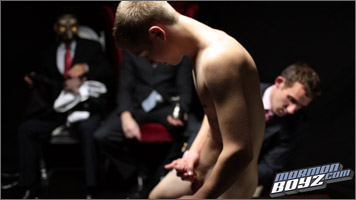 ELDER STEWART PRIESTHOOD PREP PART 2
ELDER STEWART PRIESTHOOD PREP PART 1
ELDER STEWART & PATRIARCH SMITH: INITIATION
ELDER STEWART AND BROTHER CLARK IN THE BISHOP'S OFFICE WITH ANGEL THE INVESTIGATOR
ELDER BERRY & ELDER STEWART
ELDER STEWART, ANGEL & BROTHER CLARK
ELDER BERRY & ELDER STEWART: THIRD DISCUSSION
ELDER BERRY & ELDER STEWART
EPISODE 121: ELDER BERRY & ELDER STEWART WAYFARING MAN
   GUYS IN SWEATPANTS
   MORMON BOYZ
   JASON SPARKS LIVE
   CLICK HERE TO GO TO HIS MORMON BOYZ DETAILS