MormonBoyz, Elder Sorensen
Known Aliases: Peter Pounder
Years Active: 2015 – 2016
TWITTER @peter_pounder
MORMONBOYZ INFO:
Elder Sorensen is one of the hottest young men The Order has ever scouted, and they have great plans for him.
   And for any boy who desires to receive the higher priesthood, he must prove himself worthy to enter into the covenants necessary to join The Order.
   Elder Sorensen has demonstrated that he is in perfect physical condition, he is good natured, he is highly affectionate toward his priesthood brethren, and he is completely obedient to authority. Thus he has been invited undergo the initiation rituals that assess a boy's candidacy for Ordination.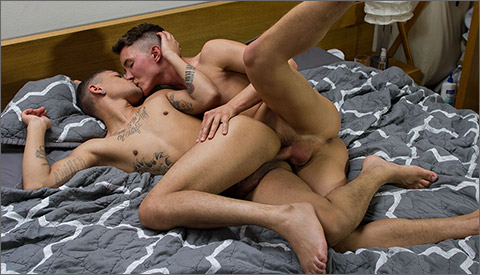 WELCOMING PETER
Peter is a very curious guy — especially when it comes to sex. He's new to exploring gay sex, but says he's really enjoying it. He also really enjoys being aggressive in bed, so it only made sense to let him have his way with one of our most insatiable bottoms, Elliott Blue. Their sexual chemistry was fucking insane, which was obvious as they ravaged each other all over the bed. Between the constant kissing, rimming, raw fucking, and Peter fucking the cum out of Elliott at the end, I don't know what was hotter. Peter blew his load all over Elliott's hole, and then worked the cum in with his still fingers and still throbbing cock. If you like watching boys shower and fucking, watch until the end!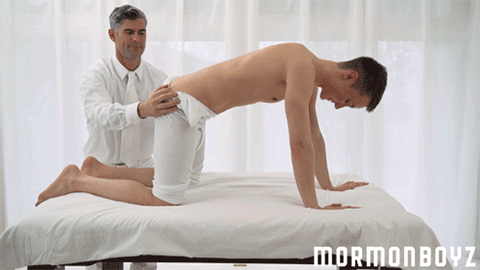 THE INITIATION OF ELDER SORENSEN:
CHAPTER 12 – SECOND ANOINTING
All the attention Elder Sorensen has received since he arrived in the mission has made him a little cocky.
   Boys and men alike have fallen for his cute face, lean body and confident attitude.
   One after another they've spread their legs for the handsome boy, who has taken every opportunity to slide his hard cock into their willing holes and screw those lucky companions hard and fast.
   But in all of his interactions with other Mormon boys and with the men of The Order, Elder Sorensen has never let anyone fuck him.
   He's been too proud to surrender his hole to anyone, and also nervous about how it will feel.
   Even letting others just touch or lick his hole has meant giving up control, which is hard for the missionary boy…

THE INITIATION OF ELDER SORENSEN:
CHAPTER 14 – EVALUATION
For Mormon boys like Elder Sorensen, a full-time mission is the time to learn to be men. Fresh out of high school, it's their first experience of living on their own.
   After a tearful goodbye to their families, they find themselves in a new place living with other young boys and obeying a set of very strict rules.
   These rules teach the boys things they will need to know for the rest of their working lives. They learn to wake up early and work hard, to shave every day, to tie their neckties and polish their dress shoes.
   But important as these things are, they are only the superficial lessons a Mormon boy learns as a missionary.
   More important are the ways in which he develops his character, learning the value of obedience, service, and brotherhood….
CLICK HERE TO GO TO HIS MORMONBOYZ DETAILS