MormonBoyz, Elder Kensington
Known Aliases:
Years Active: 2014 – 2015
MORMON BOYZ INFO:
Age 18
Height 5′ 10″
Cock XL & Talented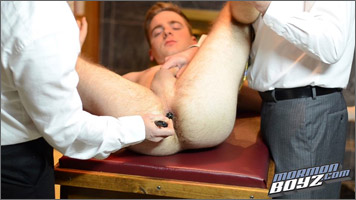 EVALUATION: ELDER KENSINGTON
As part of his evaluation, Elder Kensington's balls were shaved.
   Many Mormons point to studies comparing the sperm counts in men who wear loose fitting underwear to the sperm counts in men who wear tight underwear. The higher sperm count of their men is evidence of the divine nature of the Mormon temple garment.
   The looser the fit, the more control the scrotum has in naturally maintaining the perfect temperature for sperm to grow and flourish, increasing stamina needed to be a worthy priesthood holder.
   True to Mormon tradition, the brethren are also obsessed with sperm count.
   During Elder Kensington's evaluation, Bishop Angus grew concerned about the matte of hair covering the young Elder's balls, wondering if it might have the same effect on the boys testicles that a pouch on a pair of briefs would.
   With this, the Bishop felt that it was in the boy's best interest–as well as in the best interest of the priesthood body as a whole–to shave the missionary's ballsack and shaft.
   But there wasn't any concern with the hair on the boys ass, and Bishop Angus wasted no time in lapping his tongue all over and inside Elder Kensington's hairy hole.
   This led to the Bishop inserting larger and larger things inside Elder Kensington. Of course this was all to evaluate just how much the boy could take, readying him for a more thorough inspection from the Bishop himself.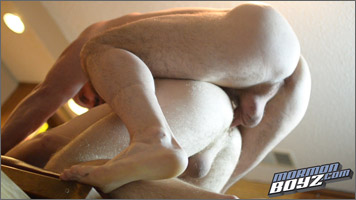 EPISODE 108: ELDER KENSINGTON INSPECTION
EPISODE 110: ELDER HADDOCK & ELDER KENSINGTON WORKOVER
EVALUATION: ELDER KENSINGTON
ELDER KENSINGTON & ELDER MILLER – COMPANIONSHIP INVENTORY
   CLICK HERE TO GO TO HIS MORMON BOYZ DETAILS