MormonBoyz, Elder Foster
Known Aliases: Daniel (Roped Studs)
Years Active: 2015
MORMON BOYZ INFO:
Age 18
Height 5′ 10″
Cock Large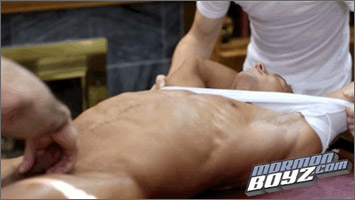 ELDERS FOSTER, MILLER & BISHOP ANGUS
Elder Miller has seen Elder Foster naked, tasted his leaky cock, and had him fuck the cum out of him. He knows that this good-looking Mormon boy is gay. If Elder Foster is only attracted to men, he'll be a great candidate for the higher order of the priesthood.
   On his recommendation, Bishop Angus calls the two boys in for an interview, and a thorough inspection. Elder Foster is nervous and excited. Elder Miller has prepared him by explaining that joining the order is a great privilege extended only to the hottest Mormon boys, and by telling him not to masturbate for a few days before the interview so that he'll have a nice big load of cum for the bishop.
   Bishop Angus is even more attractive than the young missionary imagined he would be. He is just the kind of older priesthood leader that Elder Foster used to fantasize about. But he had always been too embarrassed about his daddy son fantasies to act on his impulses as an adolescent.
   He can tell that the man has a huge dick and he wonders if he'll get to see it. He doesn't have to wait long to find out. The bishop stands him up and starts to undress him. Once he has the boy stripped to his tight-fitting underwear, he tells Elder Miller "You did good work! This one's really sexy."
   Standing there in his garments is making Elder Foster's dick hard. After he helps the bishop out of his clothes, the bishop makes him undress Elder Miller. Having already fucked this stud, he knows the hot body that's waiting for him. Once Elder Miller is completely naked, the bishop bends him over his desk and spreads his ass.
ELDER FOSTER & ELDER PETERSON 2
ELDERS FOSTER, MILLER & BISHOP ANGUS 2
ELDERS FOSTER, MILLER & BISHOP ANGUS
ELDER FOSTER & ELDER MILLER
MORMON BOYZ
KENNETH BENJAMIN'S DREAM BOY BONDAGE
KENNETH BENJAMIN'S ROPED STUDS