Staxus Czech Twink Gay Porn Star, Edward Fox
Known Aliases: Jirka Syty
Years Active: 2014 – 2015
STAXUS INFO:
This horny young fucker is a bit of an "adrenaline junkie" on the quiet – a lad who thinks nothing of tackling white-water rapids or plunging out of an aeroplane at 3000 metres! He's currently saving to go to Africa to climb Mount Kilimanjaro.
Date of birth: 2nd October 1995
Height: 5′ 11″ / 180 cms
Cock size: 7.5″ / 18.5 cms
Ethnicity: Czech
Role: Versatile
Interesting Fact:
Edward loves the outdoors and is never happy then when he's walking out in the Ore Mountains near to where he lives.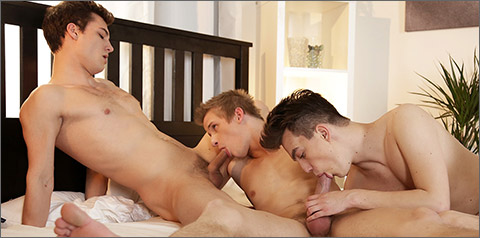 CUM WITH ME!: DIRTY BLOND GETS BLINDFOLDED, RIMMED & SPIT-ROASTED BY MATES!
Edward Fox and Troy Vara are clearly in the mood for a little bit of kinky fun with their sleepy fuck-buddy, Tom Nutt – bounding onto his bed, blindfolding the fellow and playing that age-old game of "guess whose cock you're sucking"! Any pretence of disinterest on Nutt's part, however, is undermined by the fact that the young blond has a hard-on in his pants like a fucking tent. Indeed, both Fox and Vara seem to understand that their pal is well up for action; and it's no more than a minute or two before Nutt has removed the blindfold and is very eagerly devouring every meaty, uncut inch that his mates are able to thrust in his direction!
   What's more, it doesn't seem to take all that long before the fellow has positioned himself on the bed with his legs almost wrapped behind his ears, so that Fox and Vara can take turns to rim his gaping ass-hole. Clearly this is a boy with a whole lot of sex on his mind; and it seems to come as almost something of a relief when Vara finally plunges his joystick into the fellow's hungry pucker, still jutting proudly into the air in a very open invitation to his over-sexed pals.
   No question about it, Vara takes full advantage, mercilessly pummelling the kid's man-cunt to full effect; whilst Fox takes a somewhat more gentile approach, allowing Nutt to ride his dick cowboy-style – a method that Vara himself replicates shortly afterwards. Not that Nutt seems the kind of boy to care how he's being fucked – so long as he is! – and the copious stream of jizz that he takes full-on in the face only underlines his total-slut credentials!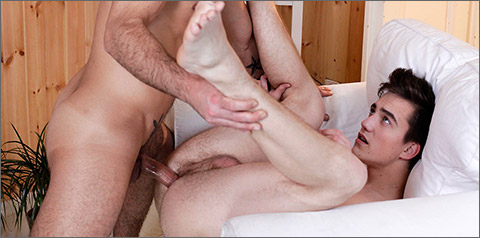 USE ME!: COCK-HUNGRY PUP GETS HIS HOLES PLUGGED BY SMOKING HOT STUD!
So okay, he's maybe a little older than most of us have come to expect from STAXUS guys, but there's still something wonderfully sexy about Alejandro Alvarez – not least of all when he's brooding manfully with a cigarette, as is the case here in the opening moments of this terrific pairing with Edward Fox. Mind, the young pizza-boy isn't too bad at blowing smoke, it has to be said; although (as very quickly becomes apparent) it's blowing of a very different kind that's soon concentrating the minds of both these over-sexed buggers.
   Indeed, given the manner with which they take it in turns to slurp on cock like it's going out of fashion, it's pretty fucking clear that these lads won't be content until they've had the chance to bang each other senseless; with Fox soon presenting his ass to his buddy with an air of near-desperation, his legs spread akimbo so that the older fellow can tongue his gaping fuck-hole to ecstasy. An invitation that the Spaniard accepts with no hint of restraint; before first fingering and then finally fucking the youngster's pucker to seal the deal.
   By this point, of course, there's every good chance that you'll be so lost in your own little world of tight-fisted pleasure that you'll be edging dangerously towards a premature jerk-off; but hang on in there as Alvarez gives the young pup the fuck of his life, hammering into the lad for all he's fucking worth. It's little wonder that Fox is quite literally soon spurting like a fountain; with the Spanish stud giving an equally ferocious cascade, before burying his spent shaft deep into the lad's jizzed-up little hole!
CLICK HERE TO GO TO HIS STAXUS DETAILS
EROTIC SOLO: JIRKA SYTY
WANK PARTY 2015 RAW #1
MASSAGE: JIRKA SYTY