Titan Men Exclusive American Gay Porn Star, Eddy Ceetee
Years Active: 2015
TWITTER @eddyceetee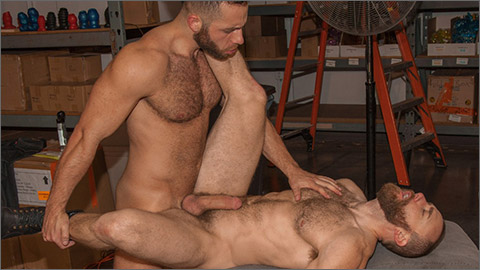 BLUE COLLAR BALLERS: EDDY CEETEE FUCKS NICK PRESCOTT
Taking a break in the warehouse, Nick Prescott and Eddy Ceetee brush their beards together as they kiss—their hands roaming each other's bodies. Nick licks Eddy's stomach, teasing the stud's cock out of his jockstrap. He sucks him before they switch, Eddy gulping up Nick's massive boner. Nick grips Eddy's head and face fucks him, whipping his dick on the sucker's mouth as spit falls to the floor. Muscles clench all over Nick's chiseled body, a long shot capturing it in all its glory. He spits in Eddy's mouth, soon sucking his big cock again. Nick deep throats him, the sucker's steel shaft throbbing. He forcefully spits on Eddy's rod repeatedly, then offers his ass. Eddy gets the hairy hole wet, Nick's dick then bouncing as he gets rammed from behind—his muscles tight as he grips a barrel for support. Nick gets pinned to the floor, Eddy fucking him hands free in a hot sequence before turning the bottom over—Nick's hairy groin soon soaked.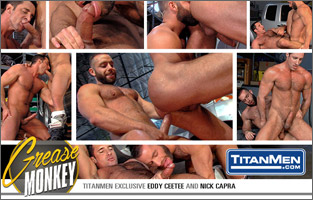 GREASE MONKEY
SCENE 1: Eddy Ceetee with Nick Capra
Perched under a pickup truck in his shop, mechanic Nick Capra grabs his own bulge…getting the attention of beefy Eddy Ceetee, who bends down to start rubbing the stud's crotch. "You look like you like that," he says, Nick's initial apprehension quickly turning to curiosity ("Maybe I do…"). Eddy unclips the hunk's overalls and rubs his hairy muscle chest, then takes out Nick's big dick and strokes it. He soon has the thick shaft in his mouth, Nick getting more verbal with each slurp: "Wrap those lips around it! Wax that fat cock!" Nick sucks back, his own cock throbbing as he plants his noise in Eddy's pubes. "Take the whole thing…all the way!" instructs Eddy as Nick gulps it up. The two kiss, their cocks grinding together, before Nick bends over the hood to get his ass eaten ("Open up that hole!"). Eddy fucks him from behind, yelling "Back up on it!" as Nick moans. "Put it back in!" yells Nick as Eddy slides out. "Fuck! You're making my dick drip!" Eddy's pecs shake as he fucks hard and fast, Nick then sitting down on him—his own boner bobbing as Eddy grips his waist. On his back, Nick gets slammed some more before the two squirt on him.