Titan Men Exclusive American Gay Porn Star, Eddy Ceetee
Years Active: 2015 – 2017
TWITTER @eddyceetee
TITAN MEN INFO:
Age: 25
Height: 5'9″
Penis Length: 7″ Cut
Bio: I would describe myself as a home-body; even though my career is focused more around being in the nightlife and in the gay scene, i take a lot of time off just to relax at home. i feel like it's the only way to maintain my sanity.
Turn-ons: Personally I love myself hairy and there's nothing hotter to me than a beefy man with a hairy chest but i have also been very attracted to smooth guys my main thing is I love beef! hahah.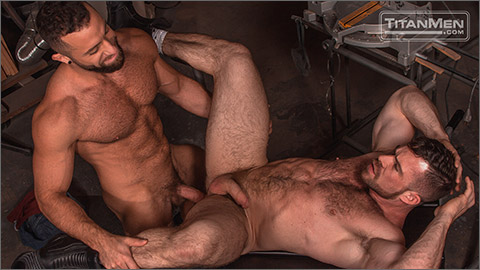 SLING: Eddy CeeTee & Liam Knox flip-fuck
Store manager Eddy CeeTee heads to the factory to check out hot new designer Liam Knox who shows off a new fuck bench, hopping on to test it out. Eddy grinds his bulge against Liam's ass: "Looks good. How does it feel?" They rub each other's buff bodies and take off their tanks, kissing as their hairy pecs meet. Eddy releases Liam's cock, sucking the moaner deep. He gets pulled up for a kiss before Liam returns the favor grunting as he swallows Eddy's thick beauty ("Play with my balls!"). Liam bends over, offering his furry hole for Eddy's tongue ("Arch that ass up!"). Eddy pounds the verbal bottom from behind, Liam's tight ass rippling ("Gimmie that fucking dick!"). Liam turns over, his hard cock bouncing as Eddy fucks him fast. Eddy then offers his ass in the sling, gripping onto the chain as he gets owned ("You like that dick?"). The excited stud gets on his back, yelling "Keep fucking me! Fuck me hard!" as he strokes out his load, his sac sliding against Liam's hairy groin. Liam then dumps his hot load all over the bottom's cock.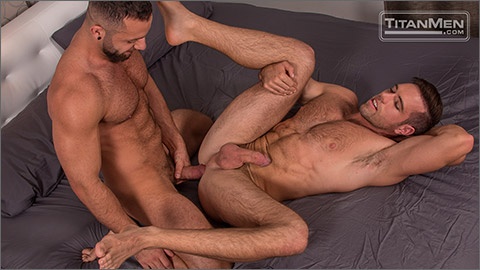 TAXXX: Eddy CeeTee fucks Alex Mecum
"These taxes are driving me crazy!" complains Alex Mecum as Eddy CeeTee rubs his shoulders. "Taxes are hard." Responds Eddy: "So am I." He swivels Alex around for a kiss, Alex wrapping his legs around the beefy bod. Eddy kisses Alex's chiseled frame, a big smile spreading across his face as he lands on the jock's sizable boner. He takes it balls deep, Alex fucking his face. Alex slurps the verbal gym stud back, Eddy reaching down to spread and smack the jock's ass. Alex licks his lover's feet ("Nice and sweaty!"), Eddy rubbing them on his back as he strokes. Eddy returns the favor, sucking Alex's toes before getting his face fucked. He rams Alex from behind, the bottom gripping the sheets as his red-hot cock bounces: "I like feeling that dick slide in and out of me!" Eddy turns him over, yelling "Take that dick!" as he spreads Alex's legs and pounds like crazy—the bottom's pecs shaking. Eddy jacks a big load out of Alex as he fucks him, then unleashes a stream: "I caught some of that," says the smiling bottom as they kiss. "I can taste it!"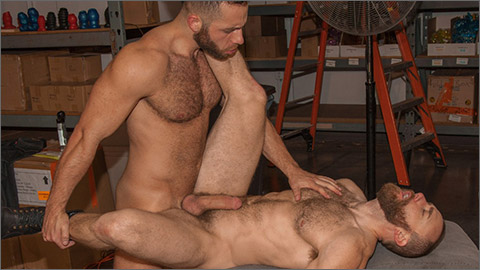 BLUE COLLAR BALLERS: EDDY CEETEE FUCKS NICK PRESCOTT
Taking a break in the warehouse, Nick Prescott and Eddy Ceetee brush their beards together as they kiss—their hands roaming each other's bodies. Nick licks Eddy's stomach, teasing the stud's cock out of his jockstrap. He sucks him before they switch, Eddy gulping up Nick's massive boner. Nick grips Eddy's head and face fucks him, whipping his dick on the sucker's mouth as spit falls to the floor. Muscles clench all over Nick's chiseled body, a long shot capturing it in all its glory. He spits in Eddy's mouth, soon sucking his big cock again. Nick deep throats him, the sucker's steel shaft throbbing. He forcefully spits on Eddy's rod repeatedly, then offers his ass. Eddy gets the hairy hole wet, Nick's dick then bouncing as he gets rammed from behind—his muscles tight as he grips a barrel for support. Nick gets pinned to the floor, Eddy fucking him hands free in a hot sequence before turning the bottom over—Nick's hairy groin soon soaked.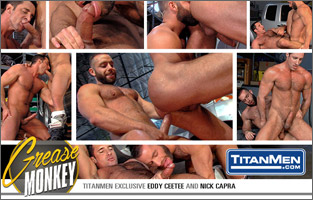 GREASE MONKEY
SCENE 1: Eddy Ceetee with Nick Capra
Perched under a pickup truck in his shop, mechanic Nick Capra grabs his own bulge…getting the attention of beefy Eddy Ceetee, who bends down to start rubbing the stud's crotch. "You look like you like that," he says, Nick's initial apprehension quickly turning to curiosity ("Maybe I do…"). Eddy unclips the hunk's overalls and rubs his hairy muscle chest, then takes out Nick's big dick and strokes it. He soon has the thick shaft in his mouth, Nick getting more verbal with each slurp: "Wrap those lips around it! Wax that fat cock!" Nick sucks back, his own cock throbbing as he plants his noise in Eddy's pubes. "Take the whole thing…all the way!" instructs Eddy as Nick gulps it up. The two kiss, their cocks grinding together, before Nick bends over the hood to get his ass eaten ("Open up that hole!"). Eddy fucks him from behind, yelling "Back up on it!" as Nick moans. "Put it back in!" yells Nick as Eddy slides out. "Fuck! You're making my dick drip!" Eddy's pecs shake as he fucks hard and fast, Nick then sitting down on him—his own boner bobbing as Eddy grips his waist. On his back, Nick gets slammed some more before the two squirt on him.
VIDEO ON-DEMAND: Eddy CeeTee @ AEBN SMUTJUNKIES THEATER
DVDs & ON-DEMAND: Eddy CeeTee @ TLA VIDEO