Tattooed Hung Hunk American Gay Porn Star, Dylan James
Known Aliases: Micah Alexis (Legend Men)
Years Active: 2013 – 2017
TWITTER @XXXDylanJames
LUCAS ENTERTAINMENT INFO:
Height: 5'9
Weight: 185 lbs
Dick Size: 9″
Position: Versatile
There hasn't been a Lucas Entertainment exclusive model like Dylan James in years: his handsome face, jacked body, nine-inch cock, and warm personality all contributed to the studio signing him as quickly as possible. It wasn't until later in Dylan's life that he came to the realization that he's gay, loves having sex with men, and wants to pursue a career as a model in the adult entertainment industry. Dylan's intricately beautiful tattoos run along his neck, chest, shoulders, and arms — the body art accents his natural good looks. Dylan is also completely versatile, enjoying topping as much as bottoming!
GUYS IN SWEATPANTS INFO:
5′ 9″
190lbs
9″ cut
What's up guys!! I'm Dylan. I live in SoCal, or the "best coast" as some people say. I'd have to agree though. My line of work has me outside A LOT, so I couldn't ask for better weather year round! When I'm not working, I spend most of my free time (which isn't much) either sleeping or at the gym. I'm bisexual, so I love men and women just as much. I have a huge cock and love to use it, but I may enjoy getting fucked just as much 😉 I hope you enjoy my videos on here, also my cam shows every week!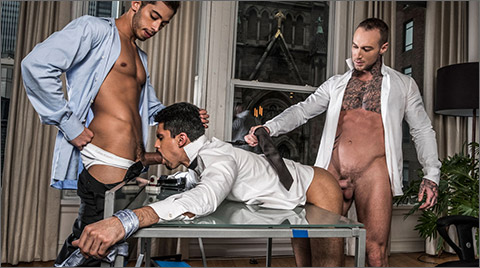 GENTLEMEN 20 – INSIDE TRADE: Dylan James And Drae Axtell Double Team Lee Santino
Lee Santino is doing exactly what you should never do while at work: watch porn at his desk. His colleagues Dylan James and Drae Axtell catch him — but hey, if Lee is horny at the office and if no one else is around, why not answer his needs' Rules and norms be damned: Dylan James and Drae Axtell both take turns on Lee Santino's mouth and ass.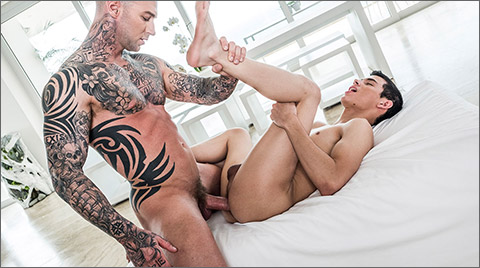 BOTTOM BOY BITCHES: Dylan James Seeds Ricky Verez's Throat And Ass
All Dylan James wants to do is relax a bit and watch some TV. He's not interested in entertaining the whims of Ricky Verez. But Ricky is always bored and in need of getting his ass fucked, so he makes it his personal mission to provoke Dylan into teaching him a lesson. Ricky achieves this goal by splashing water on Dylan. So be it: if Ricky Verez wants Dylan James to rough him up and bareback his hole with all nine inches of his cock, that's exactly what he's going to get!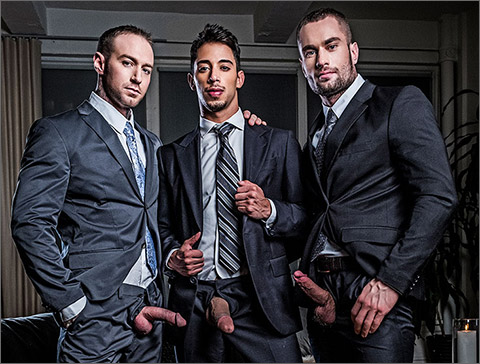 GENTLEMEN 19 – HARD AT WORK: Drae Axtel's Corporate Threesome With Dylan James And Stas Landon
Drae Axtell is determined to work his way up in New York City's corporate world, even if that means staying in the office after hours and answering the needs of his boss, Dylan James. Dylan shares Drae with his business partner, Stas Landon, so the subordinate has his work cut out for him if he's going to earn a promotion. Dylan James has a really big dick, and he's not nice with it when he's fucking a needy bottom bareback like Drae. Stas, meanwhile, aims to impress Dylan himself by eating out Dylan's ass like a fine delicacy!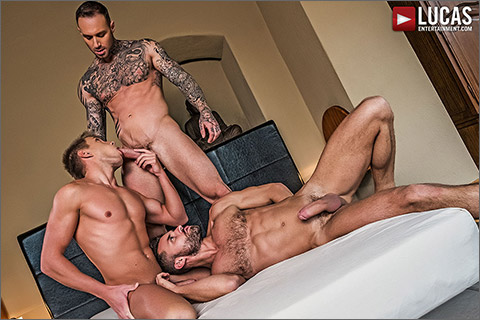 ASS-FUCKING ALPHA MALES: James Castle and Dylan James Own Bogdan Gromov's Ass
James Castle snuggles up with his young lover, Bogdan Gromov, in bed watching television. James is fresh from the shower with only a towel covers his always stunning body. What Bogdan doesn't know is James invited over alpha-male Dylan James to shake things up and give them both a taste of some masculine dominance. Dylan shows up in a tank top and jeans and jerks his dick while James and Bogdan fool around. But before long Dylan James strips down (showing off his sexy-as-hell tattoos) and gets his hard raw cock wet in both James Castle and Bogdan Gromov.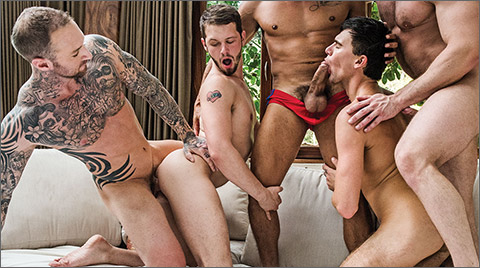 GREEDY HOLES: Dylan James And Drae Axtell Lead A Seven-Man Orgy
Dylan James, Drae Axtell, and Stas Landon spend some time bonding in the hot tub. They share their sexual stories while soaking in the water, but when it's time to get out the towels are missing. Koda Gold and Asher Devin were in charge of giving the other guys their towels, but they instead started making out and messing around with one another. When Dylan and his pals find them they don't hold back from joining the fun. Asher Devin and Koda Gold quickly turn into two bitch bottoms as Dylan, Drae, and Stas make use of their mouths and butts. They don't take it easy, either. These tops are alpha males and they're not shy about showing off their prowess. Later on Alejandro Castillo and Andrey Vic join the fun and continue using Koda and Asher as sex objects.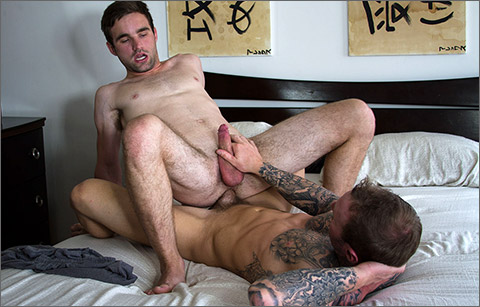 DYLAN JAMES' FIRST VIDEO
The title of this video may be a bit confusing. Let me explain. Dylan has obviously made quite a name for himself, but this was one of the first duo videos he shot with us! Some of the footage was misplaced, but was recently found! If this isn't a priceless relic, I don't know what is. Andrew loves taking huge cocks, and after Dylan expressed some of his sexual interests (even though he hadn't had sex with a guy for over 4 years at the time), we all knew this was going to be a HOT fuck! Their sexual chemistry was off the charts, and even though Andrew didn't get a facial like he wanted, he got to blow his load with Dylan deep inside him (and then take some of Dylan's load!)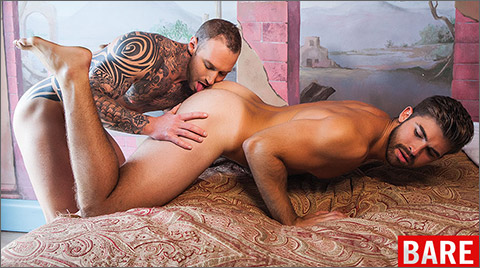 ASS BLASTERS: Jonah Fontana Gives His Latin Ass Up To Dylan James
If you have a particular appetite for juicy asses, then this encounter between Dylan James and Jonah Fontana will appeal to you in particular. Jonah really has a body you can sink your teeth into — and his dashingly handsome face pulls it all together. Dylan is well aware of this, and judging from the action at 43:45, he enjoys the toy he's been given to play with and rough up. I like emphasizing that Dylan is skilled in the pornographic art of versatility, but when he uses that big dick to fuck an ass it's a real sight to see — check out the example at 43:45. And an extra note on juicy asses — there in an awesome shot of his buns at 07:47; you get a great view of Dylan's butt right before he pushes Jonah on the bed for some rimming.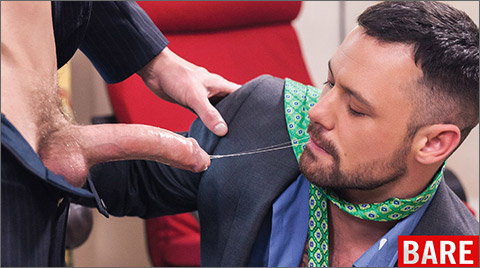 GENTLEMEN 15: SUITED FOR SEX: Sergeant Miles Gags On Dylan James' 9-Inch Cock
Let's hope that Xavier Jacobs isn't the jealous type and his fun with Sergeant Miles was purely carnal. Because Sergeant is moving his sexual appetite over to Dylan James, and I'm pretty sure I know why. You see, Sergeant is a bit of a fellatio enthusiast: this guy loves sucking cock, and it's apparent in his scenes (especially the one with Michael Lachlan from the movie "Saluting Sergeant"). Well, he's in for a treat, and so are you, because Dylan's cock is very long and very smooth — it's practically genetically engineered to perform oral sex on. "Slobber" is a word that comes to mind when Sergeant finally earns his reward and gets between Dylan's legs: the strands of saliva have never been more real in a gay porn scene than they are here. Something else equally real: the tomato-red hue Sergeant Miles' face turns when he's sucking and gagging on Dylan James. It's the perfect precursor to their bareback butt fucking.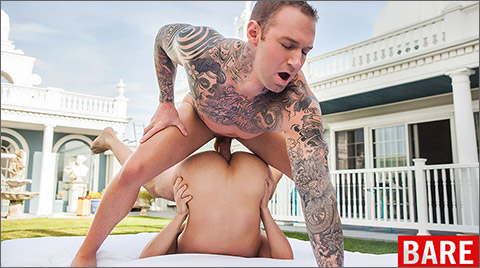 HITTING IT RAW: Michael DelRay Takes It In The Butt From Dylan James
Michael DelRay has the look of a wise-cracking smart ass with plenty of attitude… which is why it's so satisfying watching Lucas Entertainment exclusive beefcake Dylan James bend him over and pork him in the butt bareback. Michael is a lean guy with a huge cock, but it's his hole that gets used in this encounter.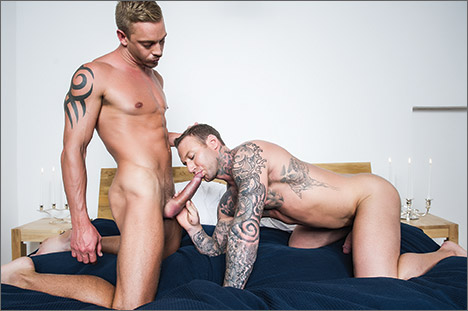 MICHAEL LACHLAN: RAW AUSSIE STUD
SCENE 4: Michael Lachlan Returns To Suck And Fuck Raw With Dylan James
It's been about one year since we've last seen Michael Lachlan in a Lucas Entertainment scene: he was one of the first breakthrough performers when the studio went bareback, and he's been sorely missed since his last scene debuted. But he's now come out of retirement, and I like to think it has something to do with Dylan James, our new exclusive model and all-around macho hunk. Both Michael Lachlan and Dylan James love sex and embrace their versatility: giving and receiving raw oral and anal sex is something they both can't get enough of, and none of that enthusiasm is lost in this scene. But if you think I'm going to give away all of the details, you're wrong. You're going to have to watch it to see what these two are capable of together.
RON LLOYD'S LEGEND MEN
GUYS IN SWEATPANTS
LUCAS ENTERTAINMENT
AMERICAN MUSCLE HUNKS
CLICK HERE TO GO TO HIS LUCAS ENTERTAINMENT DETAILS
LIVE CHAT & PRIVATE SHOWS @ FLIRT 4 FREE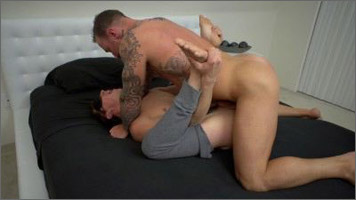 TYLER'S RAW FANTASY FUCK
DYLAN JERKS OFF