Hung Cute Muscle Ron Lloyd LegendMen Model & Solo Porn Star, Drew Rigger
Known Aliases: Liam @ Corbin Fisher, Derick @ Sean Cody
Years Active: 2016 – 2018
RON LLOYD / LEGEND MEN INFO:
QUICKSTATS
Height: 6′, 182.9 cm
Weight: 185 lbs., 84.1 kg
Eyes: Blue
Hair: Dark Brown
Length: 9 inches, 22.9 cm
Girth: 6.5 inches, 16.5 cm
Cut: Yes
Smooth: Yes
Hairy: No
Sign: Leo
Boxers: Boxer Briefs
Briefs: Sometimes I Just Go Without
Neck: 16.5 in, 41.9 cm
Chest: 46 in, 116.8 cm
Bicep: 16.5 in, 41.9 cm
Waist: 32 in, 81.3 cm
Quads: 24 in, 61.0 cm
Calves: 16 in, 40.6 cm
Shoe: 10.5
Nickname: Captain America
Low Hangers: Yes But Not Record Breaking
QUICKSEX
Top: My Preferred Position
Bottom: It Is New For Me
Toys: Flash Jack
Location: Anywhere But Outdoors Is My Favorite
J/O: I Whack It A Lot
Dudes: Sure
Blow Job: Yes Please
Known For: Being Creative During Sex
Boner: When I Am Hard There Is No Mistaking That I Have Boner
QUICKLIKES
Food: I Just Love Eating
Cocktail: I Prefer Shots Over A Mixed Drink
Wear To Bed: Nothing At All
Most Unusual Job: Ranch Hand
Best Friend: My Sister
Best Features: Ass And Cock
Gym: It Is My Second Home
National Heritage: Mostly German
Ron Lloyd Favorite Feature: Drew Is Personality Plus And Sexy As Hell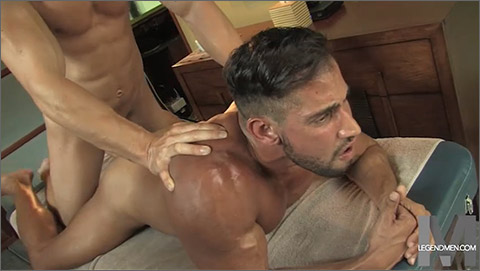 MARC KAISER 5 – MARK GETS FUCKED
Drew Rigger fucks Marc Kaiser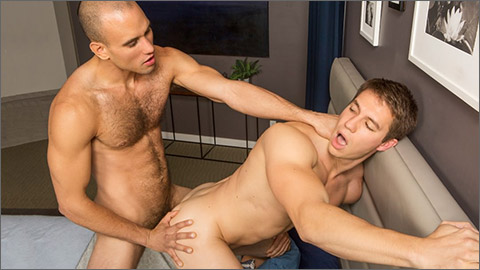 FRANKIE FUCKS DERICK BAREBACK
Derick wanted to ask us a very important question, and we were immediately intrigued. He's been very curious about bottoming lately, and wanted to know if he could try it out on camera. Of course, we were excited about it, and found him a good top: Frankie. Derick was thrilled, "I've heard he's pretty rough around the edges, which I like!" Frankie was more than happy to pop his cherry, "I'm gonna give him the Frankie treatment…he's gonna get it all." What's the Frankie treatment, you ask? Well, in his words it's "bang, bang, bang, bang!" That seems about right!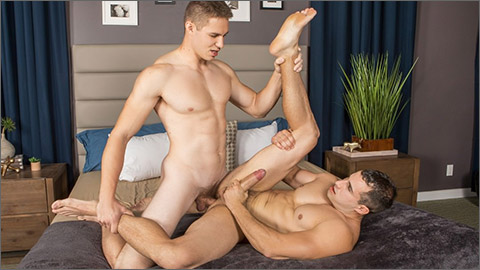 DERICK FUCKS RANDY BAREBACK
It doesn't get much better than two muscles studs with big dicks going at it. Randy took on Derick's thick cock, and both guys were excited to get things started. "I'm excited to fuck Randy." "I'm excited to be fucked…if it can fit." It fit just fine, in fact, it was perfect, making Randy cum all over himself!
LEGEND MEN
SEAN CODY
CORBIN FISHER / AMATEUR COLLEGE SEX
CLICK HERE TO GO TO HIS SEAN CODY DETAILS