Handsome Muscle Czech Gay Porn Star, Dorian Havdale
Known Aliases: Alex Mio (Man Avenue), Gerome Baussan (BelAmi online)
Years Active: 2012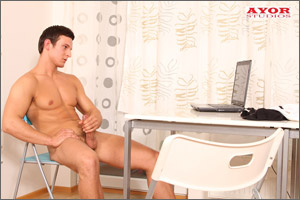 DORIAN ENJOYS JERKING AT HIS LAPTOP
Dorian Havdale is currently alone and is missing sex a lot. He most enjoys jerking his large dick while sitting at his laptop, and he does it every day! Dorian has a beautiful figure and is sexy to look at.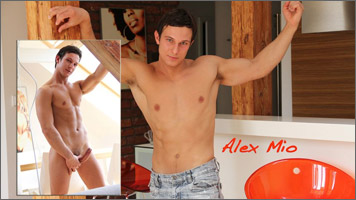 ALEX MIO
Alex Mio walked into our office last month and we wanted him to get naked for us then, but we proceeded with the interview and invited him back last week. This man, black hair and blue eyes, loved the admiration our cameras provided and he was all too willing to let us pan every inch of his rock hard physique. He stood tall and lean, rock hard dick pointing to the ceiling while we watched.
   He moved across the room, laid back on the table, pulled his legs back and exposed his lightly covered hairy ass to us…After slapping himself a few times, he moans and pulls his ass cheeks apart for us to get a look at his man hole. (Don't blow your wad yet; more to cum) Alex stands up, walks across the room with a hardon, then shows off, doing some posing and flexing while his dick is a throbbing mass almost touching his stomach. He begins stroking and jerking his cock until he blows all his man jizz up on his washboard abs in close view to our cameras. Creamy cum dripping down his stomach, he manages one last pose before we had to go – of course, his cock still fully boned and erect.
   Damn. I want what he had for breakfast.
   and others
   AYOR STUDIOS
   BOY FUN
   MAN AVENUE
   BEL AMI ONLINE