British Gay Porn Star, Dominic Arrow
Known Aliases / aka: Domy Nick
Years Active: 2013 – 2017
TWITTER @DomyNickxxx
LUCAS ENTERTAINMENT INFO:
Position: Top/Versatile
Dick Size: 8″
Height: 6′
Dominic Arrow makes his Lucas Entertainment debut with Alejandro Castillo, Wolf Rayet, and Dennis Sokolov in a gay bareback sex scene that will appear in the upcoming "Seriously Hard Fucking."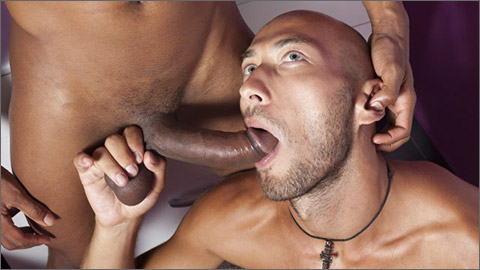 RAW & PISS – CARLOS LEAO FUCKS DOMINIC ARROW
Our hung Latin mate Carlos Leão is in a hurry to piss but he found the sexy Hungarian Dominic Arrow inside the toilet, shaving and almost ready to take a shower. When at the end Carlos gets inside the bathroom and takes his huge cock out to piss, Dominic's mouth begins watering. He can't resist and in seconds gets on his knees, offering his mouth to the Brazilian, already horny like a horse. Then Dominic takes his shower, sensually shaking his toned body and his hungry ass in front of Carlos: when he gets out he is ready to receive that big dick bareback and he'll do his best to take it deep inside in all possible positions. At the end Carlos shoots a thick load of cum in his mouth and all over his face, but Dominic is still not satisfied and asks his top buddy to give him a shower of hot piss! Fucking awesome!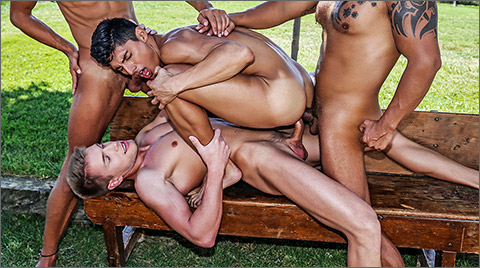 RAW DOUBLE PENETRATIONS 04 – STUFFED: Viktor Rom, Ken Summers, Dominic Arrow, Bogdan Gromov | Bareback Double-Fucking
Ken Summers and Dominic Arrow are the hot and horny bottoms passed around between Viktor Rom and Bogdan Gromov, who is in training of sorts learning to be a stronger top by following the example of Viktor. Viktor Rom is the total top in charge of the situation, and Ken and Dominic take turns gets fucked at the same time by Viktor and Bogdan.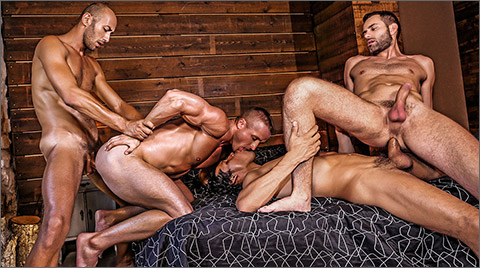 SERIOUSLY HARD FUCKING: Alejandro Castillo, Wolf Rayet, Dominic Arrow, Dennis Sokolov | Raw Sucking And Fucking
Wolf Rayet and Dennis Sokolov take some time to themselves in a spare bedroom so Wolf can suck on Dennis' uncut Russian cock (oral sex is Wolf's favorite activity). Alejandro Castillo, meanwhile, has a sixth sense for when sex is going on nearby, and he brings along his fuck buddy Dominic Arrow to see what's going on. However, it's not what's going on but what is going to happen: Alejandro uses Dennis' as his own personal fuck hole while Wolf and Dominic suck each other's big cocks, getting off on the show unfolding before them!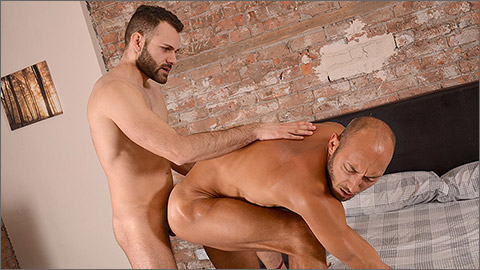 WOLF RAYET FUCKS DOMINIC ARROW
Wolf and Dominic demanded that this pairing happen, and we were more than pleased to oblige! To be honest, we'd already been planning it. The lust between these two hungry men is absolutely real, they were ready to tear into each other from the moment they met. The two suck on those hard uncut cocks like they've been craving it for months, but that's only the start of the chemistry between them. Wolf doesn't wait a moment when that tanned ass is offered, plunging his length into his new fuck buddy and ramming him deep. Check out the pile driving over the side of the bed! Both guys were edging their loads by this point, taking a break for just a moment before laying down and furiously wanking themselves off, splashing their hot loads out in unison! This is what happens when you team up two men who are genuinely hungry for each other, and we're left wondering if we should film an encore.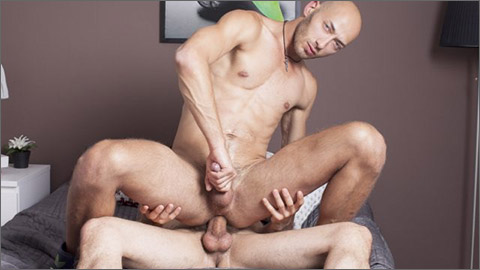 BLUE EYES RAW – KOLDO GORAN & DOMINIC ARROW
Fuckermate this summer will bring you the sexiest and the hottest new faces for you to enjoy and today it is the turn of Dominic Arrow, a sweet guy with toned boy and pale eyes and with very clear ideas: when he arrives at Fuckermate and we asked him what was the thing he likes more in a guy, Dominic promptly answered "a big thick cock"! So we called Koldo Goran, one of our horniest mates, to reach Dominic at home and give him a hot welcome, sure he would have loved that XXL piece of meat that Koldo has to offer. We were not wrong and in this video you will see why: Dominic first suck off Koldo's huge dick deepthroating every centimeter and almost choking; then he got his ass banged bareback with brutal force. When at the end Koldo cums all over Dominic's anus, our newcomer bottom is already asking for more fucking!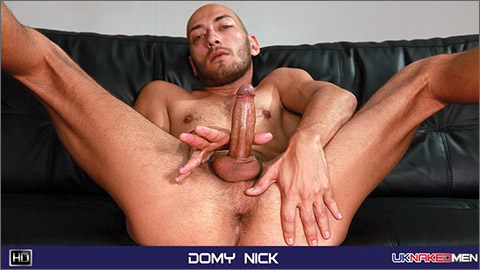 DOMY NICK
This guy is total absolute crush material, pale blue eyes, six foot two inches ( and worth the climb), big, succulent, kissable lips, rock hard abs, long, firm legs, a juicy, hard, very uncut cock, ( ooh want some of that foreskin), and that big, hard, muscular arse – a little weight to knock the cock in with!! This is Domy Nick, as sexy and horny as he is elegant and well spoken. A stunning amalgamation of Hungary, Israel, Russia and Spain all beautifully blended and unwrapped just for you. Domy is a totally ripped, versatile stud with a creamy load, big heavy bollocks and a beautiful face to watch and study as he lifts his long, firm legs and spreads his arse.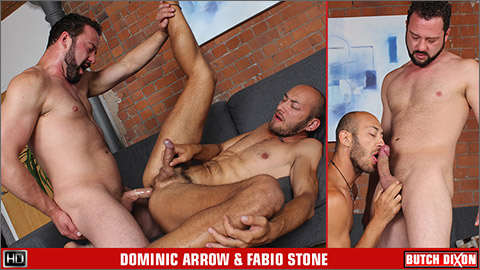 FABIO STONE FUCKS DOMINIC ARROW
The moment I clapped my eyes on Dominic's magnificent, muscular legs the only place I wanted to see them was pressed into his handsome face, so we searched for a guy who was as broad and bristly as Dominic is long and muscular, and found him in the form of donkey picked bruiser Fabio, OH this boy delivers. Fabio is a study, masculine bloke with a long, thick, uncut cock ( you know how we luv those Italian foreskins – and how!) The guys strip off and get right down to sucking each others ramrod stiff tools. Fabio bends his bum-buddy over and eats out his beautiful hole as he spreads his tanned cheeks, Dominic can't wait to lift those lithe long legs and give Fabio a glimpse of the prize – his succulent, musky hole, a tight-cum-milking-treat. Fabio rubbers up and gently slides into Dominic's receptive, muscle-hole as Dominic's moans with that pleasure/pain sensation. Then, after holding his throbbing, 8 inches of uncircumcised cock, deep in Dominic's twitching hole – Fabio starts to slowly fuck that hole sucking its puckered rose in and plunging it back in with each ecstatic thrust!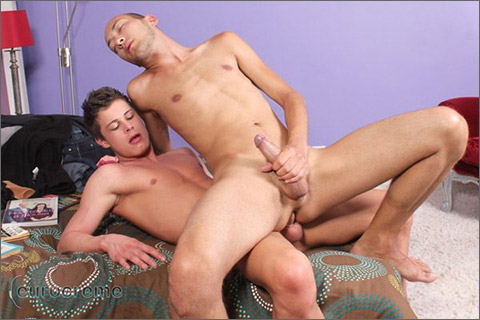 ZAC WEST FUCKS DOMY NICK
Zac is back on duty and his curiosity has definitely got the better of him. Eager to find out just what Mr Dom is up to at the hotel, this new recruit to the DreamBoy Hotel lets himself in to his bedroom and noses around. He doesn't even know what he's looking for, but whilst he's buried in bags of dildos, Mr Dom returns and appears suddenly in the room, catching Zac in the act! Mr Dom works his magic words on Zac, and Zac falls for them without even realising! Leaning in, Dom takes the half-naked Zac in his arms and leans right over him, pushing him to the bed and slowly strips him. Zac's dick is already hard and leaking pre-cum, it's too good to miss out on and he laps it up and devours his new boys dick! Flipping thing completely however, Dom is the on who gets fucked by the top fucker Zac, he must be something special for Mr Dom to take dick, but damn it's hot to watch!
LUCAS ENTERTAINMENT
UK NAKED MEN
BUTCH DIXON
FUCKERMATE
BLAKE MASON
CLICK HERE TO GO TO HIS LUCAS ENTERTAINMENT DETAILS