Titan Media Hunky Daddy Bearded Gay Porn Star, Dirk Caber
Known Aliases: Dirk Cabor
Years Active: 2010 – 2015
TWITTER @DirkCaber
MEN.COM INFO:
Hair Color: Blonde
Sign: Virgo
Eye Color: Blue
Dick Size: 7″ cut
Height: 5'9″
Weight: 200
Sexual Positions: Versatile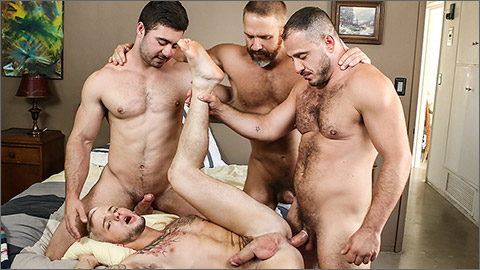 HAIRY TALES – PART 3
Golden boy Colton Grey gets off on stealing from the rich, but this time his path is crossed by three hairy bears — Dirk Caber, Derek Bolt, and Marc Giacomo. Caught in their bed, he coaxes the bears into joining him for one hot jizz orgy. Each bear gets a taste of the thief, eating his golden little asshole before jamming it full of their hot hairy cocks. Seems the three bears have a new addition to their hairy family.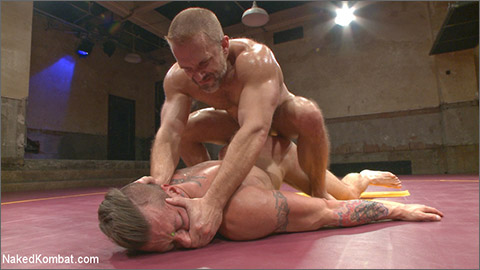 MUSCLE MATCHUP – DIRK CABER vs HUGH HUNTER
It's a battle of brawns on Top Cock: Hugh Hunter challenges Dirk Caber. With both contenders horny for each other's chiseled bodies, these studs will do anything to claim the other for stiff dicking in the sex round. They tussle and grind their muscled physiques, pulling out the groping and dick sucking early on to rack up points. With raging hardons, they keep up the same level of momentum and strength in a sweaty second round. Still, the winner comes away with a comfortable lead and continues the domination into the sex round. The loser gobbles triumphant dick and armpit before presenting his ass to the victor. The winner gets a quick taste of his prize's hole before plowing deep into that ass. Pivoting, the winner sits on the loser's face and makes him rub out a load. The winner runs his dick through the loser's mess and has the loser taste his seed off the tip. For a consolation prize, the loser accepts a face full of the winner's jizz and shares it in a passionate kiss. With the loser still in a daze, the winner stuff his anklet into the loser's mouth and walks off with pride.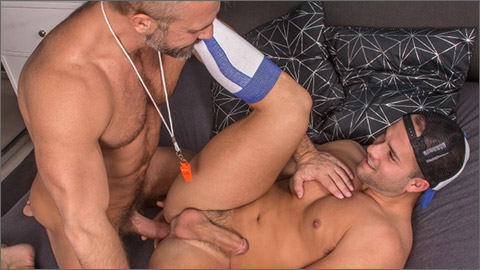 OUT!: Catcher Luke Adams comes out to Coach Dirk Caber
A.J's coming out interview also shocks minor league player Luke Adams, who sees it in his hotel room–and quickly comes out to coach Dirk Caber. "Takes one to know one," Dirk says to the surprised jock, who soon has the muscle man's cock in his mouth. Dirk can't wait to return the favor, licking and rubbing the smooth stud's bod and feasting on his shaft and sac: "God, you taste good!" he smiles. Luke's steel shaft slams against his own groin when released from Dirk's mouth, then stays stiff as he gets plowed ("Fuck yeah, coach!"). He shoots, then sucks his own cum off the top's finger. Dirk unloads, licks his own wad off the bottom's bod–then goes in for a kiss.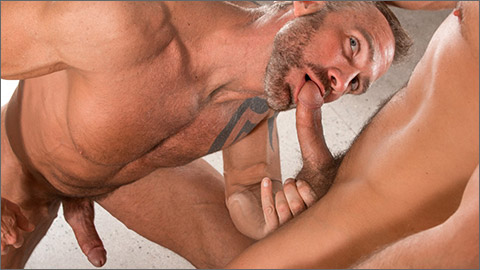 BLUE COLLAR BALLERS: DIRK CABER FUCKS DALLAS STEELE
Working up a sweat moving into Dirk Caber's new home, Dallas Steele wants to help his bud break the place in. "I've been watching that hardon all day!" smiles Dirk, who soon has a big Dallas dick in his mouth. "God you smell good!" smiles Dirk, who deep throats Dallas. Dirk's boner is set free, rubbing against Dallas's chest before diving into his lips. Dallas takes out Dirk's balls ("Pull those outta there!") and grips them as he sucks, the two slapping and spitting on each other as their verbal exchange heats up. Dirk feasts on Dallas's smooth hole, the action caught in the hallway mirror ("Fuckin' eat that ass! Get that tongue in there!"). They kiss, cocks poking each other, before Dallas eats Dirk, gripping the stud's cock as he tongues him. "Get a finger in there!" yells Dirk as Dallas slides one in, flashing a gorgeous smile. In the bedroom, Dallas offers his hole as Dirk fucks him hard and fast in two positions—Dirk gripping the bottom's cheeks to hammer him from below. Dallas returns the favor, pinning Dirk to the bed ("Nice and deep…you feel that cock?") as he reams his ass. "Fuck it out of me!" yells Dirk, soon soaked in cum.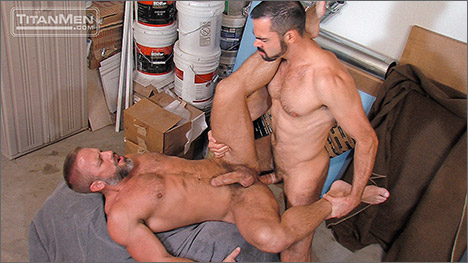 OPPORTUNITY KNOCKS
SCENE 1 – WELCOME HOME: Dirk Caber & Dolan Wolf
Dirk Caber gets reunited with high school coach Dolan Wolf—the two finding themselves in a heated verbal exchange in Dolan's garage. "You gonna take your dick out?" asks Dirk, as Dolan is reminded of their past locker room encounters when Dirk would "ask me if you were ever gonna get as big as me, ask if we could compare." Dirk's bulging boner is released from his tight jeans, the two stroking before Dirk gets on his knees. He stares at Dolan's pulsing cock, caresses his sac and rubs his tight stomach before teasing the shaft and underside with his tongue. He engulfs and worships Dolan's beauty, looking up at the stud: "Doin' alright, coach?" Dolan sucks his former student back, Dirk's cock bouncing up with force when released from his mouth. Dolan fucks Dirk, an aerial shot capturing both of their tight muscle bods as the top's cock disappears. Dirk fucks him back doggie style, the two f inally standing as they jack off side by side—Dirk's load landing on the coach's cock.
TITAN MEN
RAGING STALLION FETISH FORCE
COLT STUDIO
LUCAS ENTERTAINMENT
CHANNEL 1 / RASCAL
ALL WORLDS VIDEO
CATALINA VIDEO
KRISTOFER WESTON'S BOUND JOCKS
KINK.COM / BOUND GODS
KINK.COM / BOUND IN PUBLIC
KINK.COM / 30 MINUTES OF TORMENT
KINK.COM / MEN ON EDGE
KINK.COM / NAKED KOMBAT
KINK MEN
MEN AT PLAY
TIM TALES
UK NAKED MEN
BUTCH DIXON
ALPHAMALES
EUROCREME
CLICK HERE TO GO TO HIS TITAN MEN DETAILS
CLICK HERE TO GO TO HIS MEN.COM BIO PAGE
TIM KRUGER FUCKS DIRK CABER
DIRK CABER
DIRK CABER COACHES DEAN MONROE
JR BRONSON & DIRK CABER – ELECTRO PLUG
DIRK CABER MILKING CHRISTOPHER DANIELS
JARROD LOCKE & DIRK CABER – VIOLET WAND
ALESSIO ROMERO & DIRK CABER – PUNCHING
DOLAN WOLF & DIRK CABER – CUM SHOT
DEREK PAIN & DIRK CABER – VIOLET WAND
TIM KRUGER FUCKS DIRK CABER
BOY BEEN BAD
THE SLING / 3XMAN SLING
DIRK CABER & MICHEL RUDIN
LEO FORTE FLOGS DIRK CABER
DIRK CABER FLOGS LEO FORTE
DIRK CABER & BRYAN COLE
DIRK CABER & JOSEPH ROUGH – TITS
DIRK CABER SPANKING DANIEL DURESS
STEPFATHER'S SECRET – PART 1
STEPFATHER'S SECRET – PART 3
MEN FOR SALE – PART 3
NEIGHBORS – PART 1
NEIGHBORS – PART 4
HOUSEBOY – PART 2
SON SWAP – PART 1
SON SWAP – PART 2
STEPFATHER'S SECRET – PART 5
STEPFATHER'S SECRET – PART 6
STEPFATHER'S SECRET – PART 7
CENTRAL PARK CRUISING – PART 3
DADDY HUNT
PRETTY BOY – PART 1
PRETTY BOY – PART 3
THE SHOP
TOPS ONLY REQUIRED
STEPFATHER'S SECRET – PART 8
WHO'S THE BOSS IN HERE
DIRK CABER & SCOTT HUNTER
PUMPED & FUCKED
WORKMEN – THE WOODSMEN
TWINK TOP BILLY RUBENS DISCOVERS HIS INNER BOTTOM WITH HUNKY DADDY DIRK CABER
HORNY SON, HAPPY DADDY
MASTER DIRK CABER
MEN ON THE PROWL
A STRUGGLE FOR POWER
CAGED AND FUCKED LIKE AN ANIMAL
THE TERRORIST'S RANSOM
POWER PLAY
HOUSE DOM DIRK CABER AND A NEW MUSCLE GOD
MUSCLE BONDAGE – LIVE SHOW
MUSCLED HUNK TAKEN AND EDGED AGAINST HIS WILL
JESSE "CUT-THROAT" COLTER vs DIRK "THE CLAYMORE" CABER
FIRST ELIMINATION MATCH OF OUR SUMMER SMACKDOWN TOURNAMENT!!!
LIVE SHOOT: DIRK CABER AND 200 HORNY MEN AT FOLSOM WEEKEND PARTY
MUSCLED HUNK DIRK CABER RELENTLESSLY TORMENTED AND HIS ASS VIOLATED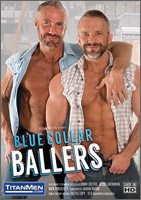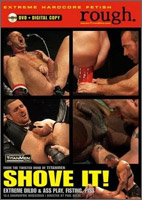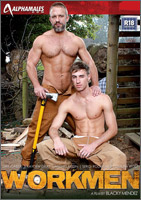 ARMOUR
BEEF N' BRIEFS
FUR MOUNTAIN
MINUTE MAN 39: WET STROKES
THE TRUSTEES
DOG FIGHT
BLUE COLLAR BALLERS
IN THE SHADOWS
OPPORTUNITY KNOCKS
CUT TO THE CHASE
HEAVY LOAD
IN THE SHADOWS
SWEAT
EXTRA FIRM
SCRUF / SCRUFFY
WORKED OVER
JURY DUTY
STING
THRILL RIDE
HELLIONS
FOUL PLAY
HARD PLAY
HEAVY DUTY
PUMPED, PISSED AND POUNDED
LOUD AND NASTY
SHOVE IT!
FIST DEEP
INVASIVE PROCEDURES
PUNCHED AND POUNDED
VIOLATED
KENNEL MASTER
MEN IN UNIFORM – THE BEST OF JOE GAGE
POUND PUPPY
TEDDY BEAR
THE BOY WHO CRIED DILF
AUDITIONS – VOL. 39: FRESH MEAT
AUDITIONS – VOL. 42: HORNY FUCKERS
EYE CONTACT
EXECUTIVES
FOOT ACTION!
FUCK ME HARDER
WORKMEN
THE LOCKER ROOM
HORNY HUNKS
MEN IN THE SAND
AFTER THE HEIST

MEN MAGAZINE PRESENTS: TITAN MEN

BUTT BEATIFUL 2015 CALENDAR
HAIRY CHESTED 2015 CALENDAR
LEATHER 2015 CALENDAR
BUTT BEATIFUL 2014 CALENDAR
HAIRY CHESTED 2014 CALENDAR
LEATHER 2014 CALENDAR
MEN 2014 CALENDAR