Blond Sexy College Jock Czech Gay Porn Star, Dion Philips / Sergey Davidov
Known Aliases / aka: Sergey Davidov, Alexei Orofar, Dion Phillipps, Dion Davydov, Dima Davidov, Sergeij Davidov, Dimitrij, Danny Davis, Daren Dune, David, Dima, Dima Davydov, Dimitrij Davidov, Dmitrij Davidov, Dimo Davidov, Dion, Dmitrij, Dmitrij Davydov, Dmitru, Petr Stary
Years Active: 2004
STUDIO 2000 INFO:
Czech boy Dion is all a man could ask for, straight from the Czech Republic, he is muscular, smooth with a great ability to look mean and nasty or sweet and innocent. Whenever you see his name on a cast list you don't know how he will act, except that he will quickly get you throbbing hard and horny. A star in 7 films, mostly from the Raw studio with which he has made it onto the covers of Raw Recruit and Raw Meat, we see him doing his best in each and is sure to get you going in the first scene in Raw Meat.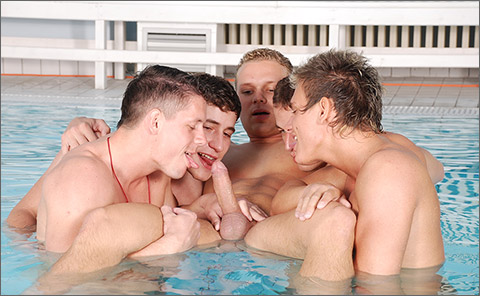 SPLASH – POOLSIDE ORGY
What happens when four of the hottest swimmers get together with an equally hot coach after swim practice? All five get naked, the coach and three of the swimmers sit down on the side of the pool with the fourth swimmer orally servicing the lot. Moving back and forth down the line of hot man-meat our servicing swimmer winds up back on the coach's cock working it until it erupts into a hands-free gooey mess of jizz running down the length of his cock. Each of the other swimmers are greeted with a blowjob ending in awesome hands-free cum shots. The four of them jump off the ledge into the pool and grab up the fourth swimmer who had just so willingly pleased the lot of them. They surround him; taking turns pleasing his cock, until it starts spewing thick glob cum into the pool. From this point forward; until an incredible climax, these five studs take turns fucking and sucking each other's beautiful bodies, cocks and asses. When it's time for the happy ending you won't be disappointed. Bodies and balls tighten; cum starts shooting and dripping everywhere as these five young studs get each other off.
BADPUPPY'S DANNY RAY COLLECTION
WILLIAM HIGGINS
TITAN MEDIA / TITAN FRESH
AYOR STUDIOS
RAWBOYS / BARE ADVENTURES
EUROCREME
HIGH OCTANE PRODUCTIONS / HERVÉ HANDSOME