Dark Skinned Big Cock American Gay Porn Star, Dillon Hays
Years Active: 2014 – 2015
GUYS IN SWEATPANTS INFO:
5′ 11″
170 lbs.
8″ cut
Pisces
Originally from the Eastern part of the country, Dillon now resides in southern California. His response to why he moved was pretty similar to a lot of people's: "It's Cali….why not?" He's 5'11? 170lbs, with a fat 8? cock, which he loves to use. He's completely versatile, but loves to fuck. Stick around to watch him show off his skills in both departments!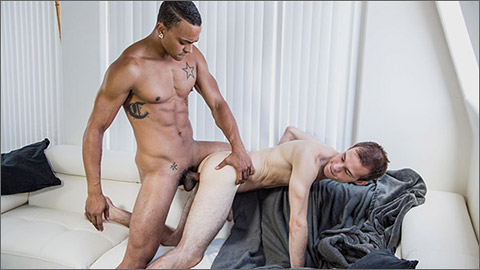 DILLON HAYS RAW FUCKS CAMERON JAKOB
After a year and a half, Dillon is back, and looking better than ever! He's been in a solo and bottomed, but this time he's using his huge cock to penetrate newbie Cameron. Cameron got a glimpse of Dillon's cock before we started (Dillon is always hard apparently), so he was ear-to-ear smiles the entire time, even before they went at it. You know a bottom is enjoying the cock in him when he's even smiling while getting fucked. Their sexual chemistry was so on point, Cameron took some of Dillon's load, then they even washed each others' backs in the shower (and fucked a little more).
DILLON RAW FUCKS CAMERON
EZEKIEL STONE FUCKS DILLON HAYS
DILLON HAYS' 30 SECOND LOAD
   CLICK HERE TO GO TO HIS GUYS IN SWEATPANTS DETAILS