Handsome Muscle Brazilian Gay Porn Star Hunk, Diego Lauzen
Known Aliases: Diego
Years Active: 2012 – 2016
KRISTEN BJORN INFO:
Nationality: Brazil
Height: 5'9
Weight: 190 lbs
Dick Size: 7.5″ uncut
Position: Versatile
Diego Lauzen and his partner Wagner Vittoria are making fast names for themselves in hardcore gay porn, and it's no wonder why when seeing them in action! Diego in particular is gorgeous, plain and simple: he's a muscular beauty with a sex drive that's nearly insatiable. So long as his partner is by his side, Diego is up for anything in bed, or out in the open, or in nature, or on camera! Diego doesn't believe in limiting his sex life and how he shows it off!
LUCAS KAZAN INFO:
Wagner is lucky when it comes to… boyfriends. You first met pretty Leo on LucasKazan. Then muscle man Thomas. It's now Diego's turn and –in Wagner's own words– "he's the one!". Wagner has bulked up at the gym to match Diego's muscular build. Both are strikingly handsome, hung, athletic. And yes, madly in love with each other. The sex?, you ask: passionate!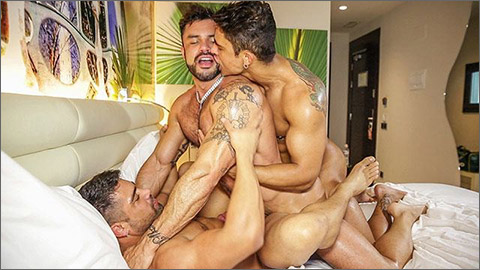 ROGAN RICHARDS FUCKS DIEGO & WAGNER
If you like big muscle guys than this video will fullfill all of your dreams, as we bring you not one or two, we give you 3 big hot muscleguys fucking like crazy in our newest sweaty and hot episode.
   Pornstar Rogan Richards from Australia was in town and wanted to play with some other musclehunks so we got him Diego & Wagner and as you can see in the video, this was the best idea we could have had. The three were a great match, we all had a lot of fun in that afternoon. And we caught everything on camera for you.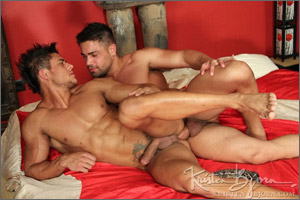 LOVERS LANE #11: DIEGO LAUZEN & WAGNER VITTORIA
Diego & Wagner invite us into their home to see how a really hot couple spend the evening. There is always something different when you watch a couple in love as opposed to watching a couple of hot guys having sex. There is a magic and sparkle that occurs between the two. Diego & Wagner and perfectly matched, both have perfectly sculpted muscular bodies, handsome faces, piercing eyes, big round asses and huge cocks. When we see Diego & Wagner they are already in their underwear and semi-erect. Things quickly change as the two begin to orally pleasure each other. Both are equally gifted when it comes to sucking each other's cock, you can tell they have done this before, many times! Diego helps his partner to relax by penetrating him with 2 fingers, then 4, then his big fat cock. Wagner loves to be fucked in many positions, he quickly flips himself over so that Diego can take him from behind. To see Wagner's huge muscular ass being penetrated by his lovers huge cock is a sight to behold, poetry in motion. Lovers know exactly what buttons will push their lover over the edge and Wagner does exactly that and has Diego blowing his huge load all over Wagner's muscular ass just to tease us. Diego continues to fuck Wagner, then pulls out and wipes up the cum with his cock and then penetrates his lover again. Wagner then takes Diego's dripping cock in his mouth and licks up all the love juice. Diego has worked up an appetite for his ass to be pleasured as well. He squats down over Wagner's handsome face and fucks himself on his lovers hot tongue. Diego slides up next to Wagner and has his lovers fat cock penetrating him deeply up impact. Wagner then takes Diego's legs and spreads them wide open for us to have a perfect view of him penetrating Diego's beautiful hole. He teases us by pulling his super hard cock out and flexing it for us before diving deep within Diego again and again. Wagner's cock is on overload with pleasure from his lovers hot ass and erupts his creamy load on Diego's hole for our viewing pleasure before he shoves his load and cock back into Diego. There is a certain magic in the air when lovers have this type of amazing sex.
KRISTEN BJORN
LUCAS KAZAN
STAG HOMME STUDIOS
TIM TALES
LUCAS ENTERTAINMENT
CLICK HERE TO GO TO HIS KRISTEN BJORN DETAILS