Handsome Hung Black American Gay Porn Star, Derek Maxum
Years Active: 2014 – 2016
TWITTER @DerekMaxum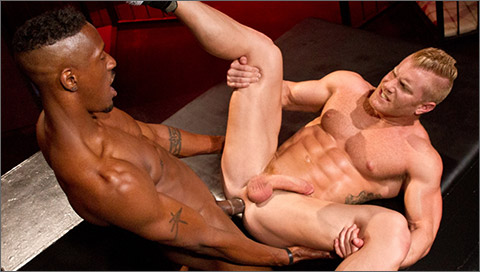 LABYRINTH: Derek Maxum fucks Johnny V
Naked men prowl in a shadowy room, full of cages. They see frightening visions of a huge, horned creature whose nakedness is masked by a cloud of smoke. Johnny V's head is encased in black latex and he moves as if he is entranced by the Minotaur, kneeling and offering his ass to the darkness. Derek Maxum comes up behind him, hard cock in hand. Derek flaunts lean muscles and a hunger for a warm, musky hole. He grabs Johnny by the balls, slaps his ass, and buries his tongue. Three handfuls of cock swing between Derek's legs. He turns Johnny over and sucks him, returning every few seconds to his ass until Johnny is slick with saliva and sweat. Derek pulls Johnny up for a kiss, then gives him his cock to suck. Johnny gurgles and spits and chokes on Derek's giant member. Derek strips Johnny's hood off, then leans back for Johnny to lower his hole onto his enormous cock. Johnny submits to being pistoned by a massive tube of hard meat until it feels so good he takes it in every position. Muscles flex and flesh gleams with perspiration as Johnny shotguns his torso and face with his own cum. They slither their bodies together and Derek jacks out his load.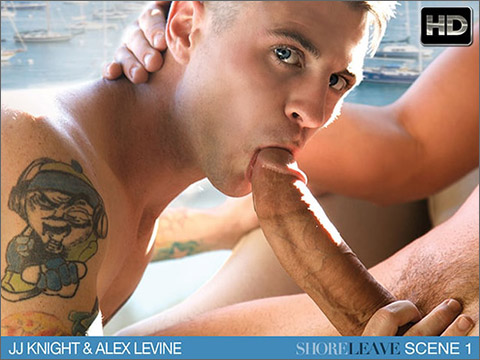 SHORE LEAVE: Derek Maxum fucks Matt Grant
Fredderick is one horny seaman on shore leave. He gets home from work and puts on some porn, stroking his hard cock while reminiscing about his sexy navy buddies and what action they might be getting into. In the first scene, Alex is out enjoying the day, looking for some trouble when JJ comes along and invites him back to his place for a few beer. Before long, it's more than beer they are sucking back. Watch this horny navy stud bend over and take JJ's huge cock. Fredderick is getting hornier by the moment thinking about all the past action at the "old hole". The memories of Mikey and Mr. Digler feeding him their hot cocks is enough to make him want to explode. In the next scene Matt, a stranded marine needs a little help, luckily for him, Derek, a hot, dark stud drops by to lend a hand. You won't want to miss this hot marine bend over and take a huge black cock in his hungry white ass. Mike and Shawn are just 2 horny navy buddies returning home from a night of drinking. It doesn't take long before Shawn is begging to be fucked by Mike's huge cock.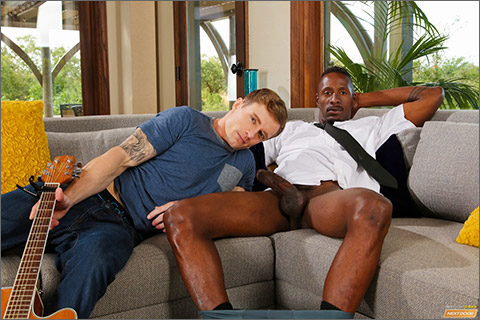 LOADED BODYGUARD
Pop sensation Markie More is no treat to work for. His spoiled, rude entitlement is on full display before he even eats breakfast, so needless to say, body guard Derek Maxum's days are long and hard. Quite frankly, it's all Derek can do to keep from grabbing Markie by the shoulders and shaking some sense of reality into him.
   So when Markie asks to see what Derek is packing, Derek doesn't know if his employer has finally crossed the line, or if Derek will finally get to put his plan into action. As Markie begins to bob on Derek's thick shaft, Derek has his answer. He quickly pushes Markie's head down further onto his cock, and as it grows past 8 inches, Markie realizes he may have bargained for more than he can handle. Derek turns Markie over, eating out the spoiled brats tight ass, moistening up the songwriter, and then plunging his giant cock deep within Markie, who begins to sing a different tune now that Derek is in control.
   Derek pounds Markie from behind, grabbing him by the back of his head and thrusting even harder, before turning him over and finishing the job. He runs his hands down Markie's chest as Markie strokes himself to the brink of cumming, then Derek pulls out and they race to see who can lose their load first: Markie spraying his load all over himself as Derek follows by unleashing a massive load of his own.
   Markie may be the one signing checks, but there's one area where Derek will always be the boss.
CHANNEL 1 / DIRK YATES
RAGING STALLION
NEXT DOOR STUDIOS
NEXT DOOR EBONY