Next Door Studios solo performer, Deeks
Years Active: 2014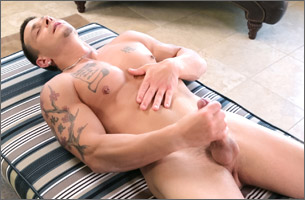 DEEKS NEXT DOOR MALE SOLO
Deeks is a warm-hearted guy from originally from Philadelphia, who loves being outdoors, soaking up the sun, and doing whatever he can to stay active and busy. A personal trainer by day, Deeks likes to get out into nature whenever he can, which helps to keep his toned body in great shape. Modeling for the first time, his calm, almost shy demeanor betrays an underlying confidence and as he strips out of his A-shirt, his bulging biceps on display and his ripped back reinforce his reason to be confident.
Satisfied with is morning shoot-around on the basketball court, Deeks moves inside and strips out of his sweaty clothing, reclining on a chaise lounge as he aimlessly fondles his cock, waking it up for a little workout of its own. Spreading his legs in a high-back chair, Deeks grips his dick and waves it at the camera, before standing and grinding on an ottoman, letting his cock fall between his legs as he pumps up and down, he ass tightening and then loosening up with every movement. Deeks lays down on the ottoman and begins to rub his chest all the way down to his pelvis, before stroking with purpose and coaxing his load from deep in his loins, spraying himself with a healthy and well-earned load.