American Tattooed College Jock Gay Porn Star, Dax Daniels
Years Active: 2015 – 2016
TWITTER @DaxDaniels
COLLEGE DUDES INFO:
Age: 19
Height: 5.10 (178cm)
Weight: 150
Shoe: 12 US (46 EU)
Cock: 9.0 (23cm) Cut
IN HIS OWN WORDS: "I work hard but party harder."
COLLEGE DUDES COMMENTS: "Dax is that guy next door that you always wondered what it would be like to be with."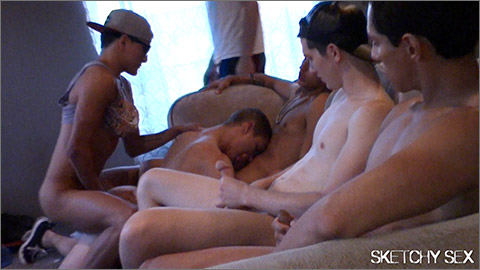 DEEPER
The spring weather had me hard as fuck, so I went over to the Sketchy Sex suite to get my fill of dick. Three different guys pounded my hole with their raw cocks and each blew a couple hot loads each right inside me. I'm gonna have a sore raw hole for a few days butt fuck every minute blew my mind and I know i'll be back.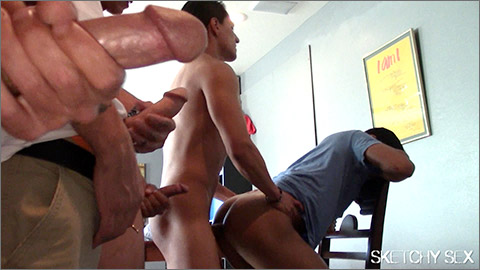 CUM DUMP CRIB
I spent the day bent over the kitchen table. Taking loads one after another. Random dudes coming in and out. Dumping their hot loads into both holes. Cum was dripping down my leg and chin. Couldn't get enough inside of me.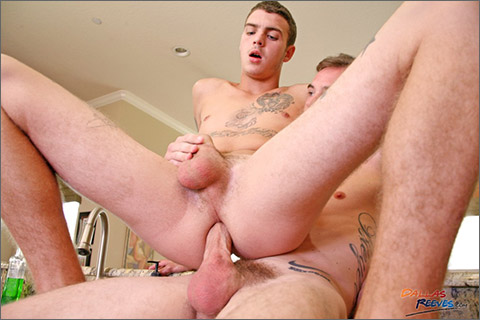 SETH JOHNSON & DAX DANIELS FLIP BAREBACK
Seth Johnson and Dax Daniels are spending a nice afternoon goofing off in the pool. However, as we all know, when you put two half naked studs in a pool they are going to end up doing more than play "chicken." Dax takes the lead, embracing Seth and passionately kissing him. With their hormones in overdrive, the guys decide to take it indoors. Dax and Seth only make it as far as the kitchen, though. Once out of the view of prying neighbor eyes, they begin grabbing each other's cocks and making out. Cock hungry Seth is excited to finally have Dax's huge tool in his hands, and he grabs it firmly while jerking Dax off. The studs edge each other until they can barely stand it, and then Dax goes down on Seth. Dax works Seth's cock with his tongue and mouth as Seth lets out moans of pleasure. Encouraged by Seth, Dax tries deepthroating it as well as wrapping his right hand around Seth's shaft while working on the head with his lips. Seth is next, and he gives Dax a blowjob he won't soon forget! As he sucks, he looks up at Dax for approval. Even though Dax is so thick that he can barely fit it in his mouth, Seth tries as hard as he can to go down all the way. Dax is so worked up that he wants to get fucked hard, and the next thing you know, Dax is riding Seth's pole like a hungry power bottom. As he jumps up and down on Seth's dick, his massive dick swings like a pendulum, and Dax screams, "Oh, your dick feels so fucking good!" Dax wants some ass, too, and once he is finished getting his ass stuffed, he bends Seth over the counter and shoves it in raw. Dax's monster literally stretches Seth's little pink hole to the breaking point, but Seth keeps begging for more. They flip again, and Seth fucks Dax until he is ready to shoot. Seth dumps a load on Dax's hole and then begs for a load from Dax on his face. Hot Bareback Flip!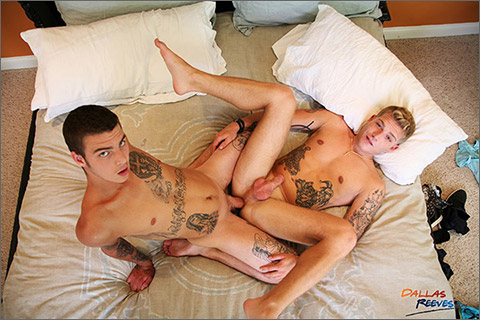 DAX DANIELS BAREBACKS DANNY MOORE
Dax Daniels and Danny Moore are enjoying some soccer in the back yard, but seeing Dax's sexy legs working it is too much for Danny to handle. Once back in the house, Danny seduces Dax. These two bros are down to their underwear making out on the bed before you know it! Dax must like Danny's attention a lot, because his monster cock is popping out of his shorts! As they make out, Dax and Danny jerk each other off. This is turning into a real bromance – and Dax closes his eyes with a heavy sigh as Danny and he move into a 69. Dax turns out to be pretty good at deepthroating, while Danny does his best to take care of Dax's humongous tool. Danny gets his tonsils massaged for while longer, but he would really rather have Dax deep inside of him. Danny sits on Dax's big dick bareback, and Dax begans pounding away. As Danny gets drilled, he moans in pleasure and leans down for an occasional kiss. It seems as if Dax is making a power-bottom out of Danny, who can't seem to get his cock deep enough. Dax switches it up into doggie, and continues fucking Danny the way he wants it. After he flips Danny over onto his back, Dax goes in for some serious drilling as Danny jerks his cock. Danny blows his load with Dax fucking him, and then When Dax gets close, he pulls out of Danny's hole just an inch, and he shoots a huge wad. Once his jizz is covering Danny's hole, he shoves his thick cock back in slowly, savoring the last few moments. Hot bareback fuck!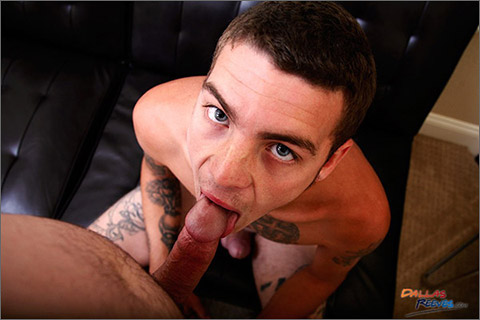 DAX DANIELS GETS OPENED UP
Dax Daniels is on the casting couch this week, and he lets the casting director know right away that he is up for whatever. Dax is a motivated guy, and when pressed on whether or not he might do gay porn, he doesn't hesitate at all. The director flatters Dax with talk about his blue eyes, but he lets Dax do most of the talking – Dax's favorite subject is his own cock. With such a sexy guy on the couch, our casting guy seems pretty eager to see it all. The newbie is gently coaxed out of his clothes next. Dax has a slim athletic body with a lot of ink, but his most striking feature is his smile. This kid is a charmer for sure! With a beautiful cock and a nice perky ass, Dax is a shoo-in for this job, and the director can't wait to try him out. Once Dax gets fully erect, his monster is revealed – Dax has a humongous cock! Out young stud continues this interview jerking a little before the casting director inches over for a closer view. Dax gives his first blowjob, and he certainly learns quickly! Working the director's dick, he lets it pop into his cheek, then gives it some long sloppy licks. Cracking Dax's virgin hole is the casting guy's next priority, however. When his dick slowly slides in raw, Dax lets out a long soft moan. His hole is tight! It takes a while to get it in, but once Dax is loosened up, he turns out to be a pretty good bottom. Lying on his stomach, Dax looks back flirtatiously at the camera as he gets fucked – his bubble butt looks great getting drilled. It must feel as amazing as it looks, because the camera guy's load is huge, all over Dax's hole. Great bareback virgin fucking!