Handsome Czech Gay Porn Star, David Foster
Known Aliases / aka: Roman Black
Years Active: 2016 – 2017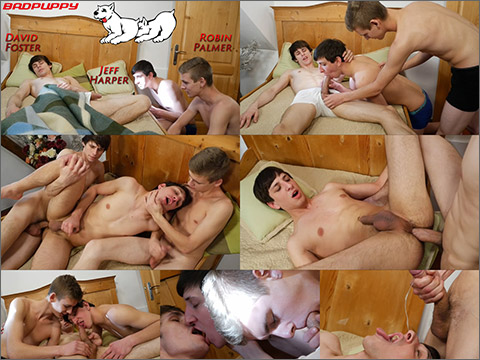 JEFF HARPER & ROBIN PALMER FUCK DAVID FOSTER
David Foster was still sleeping as Jeff Harper and Robin Palmer walked by the door to his room when something quite large distracted them protruding from under the bed covers. Peeking out from David's underwear was a rather huge representation of Morning Wood. Jeff and Robin kneel beside the bed; blown away with how big David's member is. Robin leans forward, grabs David's cock, and swallows it as far as he can. David is awakened by the attention and after a big smile; Jeff moves in and starts giving David a morning blowjob. Robin and Jeff take turns enjoying David's huge piece of meat before pulling off his underwear so they could get at his balls and that sweat tight hole. Jeff swings around on the bed and David plants his huge cock deep into Jeff's waiting hole and the pounding begins while Robin jerks his cock as he's kissing Robin. Robin's apparently extremely turned on because it's only a few moments of jerking before he spills his seed onto his tummy; but, Jeff's ready and willing to lick up all of the left-overs. As Robin exits the bed, David gets back to that ass fucking he was giving Jeff. He rolls Jeff over on his knees and buries his cock one more time before beginning the pounding all over again. David works Jeff hard; and as he's about to shoot, he pulls out and starts squirting strings of jizz all over Jeff face and lips. Taking his own cock in hand, Jeff spews a thick, creamy load of cum all over his stomach and chest as he sucks the last drops of sweetness from David's dick.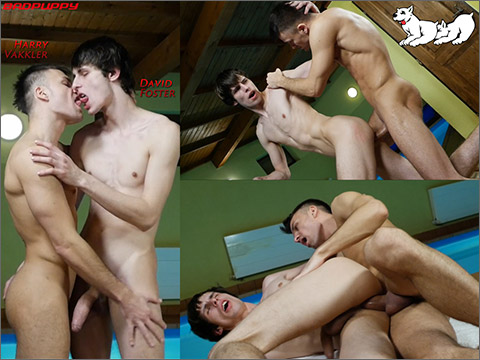 HARRY VAKKLER FUCKS DAVID FOSTER
Harry Vakkler was just hanging out in the pool with David Foster when David comes over and makes it quite clear that he is interested in Harry. David leans forward, kisses Harry and motions for Harry to go sit on the side of the pool. The first thing you notice when Harry jumps up on the deck is the size of his cock. It's absolutely HUGE. It's long, thick and standing straight up. David swims over and standing next to where Harry is sitting gives his mouth the perfect height to swallow the entire length of Harry's dick. David joins Harry out of the pool; and, after sitting down on a chair beside the pool, Harry goes to work orally pleasing David. He licks Harry from his balls all the way up the shaft of his cock. Harry tells David that he wants to get fucked with David's cock. So, David bends Harry over and slowly starts to loosen Harry up with his fingers before shoving his cock right up his ass. Four poolside positions have David fucking Harry like a bunny rabbit in every one. When he's ready to shoot, David starts squirting cum all over the Harry and the floor. Harry has barely touched his cock the entire time David was fucking him. He was hard, hot and ready to blow. As he rolls over and grabs his cock, David starts stroking his balls until Harry's long, thick cock start squirting jizz onto him and David.