Cute Slutty Kink Men American Gay Porn Star Go Go Boy , David Emblem
Known Aliases / aka:
Years Active: 2017 – 2018
TWITTER @DavidEmblemXXX
KINK MEN INFO:
Body Type: slender
Height: 5'10"
Weight: 160
Hair Color: brunette
Gender: male
Cock: 6″ cut
Scene Role: bottom
Pubic Hair: unshaved
Ethnicity: white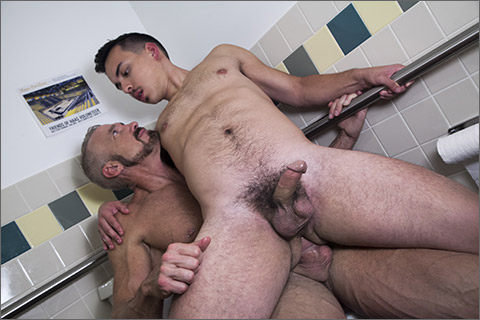 BERKELEY: SOPHOMORE YEAR: Dallas Steele fucks David Emblem
Sophomore David Emblem knows all of the places to cruise for cock on campus and he's always looking for action. All it takes is for a guy to make eye contact and hold his stare for just a split-second longer than usual and he knows he's found his next fuck. Today he's found a sexy silver fox (Dallas Steele) and follows him to a well-known but discrete public mens' room. Sure, enough the stall door is ajar, signaling for David to open and find his prize and he's hit the jackpot. Dallas stands there half naked, his chiseled and hairy torso gleaming with sweat, jerking his huge rock-hard cock. Like a good boy, David falls to his knees and swallows the rod all the way to the balls. The public sex continues as both guys strip naked and Dallas turns his attention to David's giant bubble butt. Daddy Dallas takes a seat on with his staff in the air, giving David the perfect place to sit. He fucks him long and hard until pulls out and shoots all over the young stud's fat, hairless ass. On his way out of the now slippery bathroom stall, David tells the unwittingly complicit professor, "I'll see you in class in the morning." That's Berkeley,: Sophomore Year.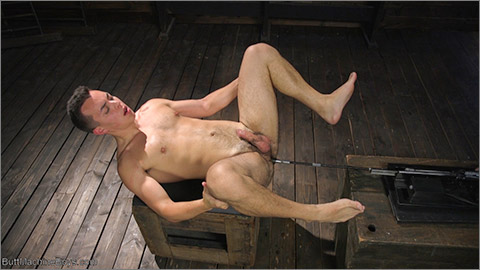 ANAL SLAVE SHOCKS AND MACHINE FUCKS HIS GREEDY HOLE
David Emblem lies on the dungeon floor, bound, gagged and blindfolded. How many days has he been in bondage? Deprived of any pleasure….it's been so long that he can't even remember the last time he came. Determined to cum, he finally struggles his way out of his bondage, horny as ever. The horny slut strokes his cock as he gazes upon all the implements that lay before him. His eye catches the electric butt plug, shining in the dungeon light enticing David to play. Unable to resist, the plug slides deep into David's tight hole. Once his hole is filled he cranks up the tens unit, his raging hard cock throbbing with every surge. The electricity drives him wild, but David is greedy for more. Lying on his back he spreads his hole as a machine drives its dildo into the boy's pleading ass. David strokes his aching cock as the dildo piston's in and out, pounding away on his prostate ready to milk every drop of cum from his balls. Alas, David is still hungry and the only thing that can satisfy his hunger is the Crystal Palace. He steps over his fuck toy and plunges the machine inside, cranking up the machine before draining his balls all over the dungeon floor.
CLICK HERE TO GO TO HIS KINK MEN INFO PAGE
VIDEO ON-DEMAND: David Emblem @ AEBN SMUTJUNKIES THEATER
DVDs & ON-DEMAND: David Emblem @ TLA VIDEO