Uncut Kinky American Gay Porn Star, David Chase
Known Aliases / aka: Andy Brown, Cory (Bang Brothers, It's Gonna Hurt online), Corey Rezzon (BigDaddy)
Years Active: 2008 – 2015
RANDY BLUE:
I hate getting stood up. But, in this industry you have to sort of expect it from time to time. A guy says he wants to model but once you make an appointment to meet, there are those rare occasions where he'll get cold feet and just not show. I had no idea that one of these instances would actually be to my benefit. I was in Seattle on business and was supposed to meet a perspective model at a local bar. I sat there waiting and was really taken by this bartender. His name was David Chase and he was so cute. We started talking and after a martini or two I told him why I was there. He agreed that getting stood up in a bar is the absolute worst and jokingly offered to take the guy's place. I took a good look at him and said that he didn't need to be a replacement for anyone, but that I thought he should model for us on his own merits. You know how I love contrasts, well the thing about David I first noticed was that he had this very youthful energy and an ear to ear smile that would have made him appear much younger than he was, however his neatly trimmed beard and lush chest hair that was on display through a tight V-neck shirt gave him a much more manly appearance. If you saw a photo of him not smiling you might think he was very butch, but once you start talking to him you see that he's really in touch with his feminine side as well. Just enough to allow himself to experience his sexuality without restraint. If it feels good, he does it and doesn't worry about looking or acting any one particular way. It's quite refreshing, actually. And while he may flash you a boy -next-door smile, there's a gleam in his eye that says he's got a dirty side to him. His video was so hot, as he let his hands roam all over that furry body of his, working his nice big cock and thick, full balls, running his fingers through all that beautiful body hair. And for all the guys who keep asking to see cum eating in the live shows, you are in for a treat.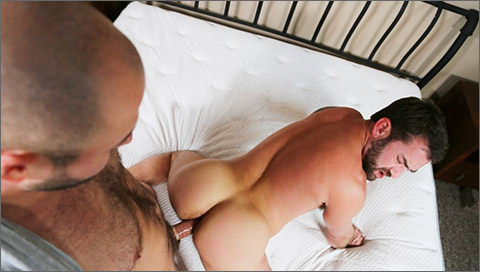 BREAKING IT IN
Jake and David decided it was a good time to buy a new mattress and break it in the proper way which is some good hard fucking. Once they hiked up the stairs with the mattress and laid it down they two needed a rest but of the different sort. They weren't tired to fuck and suck so they undressed and used the bed in any way they saw fit. David loves Jakes tight ass in any position and Jake can take a nice pounding from any big cock. David buries his face deep in his ass getting it nice and wet for his hard cock and once he's in he never wants to leave it but soon enough that cum builds up and he cums extremely hard all over Jake which makes him blast his warm nut all over David.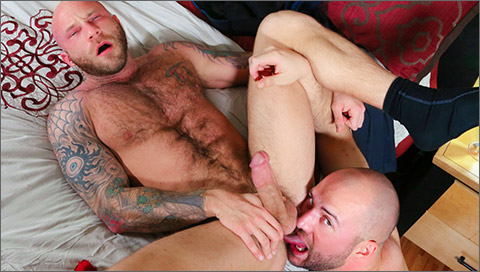 ALL MY LOVE
They went on a hot date for Valentine's Day, had some amazing food and wine and made it back home where David surprised Drake with candies and chocolate. Drake was extremely happy and they had some champagne to get the night started. These two love birds take their time getting their clothes off but they passionately kiss and fondle all the way until they are both naked and blowing each other. The intimacy between the two is unreal and follows up with some very hot sex as they take their time exploring each other from head to toe. It's a new year and new beginnings for these two love birds and they seem like they will be going strong for many more to cum.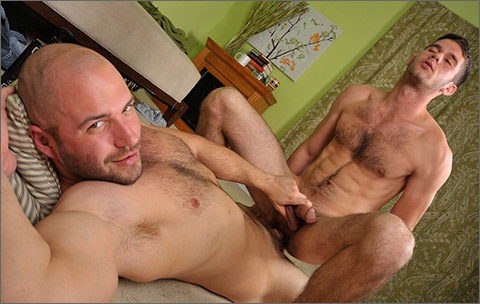 THE ERECTOR DETECTOR
David Chase is back on MenOver30.com and is in for a real treat as he christens newcomer Jimmy Fanz to the MenOver30-by-injection club. David is on a ladder at Jimmy's installing a smoke detector. When he reaches for the unit, his hand lands on Jimmy's head instead. Jimmy's head makes more sense as David chucks the smoke detector and pulls Jimmy's face into his crotch. Jimmy hauls out David's cock and goes to work swallowing every inch of David's thick cock as David slams his cock down his throat. David can't get enough of that mouth and wants to see what else Jimmy's good for. He puts Jimmy against the wall as he pulls down his jeans to check out his furry ass. He dives right in eating that hole, flipping around so Jimmy can just sit on his face. Jimmy then turns around and slides his cock into David's eager mouth. "Smack it on my lips" he orders as Jimmy obliges before getting into a hot 69 so they can each have all the dick they want. Jimmy slides a rubber onto David's th! ick cock and straddles it. He grunts as that sweet ass slowly takes it all. Jimmy arches back and rides that cock. David then holds Jimmy still as he starts to ram his dick up into that tight ass making Jimmy moan for more. David pounds away at that hot hole as Jimmy strokes his hard cock. David wants Jimmy's dick inside him too so he bends over and gives it up. Jimmy rams his meat into him doggy style as he slaps that ass and mounts him. Jimmy fucks him for a while before getting him on his back for more dick missionary style. Jimmy's cock hits David's sweet spot and in no time David's cum is airborne. Jimmy then pulls out and follows suit busting his own nut all over David.
PRIDE STUDIOS
RANDY BLUE
GIO CARUSO'S BAIT BUDDIES
DOMINIC FORD
MEN.COM
THE GUY SITE
RAGING STALLION
RAGING STALLION FETISH FORCE
CHANNEL 1 / RASCAL
CLICK HERE TO GO TO HIS PRIDE STUDIOS DETAILS