Handsome American Gay Porn Star, David Benjamin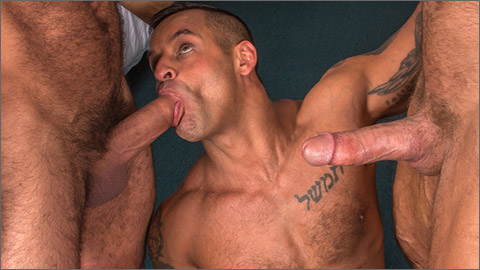 SILVERLAKE: David Benjamin picks up jogger Bennett Anthony and follows him home for some cock!
Mark Rollins (David Benjamin) has arrived back in his hometown of Los Angeles and his old neighborhood of Silverlake. Famous for its hills, valleys and 52 sets of staircases that connect them. Mark jogs up the famous Micheltorena Stairs, passing a hot, tattooed, red headed Bennett Anthony. The two share a quick moment that turns into a game of cat and mouse as Bennett leads Mark though the winding streets and narrow passageways until they arrive at Bennett's apartment. "I love gingers" exclaims Mark as he buries his face in Bennett's hairy ass. The tiny apartment is full of sweat, muscle and sexual energy that a quick fuck with a stranger you only just met. Bennett bends Mark over a folding chair and slides his dick into his waiting hole. A rough fuck is just what Mark needs and Bennett is more than willing to give it to him. Moving over to the army cot that serves as Bennett's bed, Mark slides his hole down on that stiff fire crotch, bouncing up and down, dripping with sweat and showing off the ripped muscles on his legs, chest and back. Finally rolling Mark over onto his back, Bennett slides his dick deep into Mark's hole and fucks him with that power you get just before you blow your load. David explodes with Bennett's dick deep inside him and then Bennett whips his dick out, climbs up over Mark's body and blows his load right into his open mouth.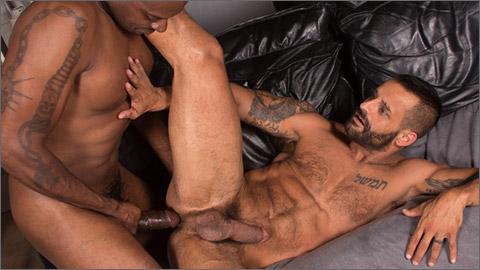 TAXMAN CUMETH: David Benjamin gives Diesel Washington full service
SF Titans Baseball coach and former star player Diesel Washington gets a visit from his accountant David Benjamin—who's nervous about income his client wants him to ignore. Diesel uses his crotch to tempt his aroused accountant: "It's all yours…go for it." David engulfs Diesel's monster, gagging on it: "It's fucking huge!" says the breathless sucker, soon begging Diesel to rape his mouth. "Don't get bossy with me," says the increasingly verbal alpha, "I'll make you choke on it." A big spit strand connects David's furry face to Diesel's cock, the smiling sucker extending his tongue for a dick whipping. Diesel sucks the excitable stud back, then eats and slaps his ass before fucking him. David's stiff dick bounces as he gets fucked, Diesel telling him to "squeeze it!" A pearl of precum drips from David's dick, the bottom soon on his back begging for more: "Stretch that fucking hole!" David's whole bod shakes as he gets owned, his cock squirting without any stroking—Diesel then dumping his load on him.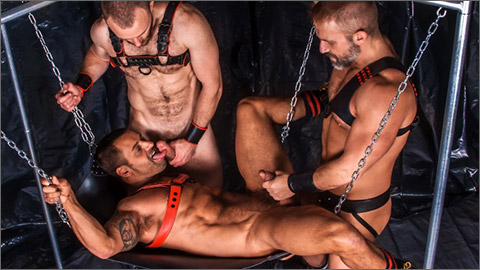 ROUGH TRADE: David Benjamin & Nick Prescott with Dirk Caber
Bursting out of their harnesses and jocks, David Benjamin and Dirk Caber lick each other's pits before swapping sucks. "Fuck my mouth, man!" says David, moaning "Smells like a man!" as he takes a big sniff of Dirk's groin. David squeezes precum out of his own dick, rubbing it on Dirk's tongue before taking a taste himself. Dirk eats and fucks David, the two then finding Nick Prescott in a sling. They suck him before David gets in the sling, getting stuffed from both ends: "Gimmie that fucking hairy cock!" he shouts as Nick plows him. "Make your fucking dick feel good!" Nick grabs the bottom's harness as he fucks him, then dildos David before they squirt on him.
TITAN MEN
RAGING STALLION
HOT HOUSE
CHANNEL 1 / RASCAL
JAKE CRUISE'S COCK SURE MEN
CLICK HERE TO GO TO HIS TITAN MEN DETAILS