Sexy Hung Uncut Muscle Russian Gay Porn Star, Dato Foland
Years Active: 2013 – 2019
TWITTER @FolandDato
MEN AT PLAY INFO:
Country: Russia
Age: 31 Years Old
Sexuality: Gay
Role: Aggressive / Dominant Top
MEN.COM INFO:
Hair Color: Black
Sign: Libra
Eye Color: Green
Dick Size: 7.5″ uncut
Height: 5'8″
Weight: 178
Sexual Positions: Versatile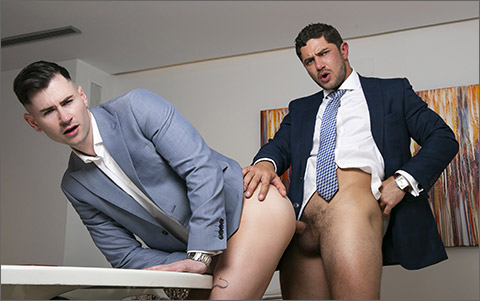 THE MENTOR AND MENTEE
Lukas Daken is on a secret mission. Get in to to the apartment, find the hidden pen drive and get out unnoticed. Sounds easy enough, but as Murphy's Law has proven time and time again anything that can go wrong usually will.
Especially when you're breaking into Dato Foland's apartment and he also happens to be your former Mentor. Embarrassed by Lukas' amateur mistakes, Dato turns this encounter into a corporate espionage re-education moment.
Lesson #1 never get caught! If you do get caught, Lesson #2 never reveal your source. Thankfully for Lukas, Dato doesn't give him the chance to reveal much of anything as he shoves his gorgeous Russian cock down the back of his throat. When Lukas bends over the dining-room table and exposes his smooth hole, Dato can't help but get lost in that inviting ass. It quickly becomes apparent that the mentee has, in fact, played the mentor.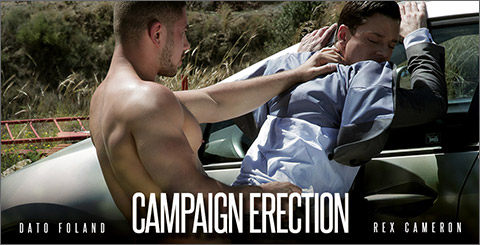 CAMPAIGN ERECTION
Rex Cameron may have seen all sorts of reactions during his election campaign but when he knocks on the door of a lonely hillside house, he gets a lot more than he bargained for from muscle-god Dato Foland. And with Dato's imposing attitude he's really not sure what to expect. Luckily for him he's caught the rugged stranger on a dry spell and gagging for a warm hole to fuck.
   After pushing the handsome business-man onto his knee, and getting his veiny dick serviced, Dato throws Rex against his car and gives him an rough ass-pounding, unlike anything he's had before.
And after he's done with him, Dato unloads weeks of pent-up sexual frustration all over the thirsty executive, covering him in a shower of hot, sticky man juice.
   We're not sure if Rex secured Dato's vote but with the intense pounding he just got, we're pretty sure he couldn't care any less.
MEN AT PLAY
MEN.COM
STAG HOMME
LUCAS ENTERTAINMENT
RAGING STALLION
CLICK HERE TO GO TO HIS MEN.COM DETAILS