Monster Cock Black ChaosMen Amateur Gay Porn Guy, Daryl
Known Aliases:
Years Active: 2016
BRIAN OCKERT / CHAOS MEN INFO:
Start Age: 31
Debuted: October 29, 2016
Height: 5'9″
Weight: 175 lbs
Cock: 9.5″ Uncut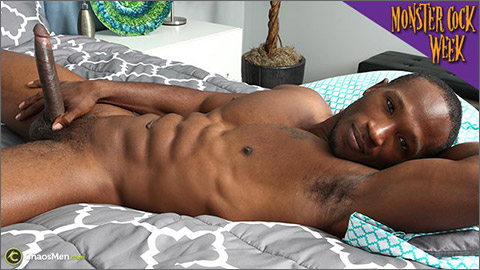 SOLO: DARYL
Daryl recently moved from Louisiana to Texas, so was looking for some extra cash as he got settled.
   Besides having a handsome face and a fantastic body, he has a 9+ inch dick that puts him solidly in Monster Cock week.
   He is straight and I didn't really get a vibe that he wanted to do more. I think it will depend on how his personal training business goes.
   It would be a shame if he didn't come back. He has amazing energy and is extremely turned-on during this video. I rushed through the interview because he was hard just from stroking his cock through his gym shorts.
   Despite being uncut, he keeps the skin pulled back, focusing his hand motion directly to his head. Every time he does, you can tell it gives him a jolt of electricity!
   When it came time to bust, he ramps up, then aims his cock into the air, and lets his cock just spasm on its own.
   The cum drizzles down his shaft like ice-cream on a hot summer day!
CLICK HERE TO GO TO HIS CHAOSMEN BIO PAGE