American Next Door Studios Gay Porn Star, Dante Martin
known aliases: Carson (Corbin Fisher)
Years Active: 2011 – 2019

PUMP & POUND
Ryker Fox has been hitting the gym pretty hard lately, so he's pretty satisfied with himself until roomie Dante Martin starts messing with him, telling him he really can't see any gains. Ryker insists on showing Dante, modeling different parts and making him feel the muscles. Dante likes what he sees, but doesn't let on until he senses Ryker's dick getting hard inside his shorts. 'One thing is defintely getting bigger,' he says with a laugh, as he reveals Ryker's cock and downs it in one fell swoop. He deep throats Ryker before bending him over and sliding his rock hard dick into Ryker's bareback hole, then proceeds to give Ryker a different sort of pump and pound, pile driving him and filling him up with hot meat before emptying his protein shake all over Ryker's freshly fucked hole.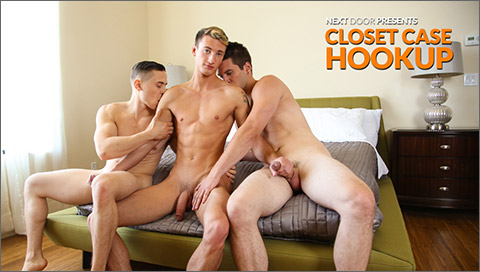 CLOSET CASE HOOKUP
As Dante Martin and his boyfriend Damian Black get busy in Dante's bed, roommate Allen Lucas lurks in secret hiding in Dante's closet. Stirring around, the two hear him and discover his spying. An irate Dante demands answers, but Allen can only offer up weak sauce excuses. Dante notices Allen staring at both of their cocks and asks Allen what he's doing. Allen confesses that he's never seen another cock besides his own, and Dante picks up on Allen's cue, asking him if he wants to touch them. When Allen doesn't immediately decline, both Dante and Damian close in on him, swinging dicks hanging out in the breeze as they inch them closer and closer to Allen's face. Confronted with two giant hungry cocks, Allen gives in and takes one in each hand, alternating as he gives each one a little taste, before plunging both of them into his mouth. Dante notices that Allen, himself, is packing quite the package, and he decides to take a ride on Allen's pole while Damian continues to feed Allen eight inches of meat.
   Allen fucks Dante well but what he really wants is to see what it feels like to get fucked, so Damian and Dante abandon the original plan and decide to take full advantage of the treat they've been gifted, taking turns pounding Allen's virgin ass. Allen takes the pounding like a champ, as Damian loses his load all over Allen's face. Feeling the cum dripping down his face, cockpig Allen spits his load as Dante fucks him harder and harder, pulling out and dousing Allen with a huge facial load that seems like it will never end.
   Now cum covered and broken in, Allen realizes why Dante was always sneaking around the house, and Dante realizes why he always thought he heard something coming from the closet. Looks like both guys will be able to be more open now.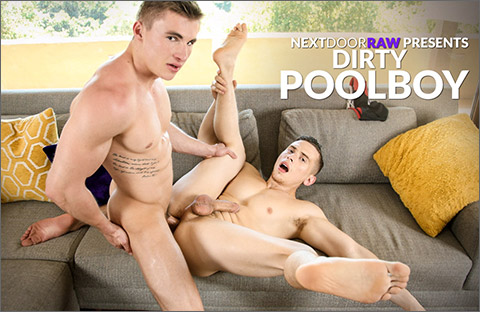 DIRTY POOLBOY
Under the hot sun, poolboy Jake Davis does his job as homeowner Dante Martin relieves him with a pitcher of lemonade. Jake has done work for Dante and his husband for a while, and Dante asks Jake about his girlfriend. Jake tells him that his girl is really boring in the bedroom, and it's obvious to Dante that Jake is seeking something more, sexually.
   Jake tells him that his main problem is that he hates the apps and online solutions, and is just looking for a fuck buddy that he already knows. Smiling, Dante places his hand on Jake's knee, and Jake realizes he's been dropping hints unknowingly.
   Taken aback, Jake nonetheless finds the offer appealing, and so when Dante offers to stretch Jake's horizon's, the poolboy agrees. Moments later, Jake is sweating harder than the condensation on the pitcher of lemonade, as Dante peels off his skivvies and downs his hard cock. Jake gets hard as a rock immediately, as Dante deep throats his dick down to the base, teasing the head with a flick of his tongue before they move inside. Once in the house, Jake strips Dante out of his clothes and returns the favor, sucking him off, spitting on the head, then downing him all over again. Dante is hungry for Jake's ass, so he has him straddle his face.
   Jake grinds his ass as Dante tongues his hole, jacking himself hard as Dante slips a finger inside himself. Dante's hard as a rock but he wants something more, so he mounts Jake's cock reverse cowboy, his meaty ass right in Jake's face as he bounces up and down on his meat stick. Jake is uninhibited, fucking Dante hard and rough just like he likes it as they switch from cowboy to doggie style. Jake pounds Dante hard from behind, grabbing him by his shoulders and then around the neck, all the while filling Dante up with his hard dick.
   Jake pumps hard as Dante strokes himself off, shooting a huge load all over the room as Jake pulls out and coats Dante with his own over-due load. Sated, sweaty and covered in cum, it's a good thing the pool is clean to go rinse off.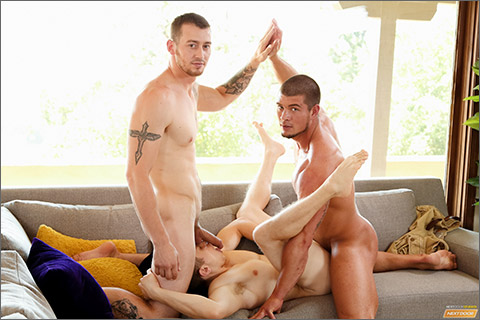 BIG DICK SUNDAY
Thaaaaat's right, fuck fans! It's Big Dick Sunday, and these three sizzling-hot guys are fired up. We have the tall, sexy Mark Long, the cock-hungry and gorgeous Dante Martin, and the incredibly chiseled Brad. They've each been working 'hard' recently, so director Rocco Fallon is giving them a treat!
   The boys don't know what to expect, but once they're all in the same room, ready to go, Rocco is filling them in on the plan. They're being rewarded with the chance, in Rocco's words, to remove all the porn distractions, like dialogue, premise, etc., and getting the chance to get as wild and crazy with each other as they want! You want it and they want it. This is real, natural sex, the way it's best enjoyed.
   Dante is the man in the middle for this adventure and he does NOT hesitate to jump in head first. If you know Dante's style, you know he's always full steam ahead, eager to have his holes fucked. Getting to play with two big dicks at once, with no rules, is right up his alley.
   The guys start out slow and passionate, taking turns kissing Dante and feeling each other all over. Then the shirts come off and dicks harden up a bit. After Dante enjoys nibbling Brad's hard nipples for a while, the pants all come off and Dante strokes both guys at once. It's a breathtaking sight to see such a hot guy jerking two enormous, stiff cocks.
   Then Dante goes to sucking one at a time. He starts by taking deep mouthfuls of Mark's fat meat, then going over to take Brad's erection. This gets Brad curious about Dante's ass, so he leans over and flicks his tongue in there while Dante goes back to slurping Mark's dong.
   The feeling of Brad tonguing his hole gets Dante eager to be fucked. He wraps his lips around Brad's dick again and presents his tender ass to Mark to be ravaged. And boy does Mark take advantage! He slides his throbbing cock into Dante from behind and rocks him hard and deep.
   Dante goes from getting banged by Mark to riding Brad on the couch. Brad helps him out by bouncing his bubbly ass up and down on his thick boner.
   Dante goes to his back so Brad can continue slamming his hole while Mark sticks his meat into Dante's mouth again.
   Join in, fuck fans, for an epic encounter where anything is allowed and the boys have a real field day with each other. And when these amazing dudes each erupt all over Dante, you're gonna wanna right there in the middle!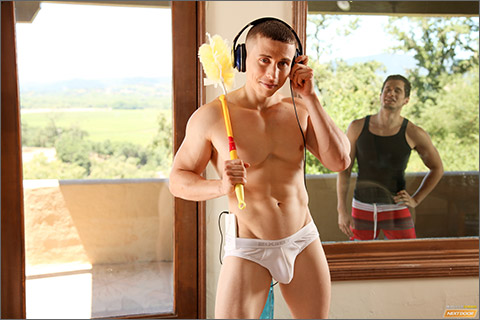 MY WIFE'S GAY BROTHER
As Joey Moriarty stumbles into his living room, he finds his wife's brother Dante doing some summer cleaning. Dante, never the shy one, dusts in his skivvies as he listens to his headphones, shaking his sexy tight ass as he goes along. Joey stops short when he sees Dante dancing on a table, and decides to watch his brother in law and see what he's got. To his surprise, Dante is actually quite the dancer, so when he turns around and catches Joey spying on him, Joey quickly shifts the conversation away from perving out on his family to Dante's prowess as a dancer, asking him for a few pointers or tips on the dance floor. Dante obliges, and guides Joey through some basic steps, grabbing his less coordinated hips and personally moving them himself. Dante's hard on brushes up against Joey's back, and as Joey notices, he seems a little taken aback but not necessarily all the way put off, so Dante uses the opportunity to explore Joey's intentions, and whether or not he'd be willing to learn a few more choice moves.
   Seconds later, Dante and Joey are locked in a kiss, shedding layers of clothing and making their way to the sofa, where Dante rips off Joey's shorts and begins to suck him off, his own underwear half pulled off him as he gags on Joey's straight hard dick. Joey pushes his head down further, choking Dante as spits all over the shaft, and with his cock sufficiently hard, Joey flips the tables on Dante- literally- laying him out on the coffee table as he lifts his legs and begins to eat him out. Joey tongues Dante's hole until its ready for Joey's meatstick, and when Dante can stand it no longer, Joey gives him the high hard one, pumping him deep in missionary on the table as Dante strokes his own cock.
   Joey shifts him onto the bed, hitting Dante's perfect bubble butt from behind as Dante takes every inch like a champ. Joey fucks Dante as hard as he can, much harder than his wife would ever allow, and Dante never flinches, pushing Joey back onto the coffee table and mounting him reverse, grinding against him, riding his cock as he strokes his own into orgasm, launching his load all over the room as Joey continues to pound away from behind. When it's Joey's turn, he pulls out and blasts his load all over Dante's waiting face, and as he opens his eyes from the release, he realizes Dante has not only unlocked his inner dancer, but perhaps something else as well.
NEXT DOOR RAW
NEXT DOOR STUDIOS
CORBIN FISHER
CLICK HERE TO GO TO HIS NEXT DOOR STUDIOS DETAILS
BIG DICK SUNDAY
BROMANCE
GETTING AN EYEFUL
FRATERNIZING
HEAD TO HEAD
GLOW
THE NAKED CHALLENGE
BOTTOMING 101
BLUE STEEL
MY WIFE'S GAY BROTHER – PART 2
MY WIFE'S GAY BROTHER
PHILIP TAKES CARSON'S LOAD
CHASE FUCKS CARSON
CARSON CUMS IN HARLEY
CARSON SHOWERS DOUG WITH CUM
ZEB CUMS ON CARSON
CARSON BONES PHILIP
CARSON POUNDS JON
CARSON SWINGS HIS BAT
VIDEO ON-DEMAND: Ryker Fox @ AEBN SMUTJUNKIES THEATER
DVDs & ON-DEMAND: Ryker Fox @ TLA VIDEO