Australian Bentley Race Scottish Mate, Danny Johnston
Years Active: 2015
BENTLEY RACE INFO:
Let me introduce to our newest mate. It's 24 year old Scottish lad Danny Johnston. Danny moved down under to Australia a couple of years ago. He had applied to model with me when he arrived here but had cold feet when it came to stripping on camera. He sent me some new pics a couple of weeks ago a and I was really impressed. I can see that Danny has been working out a lot! He has got a really nicely defined muscly body. He was a bit nervous about doing the shoot. I was having some fun with him as he pulled some tough guy poses for me. And it ended up being a very hot shoot. Danny's video ends with him jacking quite a big load of cum over his belly while I filmed around him. I think Danny is a very nice addition to the pack of mates I am shooting with this year. I can't wait to see him in action with some of my mates.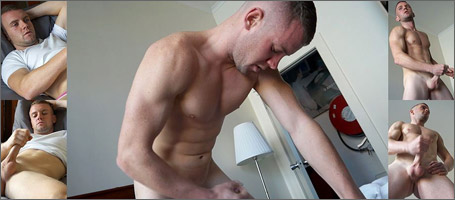 A HOT AFTERNOON OF JACKING WITH DANNY JOHNSTON
This is Danny's first porn video scene. I was interested to se how he would go jacking off while I filmed him. He was a bit nervous during his photo session. It turned in to a very good wanking scene as he jumped up on my bed and started playing with his cock watching some porn on the telly. I was concerned that he was going to remain laying in one spot for the whole video so I asked him to move around a bit so I could film him wanting from different angles. Danny has got a really nice thick uncut dick. And he ended his scene by dumping quite a lot of cum across his belly. He must have been saving that one for days. It is a really nice scene from our new muscly mate.