Broke Straight Boys American Gay Porn Star Amateur, Danny Cannon
Years Active: 2015
BROKE STRAIGHT BOYS INFO:
Age: 22
Height: 5.7 (170cm)
Weight: 155 (70 kg)
Shoe: 11 US (45 EU)
Cock: 6.0 (15cm) Cut
Danny Cannon is a 22-year-old straight guy from Tennessee, and this farm boy from a super conservative family has a lot to learn about being on the set of gay porn! While he has branched out from his family's conservative ways and opened his mind to new experiences, he hasn't had any experiences in the porn industry…yet. The money is what drew him in, all that college debt needs to be paid off somehow, and we're lucky this stud found us! Danny is a go-getter who is intent on reaching his goals and making a good life for himself, and although he knows he'll have to conquer his nerves in the scenes ahead, we're sure that this genuine, determined young man will be a star on BSB in no time!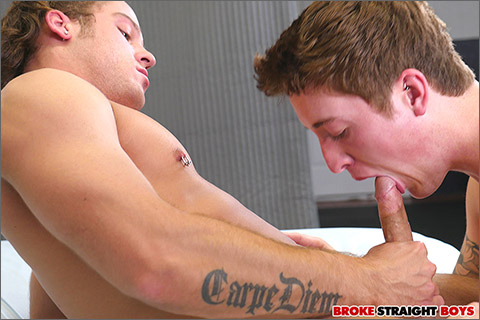 ZENO KOSTAS FUCKS DANNY CANNON RAW
Zeno Kostas and Danny Cannon have both been hitting the gym and working on themselves and their bodies, so they're excited to show them off as they strip off their shirts and press those sexy chests together! Danny lets Zeno take the lead, and Zeno doesn't mind as he kisses Danny hard and lays him back on the bed, placing gentle kisses on his torso and legs before wrapping his warm lips around Danny's sweet cock, deepthroating him and licking his balls.
   They swap places and Danny gives Zeno oral, massaging Zeno's prick with his mouth and hand while Zeno watches him work, standing up and letting Danny suck him off a little more before they're read to get to fucking! Zeno holds Danny's legs up as he lies on the bed, spreading that ass wide open and sliding his bareback cock inside of Danny slowly, then pumping faster as Danny moans.
   Zeno stuffs Danny's ass full of cock, taking him in different positions and fucking him raw, Zeno's sexy body moving and hips thrusting as he claims Danny's hole! After some more good thrusts his pulls out and shoots his load onto Danny's back then flips him over and sucks him off!

TANNER VALENTINO FUCKS DANNY CANNON
Tanner Valentino made it through his solo scene and is back with handsome Danny Cannon to learn a thing or two about being with a dude! Danny is more than willing to help this newbie out as they move in for some deep, passionate kisses and Danny's hand finds itself teasing Tanner's package. Eventually Tanner's pants are off and Danny is on his knees giving Tanner's uncut cock a good sucking, deepthroating that meat as Tanner shoves it farther into Danny's throat!
   Tanner watches from above as Danny gets into the oral, running his mouth slowly across Tanner's dick until it's time for Tanner to get some practice in. When Tanner gets on his knees in front of Danny, there's a glimpse of uncertainty that shows through Tanner's cool demeanor, but as his mouth gets used to the feeling of a cock inside of it, it gets easier and easier to figure out what to do with it.
   From one new experience to another, Tanner gets to stick his dick deep inside of Danny's tight ass next, entering him slowly and running his hands along Danny's body. Danny has a hard time taking Tanner's huge cock at first, but when he gets warmed up he rides that dick and takes a pounding as Tanner slams into him until he cums, getting squirted with Tanner's jizz right after! For a first timer, Tanner sure dominated Danny's sweet ass!
CLICK HERE TO GO TO HIS BROKE STRAIGHT BOYS DETAILS