Corbin Fisher Amateur College Guy, Daniel
Years Active: 2016
CORBIN FISHER INFO:
Age (2016): 22
Waist: 31
Eyes: Blue
Height: 5′ 11″
Weight: 165 lbs
Hair: Brown
Build: Athletic
Cock: 7.0″ cut
Shoe: 11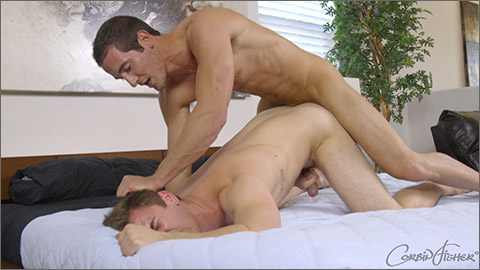 GRANT'S FIRST TIME
The rumors have been flying in since Daniel hinted about a hook up with a hot stud with a huge cock he'd just had. Seeing the action for myself, I could tell why he was so eager to talk about it- the way he was worked over is worth celebrating! From start to finish Daniel's face tells you all you need to know about the quality of the fuck he's getting!
   Grant is hard almost immediately and seeing that big dick of his experiencing a blowjob from a guy the first time, especially while he has a nice cock in his mouth is beyond hot- and that's just the start! Things get even better when he slides that hot cock into Daniel. Grant is a natural and incredibly passionate. You can see his curiosity blossom to surprise and ultimately pleasure the more he explores and experience's Daniel's body.
   We also get a better glimpse of his diversity. At some points he's slow and sensual, in others he's hard and deep- he's enjoying sliding his dick in and out of his hole in every way, and does so. There's no doubt about it, whether it be guy or girl- this guy knows how to fuck!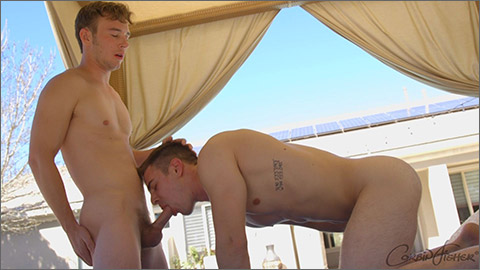 DANIEL RIDES BRAYDEN
Hanging out poolside, Brayden isn't interested in getting in the pool as much as he is getting into Daniel!
   They quickly strip of their small trunks. Brayden kisses Daniel then works down to his dick. We already know that Brayden is a natural pleaser – but here we find out that Daniel is too!
   Newer to CF, Daniel has recently agreed to do male/male – and now has no plans on stopping! Already bent over to suck cock, it's easy for Brayden to turn him around and jackhammer into that tight hole of his. Daniel gets fucked in almost every position that Brayden can think off. With Brayden's dick drilling his ass, Daniel leans over to kiss Brayden. Mid-kiss he knows he's going to cum- and hard! He aims for Brayden's mouth but ends up shooting his load all over his face! Of course that surprise makes Brayden cum buckets!