American Dream Boy Bondage Gay Porn Star, Daniel
Years Active: 2015
DREAM BOY BONDAGE INFO:
Age: 18
Height: 5? 10? (1.8 m)
Weight: 155 lbs (70 kg)
Waist: 31? (80 cm)
Chest: 42? (91.4 cm)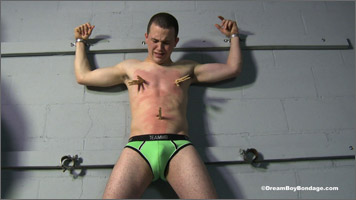 DANIEL THE BIRTHDAY BOY
Today is Daniel's 18th birthday. But he's not celebrating with cake or a party. Instead, he is hauled into a concrete bunker, blindfolded and shackled. You see, Daniel is a troublemaker at his high school. He is often truant. He smarts off. And, last week, he hit a teacher. The school district has waited for him to turn 18 to submit him for punishment because, as an adult, he can be stripped naked, severely tortured and sexually abused. In other words, his 18th birthday – his first day as an adult – will be pure hell. A beautiful boy, hairless and innocent, Daniel is stripped to his tiny briefs and bolted to a concrete wall. "Do you see what is on that table?" the man standing before him says in an emotionless voice. Daniel holds back tears as he looks over at the collection of whips, clothespins and clamps.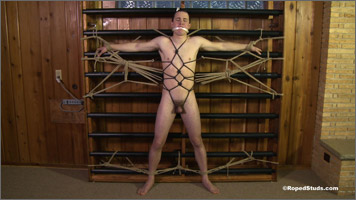 ROPED STUD DANIEL
Daniel is J.J.'s new high school twink stud. Roped up against the wall, arms straight out with feet spread wide, Daniel is hooded, blind to the outside world aside from faint footsteps of his new Masters. J.J. moves in to appreciate his fresh twink meat, caressing the boy's body up and down, ripping his shirt open, and waking up Daniel's cock inside his tight blue Andrew Christian undies. Time for some real fun. J.J. whips the boys chest and abs mercilessly, Daniel screaming under his hood with each blow. What could be better? Hard dick! J.J. pulls down Daniel's undies, works the twink's cock until its rock hard, and proceeds to whip him all over again! Daniel's chest and abs turn bright red, and his cock and balls are not spared as J.J. taps his bound boy's hard-on over and over. The only thing worse than the pain is the fear of not knowing when the next blow will come, or if it will ever stop. In his defense, J.J. isn't sure if he will ever quit!
   KENNETH BENJAMIN'S DREAM BOY BONDAGE
   KENNETH BENJAMIN'S ROPED STUDS