William Higgins Czech College Jock Gay Porn Star, Dan Holan
Known Aliases / aka:
Years Active: 2017 – 2018
WILLIAM HIGGINS INFO:
Model Name: Dan Holan
Age: 19
Home Town: Prague
Height: 174cm/5'8″
Weight: 67kg/147.4lb
Foot Size: EU42/US8.5/UK8
Penis Size: 16cm/6.3″
Profession/Student of: University student
Hobbies: Hiking
Favorite Sports: Soccer
Active Sports: Fitness
Movie/Music/Sport Stars: Monika Bagarova
Visited Countries: Poland
Want to Visit Countries: Germany
Dream of My Life: I do not know.
Zodiac Sign: Aquarius (January 20 – February 18)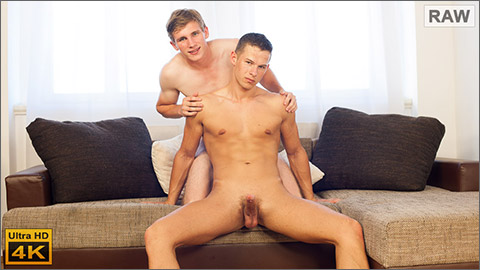 CHERRY BUSTING: DAN HOLAN & MARTIN HOVOR
Dan Holan gets his cherry busted by Martin Hovor today. They have a chat on the sofa to start, with Dan smiling and laughing as they talk about sexy together. Martin pulls Dan towards him and they start kissing. Then Martin removes Dan's tee shirt and the favor is returned. Then Martin pushes Dan back and stands over him to kiss some more as they feel each other. Martin opens Dan's jeans a little and feels inside. Then he drops his shorts to expose his big, hard, cock. Dan takes hold of the cock and begins to suck it. Martin fucks his throbbing dock into Dan's mouth. Dan's lips are wrapped tight around the cock as he sucks on it. He does a great job of sucking and wanking on that big dick. Martin's balls are so tight at the base of the shaft as his dick is sucked. Then Dan's jeans come off and Martin sucks on his cock . He gets on his knees to enjoy that hard cock as Dan's hand rests on his head. Martin keeps sucking for a while and then Dan takes another turn on his cock. Then Martin moves Dan to lay on his back with his legs in the air. Martin's finger finds the virgin hole and starts to finger it. The hairy hole takes the finger nice and deep as Martin works it in and out. Then Martin's big dick is positioned and slides into the tight ass hole. He starts to fuck the ass going in deep. Dan takes it well and then turns over onto his knees so that Martin can fuck him some more. Martin works his big dick deep into the ass, stretching the hole wide. The fucking speeds up when Dan lays on his back again wanking himself. Martin's dick pounds the hot hole as Dan's wanking gets faster. Very soon Dan shoots his creamy cum all over his belly . He milks his cock dry as Martin's cock keeps fucking his ass. Then Martin pulls out and wanks his cock to shoot his cum over Dan's hand and body. He leans forward and kisses Dan again to end a very hot scene.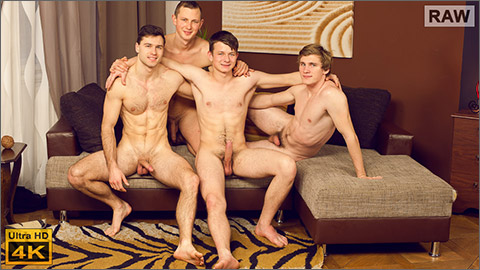 WANK PARTY #92
Wank Party #92 features 4 hot str8 guys, Laco Meido, Dan Holan, Tomas Salek and Franta Tucny. In this first part we see Tomas adjusting his hair when he is joined by Franta to offers to help. Tomas then does the same to Franta. They begin to kiss as well, letting their hand run over each other. Tomas pushes Franta's jean down a little, reaching inside. Franta opens Tomas jeans and pulls out his stiff cock. Both cocks are soon out and are rock hard as the wank each other while still kissing. Then Tomas leans against the wardrobe as Franta drops to his knees to suck on the stiff cock. Tomas is rock hard as he mouth works on his dick. Franta licks and sucks on that cock as Tomas thrusts his hips. He pushes Franta's head down on the cock as they are joined by Dan and Laco. Laco kisses Tomas as Dan does the same with Franta. Laco drops to his knees and sucks on Tomas' dick as Dan takes Franta's in his mouth too. Both heads bob up and down on the rampant cocks. Tomas and Franta kiss as they enjoy the feeling of the hot mouths on their cocks. Laco then stands and kisses Tomas as Dan and Franta enjoy his cock. Franta then sucks on Tomas again. Laco's huge erection enjoys a lot of attention from both guys and Tomas stays rock hard too as Franta; mouth goes back down on it. Tomas moves to the sofa and is joined by Dan. Dan raises his legs for Laco to rim his hot hot. Tomas' legs are up too as Franta sucks his cock some more. Laco keeps working on Dan's hole, slipping his finger inside. Everythng is set up well for a very hot part two.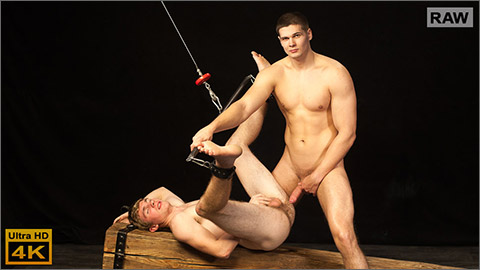 DUTY BOUND: DAN HOLAN & TOMAS FUK
Tomas Fuk has Dal Holan gagged and shacked, wearing only a jockstrap and wrapped in chains. He is moaning and trying to escape when Tomas comes in and begins to feel the hot body and grope the crotch. He takes his favourite electric probe and sparks it against Dan's hot body. Each spark makes him jump and squirm. Tomas applies clothes pins to Dan's nipples and another on his crotch. Then he removes the underwear to expose Dan's cock and balls. He squeezes the balls and grabs at the cock. Then Tomas removes the gag from Dan's mouth and he shoves his stiff dick in for sucking. He soon has Dan on his knees, bent over and showing his hairy ass. Tomas'big, stiff, cock slides into that hot, hairy, ass and starts to fuck. He pounds Dan's ass, spanking it too, and gives him a good hard fuck. Dan's ass cheeks redden as the heavy hands land on it as his hot hole is banged deep and hard by Tomas' cock. Tomas moans loudly as he gamely takes that dick all the way in his ass. Tomas grabs Dan's hair for leverage as he keep up the hard fucking. Then he turns Dan over and raises his legs, shackled wide apart, so he can fuck that sexy hole some more. Tomas keeps up his hard fucking as Dan grabs his own dick and starts to wank it. Dan soon gets hard as he takes that big dick, and shoots his hot cum onto his belly. Tomas continues to bang that ass until he is ready, then he pulls out to shoot his hot, creamy, cum onto Dan's cock and balls.
WILLIAM HIGGINS
STR8HELL
BADPUPPY
CLICK HERE TO GO TO HIS WILLIAM HIGGINS BIO PAGE
CLICK HERE TO GO TO HIS STR8HELL BIO PAGE