SpunkWorthy American Gay Porn Amateur, Damien
Years Active: 2015
SPUNK WORTHY INFO:
Damien is one eager beaver. He's a 22 y/o Marine who just got back from a long overseas deployment and wanted to hit the ground running. Literally, the day after coming home he got in touch with me to ask about living out his dream of doing porn. After seeing his pics, I told him that I think we could work something out. (wink)
   He's a bit of a wild one. When he told his Marine buddy about coming over for a shoot, apparently his response didn't involve much surprise, telling him that of all the guys in the group, Damien would be the one to go for it.
   Damien is a total jock. Name a sport and he's probably played it. He's also a gym nut, going running and hitting the weights just about every day. And, damn, has it paid off.
   Besides his great bod and great ass, one thing that "wow'ed" me most was how much he wanted to make an impression on his porn debut. I told him, as I do all the guys, to save up a load for the shoot.
   "My girl texted me last night," he admitted when he showed up. "I couldn't say no. She begged me to come over."
   This is usually when I start to wonder what to expect when it's show time.
   "I did what you told me, though, and didn't cum. I just took care of her."
   Whether that's true or not, I can't be sure. But I'm thinking he told the truth, because when Damien's grand finale came, it was pretty amazing. Streams of cum shot clear up his chest, hitting his neck and armpit, and completely soaking his stomach.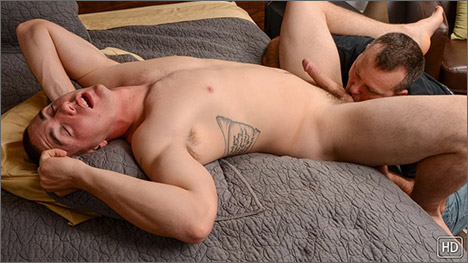 BLOWING DAMIEN
After his last couple shoots, Damien's girlfriend started shortening his leash a little, so it'd been a while since I'd heard from him. When he did finally get in touch asking about another video shoot, you can bet I was gonna be game. And you can bet I was going to test the boundaries with some ass play that he seemed to enjoy during his massage video.
   Damien showed up already pitching a tent behind his jeans. It sounded like he hadn't been getting enough action lately and was more than ready to unload.
   After peeling his clothes off, I got to work getting Damien's cock primed before pushing back his legs to give his virgin hole some attention. Damien's mouth fell open and eyes squeezed shut as if he'd just been handed a little slice of heaven. I know I had!
   Damien stood up, grabbed the back of my head proceeded to slowly push his dick down my throat, then faster as he found his rhythm. This boy was rock hard and wasn't holding back any longer.
   Even though he likes getting his dick sucked, Damien had told me that it's always been hard for girls to get him off from head. Not being one to back down from a challenge, I worked and worked and worked to try and be the first. (Hey, I ain't complaining about it, though.)
   Eventually, Damien grabbed his cock and started jerking as I lubed up a finger and slid it up his ass while licking his balls. His whole body clenched up until he let out a series of moans and gasped that he was about to cum… three big squirts all the way up to his chest and shoulder!
Tags: Oral, Big Cumshot
DAMIEN: TOYS
BLOWING DAMIEN
DAMIEN & TOM: JO BUDDIES
DAMIEN'S MASSAGE
DAMIEN
CLICK HERE TO GO TO HIS SPUNK WORTHY DETAILS