Sexy Tattooed American Gay Porn Star Hunk, Damien Michaels
Years Active: 2015 – 2016
TWITTER @BigDame90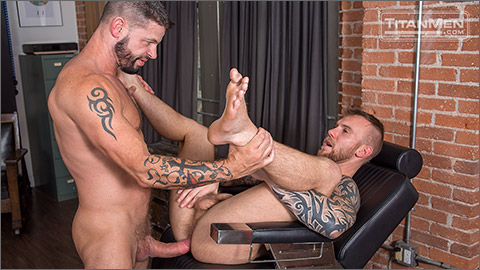 BEARDS: Tex Davidson fucks Damien Michaels
An afternoon haircut and beard trim turns into some heavy action for these two edgy, scruffy men. Damien, the tattooed, ginger barber finishes work on the ruggedly handsome Tex and decides to get to work on Tex's big, thick, hard dick.
   Getting to his knees at the foot of the barber's chair, Damien sucks Tex to the hilt. Gasping for air, choking on its thickness. Damien keeps Tex on the edge, moaning for more. Tex stands him up and pulls Damien's hard dick from his pants to suck it before turning him around, bending him over the chair and fucking him right there. Damien's hole stretches to fit Tex's girth. It's a tight fit but Damien takes it like a boss, all the way in.
   Wanting to pound it out a bit more, Tex moves Damien to a nearby window bench and, in full view of the neighbors, sits Damien down on his dick for another round of pounding.
   Back to the chair, this time with Damien with both his legs in the air, getting his hole pounded as he grunts and shouts for more. The thickness and full 9" of Tex's dick gets buried deep in Damien's hole until neither can take any more and both blow big loads all over Damien's hairy abs. All in a day's work at the Barber Shop.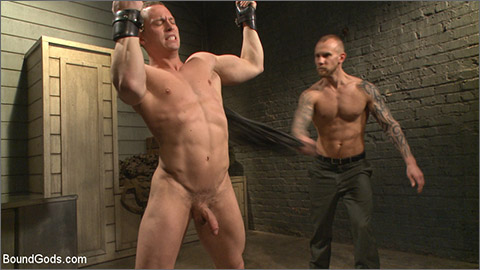 ENHANCED INTERROGATION: DETAINED STUD FACES A HORNY, SADISTIC AGENT
It's dark, and Tommy Regan can't move. Heavy straps keep him bolted to a chair in some God-knows-where place. Occupational hazard for a spy. Suddenly, bright lights wash into his eyes as the hood over his head rips off. As he regains his bearings, he realizes that some intelligence officer, Damien Michaels, has him as prisoner. Damien spares no pleasantries and gets straight to the interrogation, punching Tommy's bulging pecs and twisting his nipples raw. The bad cop routine isn't getting Damien what he wants, so he flips the approach and edges Tommy's cock to get the intel. Now that Damien got what he wants, he keeps Tommy around for fun, suspending his arms above his head and flogging his hard body raw, only interrupting the torment to make Tommy gag on his dick. Damien takes Tommy deeper into the black site, chaining him from the ceiling in a sleep sack and fitting his dick with electrodes. Tommy reels under the pain from the electricity, submitting fully to his captor. Damien keeps Tommy slung from the ceiling as he fucks him relentlessly. Damien milks a load from his captive before covering his ass in cum. Tommy sways in the air, defeated and broken as the cum drips down from his body.
Van's Note: I had an estim pad below each of Tommy's nipple under the sleepsack. That would complete the circuit for each estim nipple clamps. I couldn't get the damn thing to work so I didn't bother to open the sleepsack to reveal the pads and decided to leave everything on as decoration. I was going to discuss it in the post interview. It was such a long day and I simply forgot. Sincerely, Van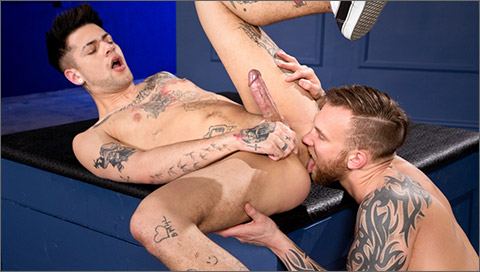 TEMPTATION: Damien Michaels fucks Mickey Taylor
Inked and lean studs Damien Michaels and Mickey Taylor energetically swap spit. The electricity between them is undeniable. Mickey kisses and licks almost every square inch of Damien's tight body before focusing on his thick cock and shoving it down his throat. Licking on his balls, Damien pushes Mickey's head all the way down on his meat. They swap positions with a kiss, giving Damien a chance to blow Mickey and practice some serious ass-eating on Mickey's tight, smooth hole. As Damien sops on Mickey's cock, he fingers his cock-hungry hole. That's Damien's cue to ram his throbbing rod into Mickey's eager ass. Pummeling his pink center fast then slow, Damien digs deep. Mickey focuses on stroking his cock and spreading his legs wider for Damien. The intensity of their connection builds and they climax together, resulting in Mickey's creamy load splattering onto his stomach and shoulders as Damien's thicker load pools onto Mickey's groin.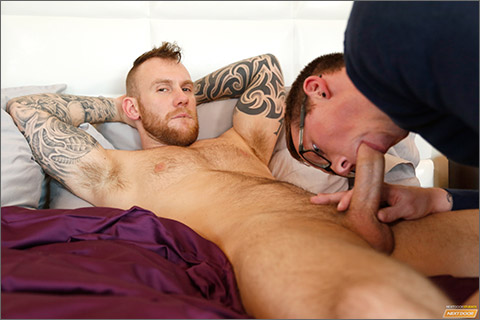 FATHERLY FIGURE
It's tough for a young man growing up without a solid father figure. It's a good thing sweet Jackson Cooper's mom is together with Damien Michaels now. Jackson sees Damien as such a strong, mature guy.
   What Jackson doesn't know about Damien, is that he used to hook up with a few of his fellow frat buddies in college. Now, as Jackson has just been caught by Damien, masturbating to gay porn, Jackson feels he should open up to Damien about some feelings he's recently been having.
   As Jackson explains to Damien that he might be attracted to guys, Damien's ears perk up and his dick begins swelling. And when Jackson explains that he's more interested in older guys, Damien comes up with an idea.
   Damien tells Jackson that what he's feeling is normal and ok. He swears he won't tell his mom, and brings Jackson in for a hug. But as the hug turns into something more, Jackson realizes his wildest fantasy is coming true!
   They start off with some passionate, deep kissing. Jackson moves down Damien's body, unbuttoning his shirt, and kissing all over his chest and stomach. Then Jackson decides to see what a dick tastes like for the first time. Damien guides him in his exploring.
   Then Damien returns the favor by slurping on Jackson's stiff, virgin cock. What a sensation! Jackson can't believe Damien is naked and sucking on his dick.
   After some 69ing, Damien has Jackson sit on his dick and ease It into his super tight hole. It's not easy at first, but Jackson works up his pace and can't believe how good it feels! Join this learning experience and find out what happens when a sweet boy finally finds a loving fatherly figure.
TITAN MEN
KINK MEN
RAGING STALLION
NEXT DOOR STUDIOS
GAY ROOM
AMERICAN MUSCLE HUNKS
CLICK HERE TO GO TO HIS GAYROOM DETAILS
VIDEO ON-DEMAND: Damien Michaels @ AEBN SMUTJUNKIES THEATER
DVDs & ON-DEMAND: Damien Michaels @ TLA VIDEO