Blond Hung Bentley Race Aussie Mate Gay Porn Guy, Damien Dyson
Known Aliases:
Years Active: 2016
BENTLEY RACE COMMENTS / INFO:
After I met the Aussie country boy Damien earlier this year here in the city, I knew we'd be hanging out a lot this year. More recently I have been filming Damien hooking up with some of my mates. But today Damien is doing an impromptu strip show for me. We are always having so much fun fooling around. This hotel room has huge windows looking out across the city. So while Damien is still sporting a full erection I get him showing off in the window. My lanky skinny mate loves a dare and quickly jumps up in to position. It's not long after this that I film myself wanking him off on the bed. What a fun way to spend the afternoon in the city.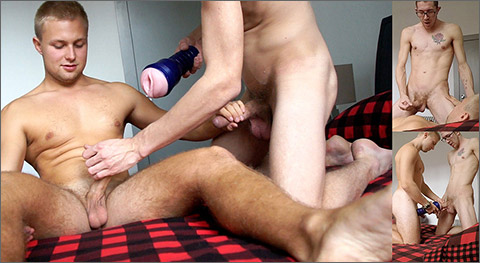 JACK VAN DUIN AND DAMIEN DYSON GET EACH OTHER OFF WITH SOME FLESHLIGHT WANKING FUN
This is one very hot video between my new mates Damien and Jack. And it's Jack's first time having sex with a guy on camera. He was a bit nervous about doing it at first. But then told me afterwards that he had fun doing it. In this scene Damien is showing our newcomer Damien how it's done. We start with a lot of kissing on the couch before the guys strip and move to the bed. They are enjoying wanking and sucking on each other's cocks before Jack suggests they play with a fleshlight. Bot of them love get the other to slowly push the rubber fuck toy up and down on their dicks. And it's actually how both of them end up cumming. It's Jack who ends up getting the cum all over him. I love shooting with both of these guys. Getting them together was awesome. They loved making out and getting off together.