Handsome Cuban American Gay Porn SuperStar, Damien Crosse
Known Aliases: Sebastian at Pride Sites
Years Active: 2006 – 2016
TWITTER @DamienCrosseXXX
TWITTER INFO:
Born in Miami of Cuban heritage and currently live in Barcelona where I am an actor and co-producer of the all-male erotic brand of films STAG HOMME.
MEN AT PLAY INFO:
Damien Crosse is sexy, butch and rugged! With his short haircut, beard and stocky build with a lightly hairy chest he looks like a real man's man and you would want to mess with him in a fight! But when MAP got there hands on him the sexy thug turned into a city gent. He looks great in a suit but the best part of Damien has got to be his beautiful big meaty cock which he just loves to use wherever and whenever he can! One Map member describes Damien "Seriously hot in and out of his suit…with a nice thick cock to get the salivatory juices going! He definitely gets the blood rushing to my groin". And Damien certainly knows how to use his nice thick cock!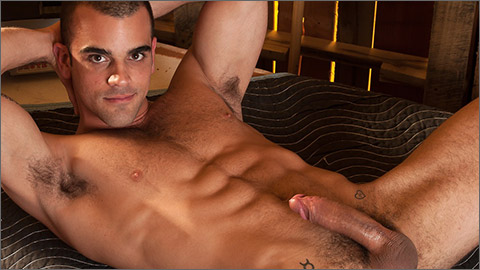 HITCH: Jake Deckard services Damien Crosse
A handsome, mysterious stranger drifts into a tiny burg and is immediately confronted by the local law authority. By the time the stranger has left town, many lives will have been affected by his presence.
   No matter what you think, you haven't seen this movie before — because in this case, the handsome stranger is played by beautiful Damien Crosse (a splashy performance, in more ways than one) and the local authority (the always fuckable Jake Deckard) apprehends him not because he's a threat, but because he's hot as hell. Jake isn't a policeman or a sheriff, he's a security guard, not that he feels any less empowered. He spots Damien on the side of the road, and makes an offer Damien can't refuse (really, it's either that or go to the police), a chance to rinse off the road dust. It seems a bit odd that Jake strong-arms Damien to take a shower — that is, it does until you get a glimpse of the shower: it's an indoor facility larger than most outdoor ones, with a deck expansive enough to have tea dance on it. Of course, Jake is lurking nearby as Damien undresses and gets wet, and he seems to almost drool at the sight of Jake's buff, lightly-furred body, not to mention his thick, uncut cock.
   The drool comes in handy. Jake downs Damien's meat all the way to the balls, his nose buried in Damien's pubes as the shower spray continues to douse them both in the act. Jake's own cock, another monster, curves upward as he towers over Damien, who sits on the floor and watches as Jake blows a load, his cum raining down on Damien's body. Jake drops to his knees and licks it up, while Damien's erection is still rock-hard, his load unspent, and somewhere along the way, his chest hair has disappeared (for a clue, check out the supplemental materials).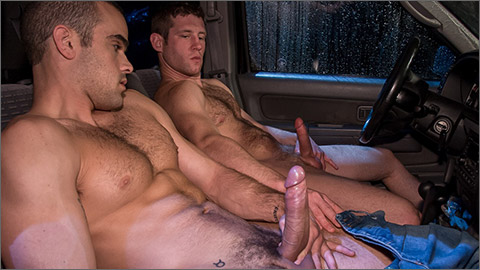 HITCH: Damien Crosse fucks Dean Tucker in the SUV
The duo finale unites hitcher Damien with hunky Dean Tucker on a rainy, dark night. Damien is on his way out of town, having already fucked just about every fuckable guy in it. Dean gives him the go-ahead to take a nap (which he obviously needs), but Dean is soon more interested in what Damien has between his legs than wherever they're going, and wakes him up. The two studs give each other hand-jobs as the car moves down the road, lightning striking in more ways than one, especially when Damien leans over and sucks Dean while he steers the wheel. With a rider as studly as Damien in the car, you can't blame Dean, but c'mon dude, pull over, that's dangerous. So he does — all the better to suck Damien's delicious-looking hooded meat. While Dean is blowing him, Damien pulls off his shirt, and raises his hands over his head. I am no armpit freak, but Damien's look so good that I could be converted by his. This part of the scene ends with big loads flying from both dudes, all over the inside of the cab, giving it that "new cum" smell that everyone loves (and an idea for a new air freshener flavor at the car wash). "Get in the back," Damien orders, and Dean jumps back there so fast he's a blur onscreen. Damien follows, and the two fuck like a couple of rutting beasts until the end of the scene, making the best argument for keeping the SUV imaginable, because no way would you have that much room to fuck in a sedan. Take that, environmentalists. Dean cums while Damien is pounding him doggy-style, and then Damien pulls out and spews all over Dean's tight butt (which he flexes suggestively all the while) at the end.
   The last image is also one of the most memorable: Dean and Damien get out of the car totally naked, and while rain pours down on them Damien pisses on Dean's chest, lit only by the bright truck headlights.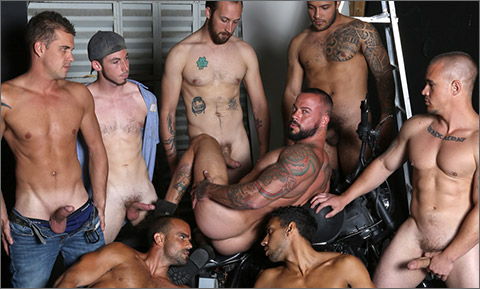 HOG WILD: SEAN DURAN GANG BANG
One insatiable cock fiend, starved for dick, pounded senseless and left covered in loads of hot jizz. Thick cocks are blown greedily and shoved into Duran's eager hairy hole!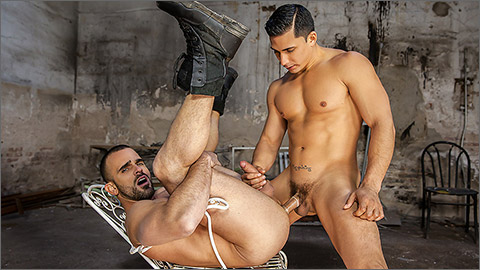 PART 1: Damien Crosse, Topher Di Maggio
Reporter Clark Kent believes Batman is a vigilante who is not doing the city any favors. Clark believes that Superman's superpowers make him the city's true protector. Of course, he is probably biased being that he is the one and only man of steel. Watch Topher Di Maggio rescue Damien Crosse by fending off his attackers and then drill his hole with his fat Superman cock.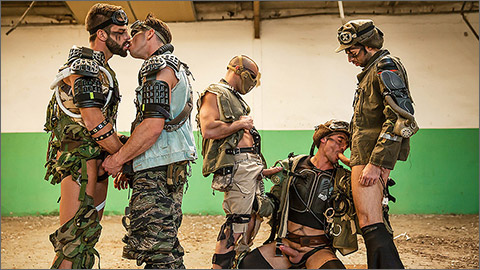 APOCALYPSE: Damien Crosse, Dario Beck, Hector De Silva, Jay Roberts, Paddy O'Brian
Paddy O'Brian, Damien Crosse, Hector De Silva, Dario Beck, and Jay Roberts fuck hard in this end-of-the-world jizz orgy.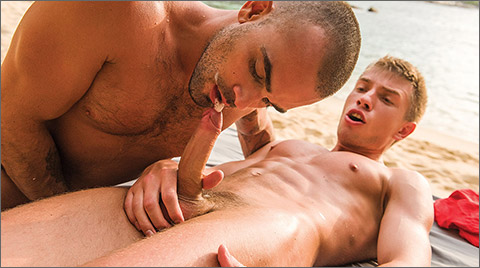 GREEDY HOLES: Damien Crosse Barebacks Bogdan Gromov's Ass
The Lucas Men are enjoying a day at the beach while Damien Crosse watches them from afar. Damien is known for his sexual appetite, and he can't help the erection he gets while lounging on the sand observing all of the fresh meat at play. Bogdan Gromov is the guy he's got his eye on, so he fakes a coughing and choking fit to get the attention of the bodyguard. It works, and Bogdan uses his hard, uncut cock to open up Damien's windpipe. Bogdan may be in a position of authority with his job — saving lives isn't easy — but when he's with a man he gives full service to his top. That's why he submits his ass so easily to Damien Crosse, who gives Bogdan an unforgettable bareback pounding on the beach as the sun goes down.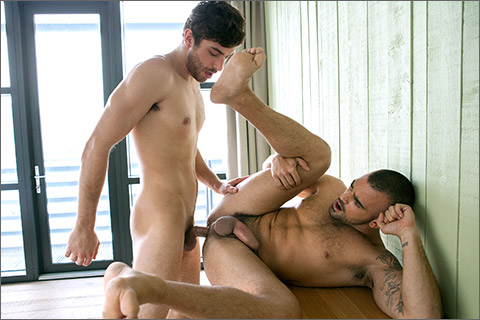 DILLON ROSSI FUCKS DAMIEN CROSSE
A weekend in the big city is just the ticket to strip away those small town inhibitions and Damien and Dillon barely made it into the hotel room before their animal desire took control. Sightseeing in the Big Apple will have to wait!
   Damien grabs Dillon and kisses him fiercely on the face as these two dig in for an afternoon fuck to remember. They make out for a couple minutes before Dillon pushes Damien to his knees and stuffs his big cock in his mouth. Damien is normally a bottom but he's not going to stop until he fucks Dillon's ass with the New York skyline in the background. These two have total chemistry and you can tell from the start that this one is going to be hot.
   Dillon enjoys a passionate blowjob from Damien before pulling him to his feet and saying "I want to face fuck you!" He lays him back on the table and slides his thick cock all the way down Damien's throat with one aggressive thrust. Damien gags a little bit but hangs in there to continue servicing his buddy's tool. Turns out Damien's got a thing for big dicks and he bends over backwards to service Dillon's sizeable manhood.
   Dillon spins him around and dives on that asshole. Rimming Damien's ass and making him moan so loud the neighbors called the front desk! He darts his tongue in and out of his asshole as he feasts on his buddy's butt before standing up and stuffing his rock hard cock up there. Dillon has got a big one and it takes Damien a couple of seconds to get used to the size of that thing but he's a quick study and before you know it he's moaning and grinding his hips into Dillon's cock like a good little bottom.
   Dillon pounds his ass relentlessly and Damien moans in approval with every deep thrust. The two end up on the bed for some furious fucking before Dillon looks Damien in the eyes and says "Fuck, you're going to make me cum!" Damien grunts, "Give it to me!" and a couple of thrusts later Dillon is squirting a thick load of cum into Damien's open mouth. Did I mention Damien is a total cum pig? Ya, he's a cum pig alright.
   The last drops are barely out of Dillon's dick when Damien wraps his lips around that rock hard shaft and shoots his load of cum. Painting his belly with splash after splash of piping hot jizz. Shuddering as the jolts of pleasure course through his body and leave him a quivering mess on the bed.
   The two take a second to recover then start making out again. Passion appreciation exchanged between their mouths as their still hard cocks poke at each other on the bed. The two finally collapse in a heap on the bed and just hold each other. A tender finish to their primal fuck session in New York City. Damn!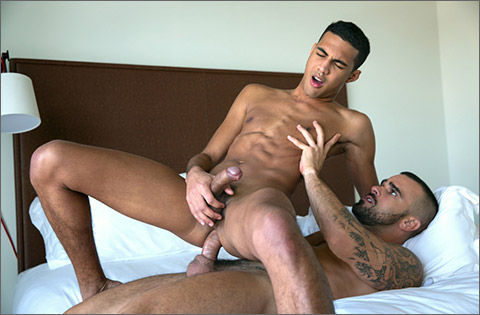 NEWCOMER KRIS KARR & DAMIEN CROSSE
Kris Karr is a young New Yorker originally from Jamaica and he decided to join the Cockyboys team to live out some fantasies. We paired him up with Damien Crosse since he's pretty much everyone's fantasy and told Kris he can pick any fantasy he wants. He told us how one time he met this stranger by the water and how he followed him to his hotel room and had one of the best sexual encounters of his life so of course he wanted to relive the fantasy of having a complete stranger take control of him. Damien was the perfect match for that since he's a big, strong, passionate top and he gave Kris not only the thrill of being dominated but also a lot of passionate moments that Kris is sure to remember for a long time.
   Kris really didn't know what he was getting himself into when he walked into that hotel room but he knew he was in for a good time. Damien slowly starts to undress him before spitting in his mouth and forcing him down on his big cock. After lots of gagging and spitting, Kris is finally ready to have his ass owned. Damien puts him on the bed and dives right in between Kris' smooth asscheeks as he spreads them apart to expose Kris' hungry hole. Without any further delay, Damien begins to ram his monster cock into Kris' tight hole and the sounds and facial expressions that Kris makes clearly show he's having a moment of pure bliss. With 8 inches of big thick cockmeat shoved balls deep up his ass – repeatedly – it's only understandable. After riding Damien's cock for a while Kris is overwhelmed by the sensation so he gets up off the bed to take a moment and recover but what he really wants is to have Damien fuck him by the window for all of NYC to watch. After a while – it's back to riding Damien on the bed and boy does he ride him! He shoots a massive load down Damien's throat followed by Damien covering his chest with his load. Talk about a sex fantasy!
COCKYBOYS
STAG HOMME
RAGING STALLION
RAGING STALLION FETISH FORCE
LUCAS ENTERTAINMENT
TITAN MEDIA
LUCAS KAZAN
MEN AT PLAY
MEN.COM
MEN AT PLAY
MEN.COM – MEN OF UK
VIDEO ON-DEMAND: Damien Crosse @ AEBN SMUTJUNKIES THEATER
DVDs & ON-DEMAND: Damien Crosse @ TLA VIDEO