Nasty American Daddy Gay Porn Star, Dallas Steele
Years Active: 2014 – 2017
TWITTER @DallasSteeleXXX
TUMBLR
San Francisco, November, 3rd, 2015)
TitanMen Signs Dallas Steele as Newest Exclusive Performer
TitanMen is proud to announce it has signed fan favorite Dallas Steele to their roster of equally impressive exclusive masculine and muscular performers.
   The retired news anchor and reporter turned personal trainer and pornstar stands 6-foot three inches tall and weighs 220 pounds. Dallas Steele has already electrified fans in TitanMen hit films "Break a Sweat" and "Blue Collar Ballers" and is scheduled to appear in several highly anticipated story driven movies for 2016.
More info continued below…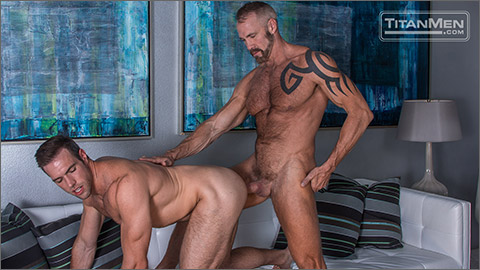 AUDITION: Dallas Steele & Alex Mecum flip-fuck
During a photoshoot, director Jasun Mark snaps away at Dallas Steele and Alex Mecum. They catch the attention of guests Dirk Caber and new buddy Liam Knox, who wants to break into porn. The nervous newbie needs some inspiration, so the director incites a four-way suck to relax him—then kicks the new arrivals out so Dallas and Alex can get to work. The two kiss, their boners poking each other. Dallas goes down on the stud, the breathless sucker coming up for air: "That's a lotta cock!" Alex sucks the daddy back: "That's so big!" he says with a smile. They kiss, stroking their cocks together to compare sizes. Dallas reaches for the sucker's tight ass, spreading his cheeks. He eats Alex and sucks him from behind, then fucks him doggie style ("Fuck, you're so big!"). Dallas offers his hole: "Bury that fucking cock in me!" The bottom's big dick bounces as he gets it from behind. He turns over, Alex's beast disappearing as his tight, sweaty body gyrates. The two shoot, Dallas shouting "Oh fuck! Wow!" as Alex unleashes a gusher. The top rubs his hands in it, feeding them to Dallas as a final kiss closes it out.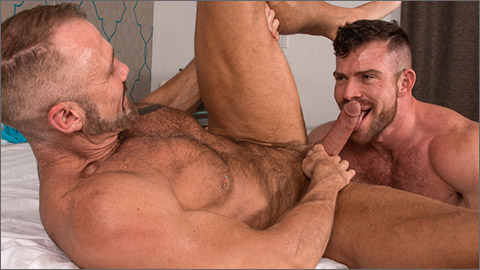 2 MEN KISS: Liam Knox & Dallas Steele flip-fuck
"How was the water?" asks a lounging Dallas Steele as beefy Liam Knox exits the pool. "Cold! Could you warm me up a little?" Their lips meet, their beards sliding against each other. Liam engulfs Dallas's cock, the sucker's boner peeking out of his trunks. The breathless Liam comes up for air and a kiss, sucking Dallas some more before offering his own cock. Inside, with his big boner grinding on the mattress, Liam eats Dallas before fucking him, the bottom's cock pulsing up with each deep thrust. Liam is soaked in sweat as he rams him from behind—then gets on his back to get pounded. Dallas wants more cock in his ass, taking it deep again as the two squirt.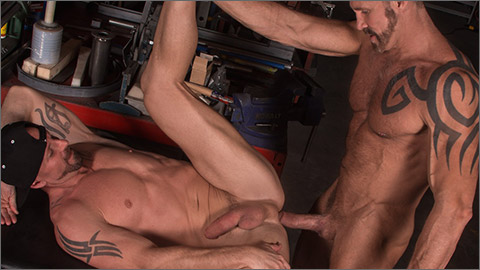 JOE GAGE'S STOPOVER IN BONDS CORNER: Dallas Steele & Mitch Vaughn flip-fuck
After a memorable doomsday bunker encounter, Dallas Steele hitchhikes across the dessert after his Jeep breaks down. He gets picked up by Mitch Vaughn, who watches the stud relieve himself before hopping in. The driver makes a pit stop to his shop: "You kind of like showing off your equipment, don't you?" The two stare at each other as they stroke their big cocks, then swap sucks as Mitch's extended tongue begs for more. Dallas eats the smooth jock's hole, then reams his ass ("Oh my God, your cock is so big!") before offering his own hole. Mitch feeds the bottom his own cum, then bursts all over his face as Dallas begs "Shoot that load in my mouth!"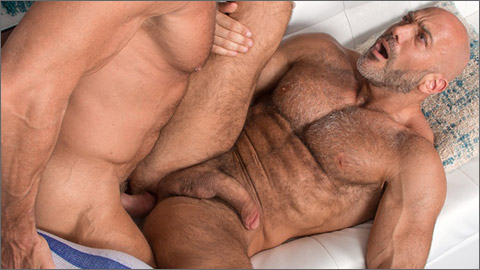 OUT! – COACH JESSE CUMS OUT TO DALLAS ON LIVE TV:
Dallas Steele fucks Jesse Jackman
San Francisco Titans coach and baseball legend A.J. Benson (Jesse Jackman) is facing pressure from the media to come out of the closet—his constant appearances with pitching coach Dave Decker (Nick Prescott) raising eyebrows. A.J. decides to come out in an interview—but not before he cums with Dave, who feasts on the jock's cock. They deep throat each other back and forth, sharing a kiss as they gnaw on a jockstrap together. Dave eats and fucks A.J. from behind, the top's furry balls tickling his ass. They switch positions before Dave tops again, plowing a rock-hard A.J.—who he strokes as he pounds, literally fucking the cum out of the sweaty slugger.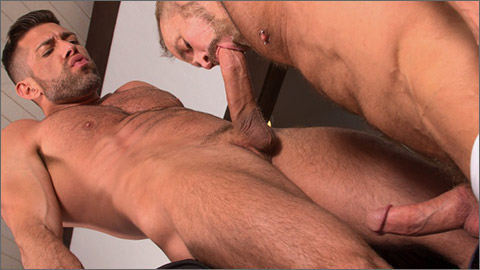 BLUEPRINT: Dallas Steele fucks Bruce Beckham
Architect Bruce Beckham arrives at a palatial estate with plans for the roofline. "I'm excited to show you what I've got," he says to Dallas Steele, who checks out his ass as he smiles back, "I'm excited to see it." Dallas squeezes the stud's shoulder, then moves in for a kiss as their stubbly chins connect. He squeezes Bruce's ass, shoulders and neck, then drops to his knees—a monster cock popping out in his face. Dallas sniffs and rubs his scruffy face against it before engulfing it, gasping for air ("Yeah, choke on it!"). Dallas's boner pokes Bruce's hairy leg as he sucks, the two kissing and stroking each other before Bruce sucks him back—his own beast bobbing up and down. Dallas eats Bruce's hole before fucking him from behind, the bottom then riding his dick, making it disappear ("Squeeze that cock!"). Bruce fucks him back—Dallas begging him to "keep going!" as they shoot, Bruce needing two hands to stroke his own load out.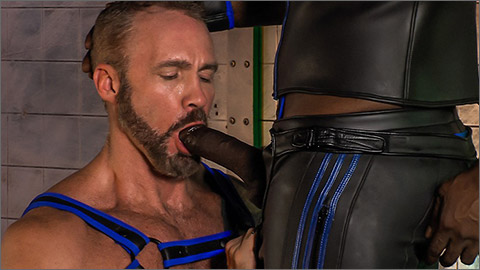 ICONS: Diesel Washington fucks Dallas Steele
Covered in neoprene and wearing motorcycle helmets, Dallas Steele and Diesel Washington rub each other's bodies—teasing each other as the tension builds. After sliding his helmet on Dallas's ass, Diesel reaches around and releases the muscle stud's throbber—then gets a whiff of it over his open visor. Diesel guides Dallas down, his huge dick soon choking the sucker. Dallas engulfs Diesel's balls as the side of his face gets dick whipped, spitting down on his own cock as he sucks ("Get it wet," moans Diesel as Dallas gasps). Diesel returns the favor, worshipping Dallas' steel rod. Diesel opens wide, huge strands of spit falling to the floor. With one strand still stuck to his face, Diesel moves his head in circles to wrap the spit around Dallas's cock again. Diesel beats his face with it, moaning as he sucks balls deep. Dallas fingers the spit and feeds it back to the breathless sucker. They kiss, then eat each other out. Diesel pins Dallas against the wall and fucks him hard, the rock-hard bottom then sitting down on the big dick—his massive legs working hard—before getting on his back. The two fire their wads, Diesel dousing the bottom's groin.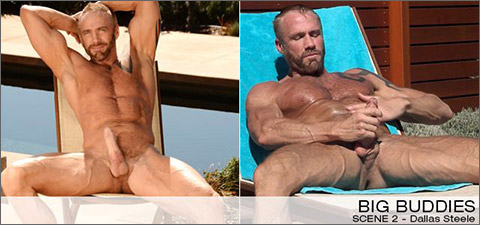 MINUTE MAN 47: BIG BUDDIES
Stepping out on the deck of his vacation home, muscle-ripped Dallas Steele greets the day with a beautiful view of Sonoma Valley. Dallas leisurely strolls down to the pool to check the temperature before heading to the outdoor shower on what promised to be gorgeous day. Stripping nude, Dallas' wet body glistens under the cool water. His thick cock still stiff with morning wood, Dallas takes his morning ritual to a nearby lounge chair and settles in for a sensuous morning stroke. His muscular body tightens as the deep stroking action hits its stride. Passionate moans fill the morning air as Dallas's scorching cock gushes with sweet relief.

BREAK A SWEAT: Hunter Marx & Dallas Steele flip-fuck
Running in the park in their red shorts, Hunter Marx and Dallas Steele cruise each other, quickly heading somewhere private. They take a dip in the pool, their hairy pecs rubbing against each other as they kiss. They continue to lock lips in the bedroom, their boners jutting up in the air. Hunter props up his big cock, showing it off as Dallas engulfs it. He sucks the tattooed stud back, opening wide to take in its thick base. They kiss, Dallas staring at the action in a mirror as he guides Hunter down again. Hunter puts his legs in the air, offering his hairy hole. Dallas buries his stubbly chin inside before fucking him, jacking Hunter as he slides in and out. "Fuck, that's tight!" smiles Dallas, impressed with Hunter's skills. "Yeah, squeeze it! I feel that!" Hunter sits down on the top, his own boner bobbing as he rides. He fucks Dallas back—stroking the bottom's hard cock at the same time. Hunter's ass muscles clench as he goes in deep, his cock pulsing up when it comes out of the bottom's hole—the two sweaty studs soon squirting.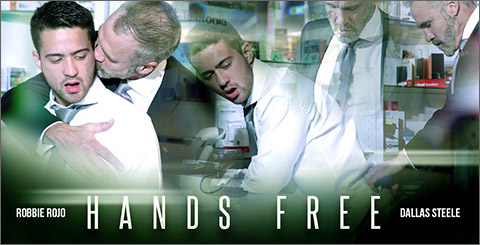 HANDS FREE
MENATPLAY goes Full Daddy-mode this week as bottom-boy Robbie Rojo gets a BIG dose of Silver Daddy Dallas Steele.
   Dallas clearly calls the shots here, so when he's feeling the horn all he has to do is snap his fingers and young Robbie will get on his knees. Unbeknownst to the customers in the shop Dallas is being deep-throated underneath the counter as he helps them out. Always the professional Dallas keeps a straight face as Robbie works on his rock-hard cock. But as soon as the customers walk out its no holds barred and Dallas pulls Robbie up from the floor an up on the shop counter to work his delicious, smooth hole with his massive tool. But he only has a few minutes between customers so Dallas gives it to him fully suit, and dick out (just who we like it!), pounding his sweet hole and using him like his very own fuck-boy. But don't think for one minute that Robbie doesn't enjoy being used by a hot, older man. Oh no, he LOVES every single deep, thrust! Begging to be fucked hard until he can't hold it any longer and shoots his load with Dallas' dick deep in his ass.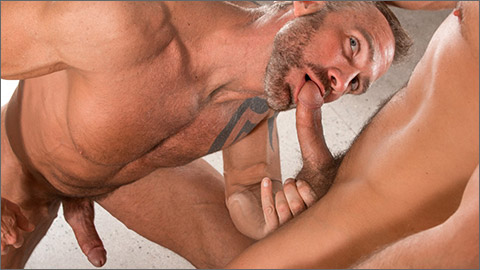 BLUE COLLAR BALLERS: DIRK CABER FUCKS DALLAS STEELE
Working up a sweat moving into Dirk Caber's new home, Dallas Steele wants to help his bud break the place in. "I've been watching that hardon all day!" smiles Dirk, who soon has a big Dallas dick in his mouth. "God you smell good!" smiles Dirk, who deep throats Dallas. Dirk's boner is set free, rubbing against Dallas's chest before diving into his lips. Dallas takes out Dirk's balls ("Pull those outta there!") and grips them as he sucks, the two slapping and spitting on each other as their verbal exchange heats up. Dirk feasts on Dallas's smooth hole, the action caught in the hallway mirror ("Fuckin' eat that ass! Get that tongue in there!"). They kiss, cocks poking each other, before Dallas eats Dirk, gripping the stud's cock as he tongues him. "Get a finger in there!" yells Dirk as Dallas slides one in, flashing a gorgeous smile. In the bedroom, Dallas offers his hole as Dirk fucks him hard and fast in two positions—Dirk gripping the bottom's cheeks to hammer him from below. Dallas returns the favor, pinning Dirk to the bed ("Nice and deep…you feel that cock?") as he reams his ass. "Fuck it out of me!" yells Dirk, soon soaked in cum.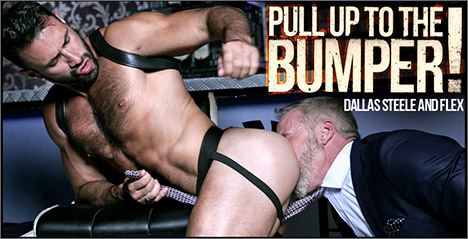 PULL UP TO THE BUMPER
We've imported a masculine, towering ex-anchor man from the U.S. to enjoy a selection of some of our finest European men. And this week you can witness his European initiation when we throw him right in at the deep end – literally, Flex's deep end.
   Former WBBH anchor, Jim Walker has reinvented himself and gives us "Dallas Steele" – 6ft 2" (188cm) of mighty muscled, silver fox. Having worked for 25 years as an anchor we knew he'd be well adjusted to working in full suit and tie so he was perfect for Menatplay. The power of his stature, coupled with the Menatplay sartorial styling make him an impeccable and worthy candidate to sample his pick of the best M.A.P. models.
   Meeting with one of our top men, Flex , seems to have brought out the philanthropist in Dallas . With money in his wallet and a suit across his broad muscled shoulders Dallas has an air of the high and mighty, and willingly flashes his money in-front of Flex's face to see how much it will take to get Flex to expose a little more of his flesh in front of Dallas. Like a trained puppy Dallas has Flex's perfect body down on his knees in-front of him without too much persuasion. Flex is eager to serve his new sugar daddy and laps up Dallas' juicy cock before rolling over and letting Dallas play with his beautiful big butt. But as compliant as Flex may seem, Dallas does thing with Flex's hole so good that Flex just doesn't want it to end so he reaches through his legs, grabs hold of the business mans hanging tie, pulling it up between his butt cheeks like a leash manoeuvring Dallas' mouth in to rim that hole over and over. Flex holds that tie tight to bury Dallas' face deep in to the mounds of muscle and to get his tongue right round the rim of his perfect hole. Flex's Bumper is well and truly serviced but Dallas has a bit of extra poking around to do with his cock making sure that he regains his rightful place as the mighty dominating imposing man that he is.
So next time you get chance to have a rimming from a hot business man, try out this Kama-Suit-ra position, and PULL him right UP TO THE BUMPER!!!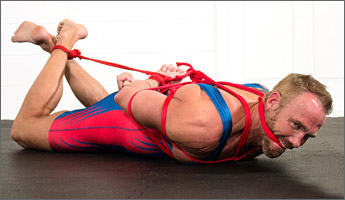 HOG TIED WRESTLER DALLAS STEELE
Bound jock Dallas Steele is tied up tightly in an extreme hog tie position on the mat. As this muscle daddy rolls around trying to get free his muscles bulge and his dick starts to grow underneath his sheer wrestling singlet. After much straining and by shear brute force he is finally able to break free.  Even though he is soaked in sweat he peels off his singlet and slowly milks the his load from his huge cock.
TITAN MEN
MEN AT PLAY
KRISTOFER WESTON'S BOUND JOCKS
COLT STUDIO
TitanMen Signs Dallas Steele continued:
Steele will also headline the first ever TitanLive Featured show Saturday November 7th at 7pm, PST. The 2 hour live show will feature Steele celebrating his birthday by interacting with fans, taking questions and culminating with solo toy show. The show is free for all members of TitanMen.com, and will be simulcast as PPV/PPM on TitanLive.com giving everyone a chance to spend the night with Dallas!
   "There are a handful of legendary companies in gay male porn and TitanMen is one of them." Steele said "TitanMen is a powerful brand that represents intense masculinity, sexuality, and style. TitanMen's production is tasteful, well illuminated, well photographed, and intensely sexual, without feeling sleazy and low end. The editing is crisp, well-paced and gives thoughtful consideration to what the viewer wants to see. The trailers are so well done, I'm often tempted to show my parents I'm so proud. I am honored to be a TitanMan."
   Dallas Steele's herculean muscles and big, beautiful nine-inch cut cock are uncommon, but what makes him even unique is his sophistication, work ethic, and social media presence. The witty and articulate scruffy daddy has already penned several popular articles on TitanMen.net exploring topics related to fitness, and the reality of working in the adult industry. Steele is another addition to TitanMen exclusive performers that now includes Jesse Jackman, Hunter Marx, Nick Prescott, Matthew Bosch, Eric Nero, Jay Bentley, Eddy Ceetee and another industry powerhouse soon to be announced.
"Dallas Steele is one of the most powerful performers to hit the industry in a long, long time," says Keith Webb, Vice President of Titan Media. "He's a quadruple threat: Movie-star handsome, built like a Greek god, huge cock that always stays rock hard, and he can deliver dialogue like a real actor! Dallas has an incredible career ahead of him, and we are extremely lucky to have him as part of the TitanMen family. After a 20+ year career as a TV anchorman and reporter, Dallas is ready to start a whole new chapter in his life, so watch out world here he cums!"
VIDEO ON-DEMAND: Dallas Steele @ AEBN SMUTJUNKIES THEATER
DVDs & ON-DEMAND: Dallas Steele @ TLA VIDEO
[Total: 102 Average: 3.7]