Blond Sexy American Gay Porn Star, Craig Slater
Known Aliases / aka: Gregory Tyler (Playgirl)
Years Active: 1990 – 1994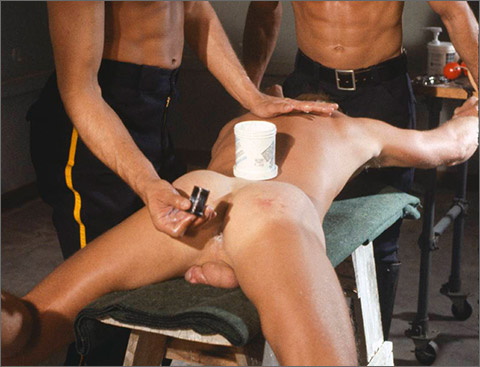 THE ABDUCTION: Chance Caldwell, Jason Ross and Matt Gunther fist and punish Craig Slater
Like Hogan, Craig Slater is abducted and brought before taskmaster Chance Caldwell. He orders two cronies – Jason Ross and Matt Gunther – to restrain Craig and search his ass for the film. The two henchmen find the film and punish Slater with candle wax and fill his ass with various sex toys before Matt Gunther fills it up with his fist.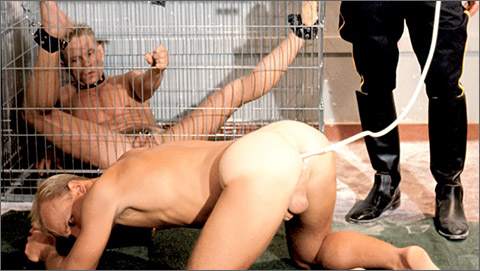 THE ABDUCTION: Scott Hogan and Troy Hunter work over Craig Slater
Taskmaster Troy Hunter works over captive Craig Slater as cage-bound and butt-plugged Scott Hogan watches from the shadows. After inserting and retrieving a set of anal beads, Troy injects Craig's ass with an enormity of red fluid. When Craig's ass is full, Troy makes Craig rim his round ass while Scott keeps pace in his cage…plunging his butt-plug in and out. Troy works his tits and jacks his thick cock as Craig warms his hole. Finally Troy shoots a thick load all over caged Scott Hogan.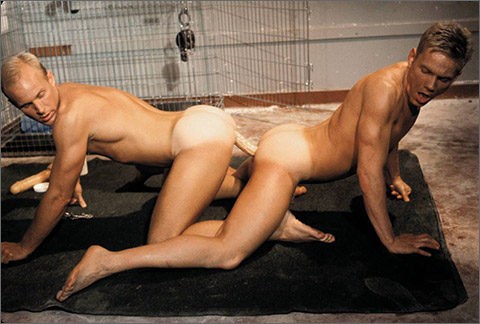 THE ABDUCTION: Craig Slater fists Scott Hogan
With finally a break from their captives, the abducted Craig Slater and Scott Hogan experiment with the double sided dildo in their cell. The two back their firm asses into each other in unison. Then Craig opens Scott's ass first with fingers, then his fist. Finally the two comrades jack their thick cocks until they cum in a side by side embrace.