Next Door Studios Blond College Hunk Gay Porn Star, Conan McGuire
Known Aliases / aka:
Years Active: 2016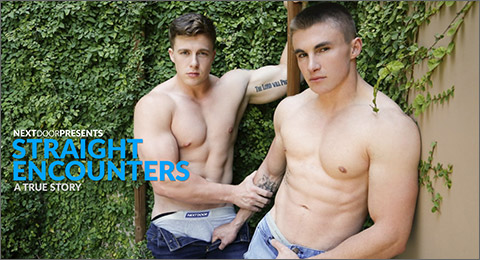 STRAIGHT ENCOUNTERS: A TRUE STORY
For straight newcomer Conan McGuire, the world of adult film is kind of a scary new frontier, but after talking with his old military buddy, Jake Davis, Conan decides that it's definitely something he's interested in. Jake, good friend that he is, is not about to let his buddy just enter into it blind, instead setting it up so that Conan's first scene could be with him. The pairing isn't out of left field either, as both guys express a mutual attraction for the other. Jake is enamored with Conan's sheer size- his massive legs, his broad shoulders and ripped chest- and Conan, for his part, thinks Jake has a really nice body and a great little ass. The stage is set for both of them, and Rocco is inclined to just let the camera roll and see what develops. Luckily for all of us, the chemistry between them is natural, as Conan manhandles Jake in every which way, using his strength to have his way with Jake's bubble butt, fucking him first from behind, then pile driving him, before flipping him over and fucking the cum out of his friend before pulling out and squeezing off his first gay load, but hopefully, not his last!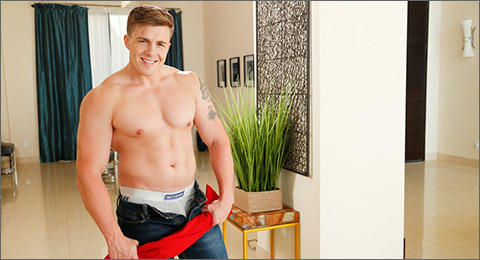 CONAN McGUIRE
This is the newest hunk on the block, Conan McGuire. He's handsome, very muscular, and equipped with a fat ol' cock. Conan is well in touch with his sexual nature and knows how to properly indulge his senses.
   Join Conan as he fattens up his dick on the couch. He's adding plenty of oil to that hard meat, enough to really crank that stiff shaft. Then, after some good, deep stroking, Conan is bringing you with him into the shower. This is his favorite place to masturbate. With warm water cascading down his body, Conan lets himself be taken by the ecstasy of the moment. He uses soapy suds while tugging to increase the intensely pleasurable sensations. And finally he lays on a seat in the shower and brings himself to climax, blowing his warm load. This isn't simply shower tug session…it's a sensuous ritual.
CLICK HERE TO GO TO HIS NEXT DOOR STUDIOS DETAILS