American Military Active Duty Amateur, Colton Phobos
Years Active: 2016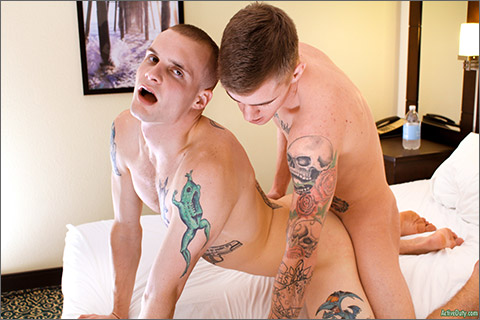 RYAN JORDAN FUCKS COLTON PHOBOS
Colton has been waiting to suck cock and fuck since he did his solo with us. He has a smooth white ass with a beautiful opening that Ryan can't ignore. Ryan is a smaller man with a long dick that with some effort goes deep into Colton.
   Colton can't stop staring into the camera and constantly makes eye contact with it as he is sucking cock or as he is being fucked deep and hard by Ryan. Ryan slowly inserts his big dick for the first time into Colton and its breath taking as you can hear the moans from Colton as Ryan is pushing ever so slowly for the first time into Colton's virgin ass.
   Finally after all the deep pounding that Ryan gives Colton they take a break and lay back stroking their cocks and wait for it because this is a rarity. They both blast their nuts at the same exact time; luckily for us Claude has the skills to capture it all in one glorious shot.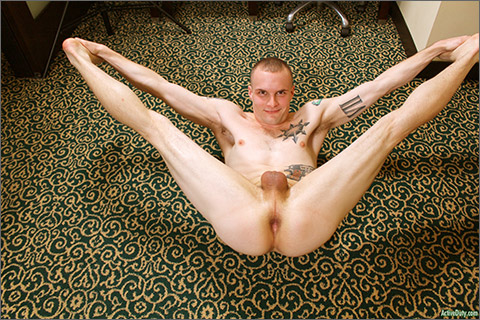 COLTON PHOBOS
Colton isn't shy around the camera and he gives it an exotic I want to fuck you look which at some points almost sent me over the edge. His skin is smooth, creamy and he has some decorative ink to mix things up.
   Claude planted a dildo next to him to see if he would use it and sure enough Colton goes for it and lubes up his ass so he can gently insert it deep inside. He might have done it only for a short period of time but that was only because he was going to cum way to soon. He loves to show off his ass and Claude is no stranger with the extreme close ups to show the beauty of a nice hole.
   Colton is a tall man as you watch him stretched out on the couch stroking his cock and rubbing his balls. You can see his firm strong thighs tense up as he pulls and tugs on his balls. His slight moans keep you edging as he stares so quietly into the camera making sure you are watching his every move.