Ripped Muscle No Body Fat American Gay Porn Star, Clint Benedict
Known Aliases / aka:
Years Active: 1993 – 1995

THE ABDUCTION – REDEMPTION: Michael D'Amours, Clint Benedict, Devon Rexman and Chuck Barron manhandle & fuck Tom Katt
Drunken guard Tom Katt passes out in the slave's bunk room and these abused and dirty prisoners jump Tom and force him to suck Michael D'Amours cock while boyish Chuck Barron eats and fingers Tom's ass. Michael pushes his plunger in Tom's ample backside, before everyone drenches the hapless victim with their cum.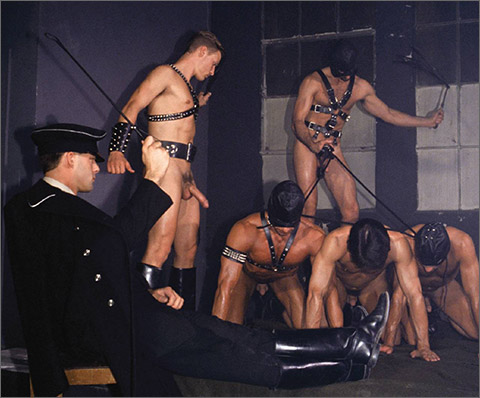 THE ABDUCTION – REDEMPTION: Scott Davis & Cliff Parker train slaves Clint Benedict, Devon Rexman; Trent Reed fucks Randal Maxxon
Zak Spears oversees three blindfolded and leashed slaves – Clint Benedict, Devon Rexman and Chuck Barron – as they are flogged and spanked by henchmen Cliff Parker and Scott Davis…made to lick Colonel Spears boots for his own pleasure. Zak orders leather-bound muslestud Trent Reed to fuck hungry slave Randall Maxxon, who gets it rough and hard. Trent shows no mercy as evil commandant Zak eggs him on with brutal and dirty commands before directing the relentless fucker to shoot over Randall's ass.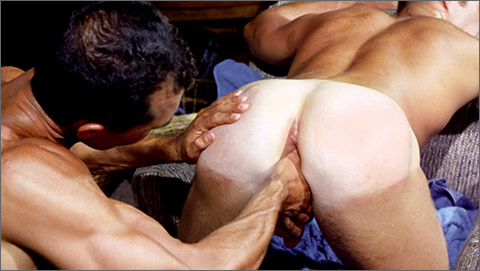 HOUSE RULES: Clint Benedict fucks John Wood
Longtime buddies, John and Clint get it on over a chair and when Clint plunges John's spit-lubed red-slapped ass, we get to see John's dick long enough for him to spill his cum.