Blond BelAmi Kinky Angel Czech Gay Porn Star, Christian Lundgren
Years Active: 2015 – 2016
BEL AMI INFO:
Blond, tall and handsome Christian's stage name was chosen to loosely connect him with Dolph Lambert. In the beginning he was quite reluctant to shoot, but later became very enthusiastic and ambitious to become a 1st class model and we have no reason to believe that he won't achieve that goal. Contrary to Helmut and Jerome he is much more serious and has a bit of a missionary streak to his personality, reading too many self help books and trying to spread his book found positive energy around, which sometimes annoys the other boys who get theirs from a much more innate place. He is quickly becoming the 4th 'Musketeer' in our team and once he starts to exercise some more we think that he may become a replacement for Kris Evans.
Zodiac: Virgo
Height: 190
Weight: 90
Hair color: Blond
Eye color: Gray
Dick size: 16.5
Dick type: Average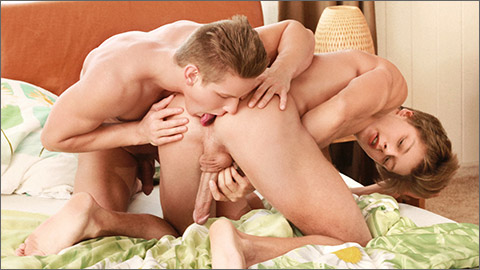 CHRISTIAN LUNDGREN & ROALD EKBERG
It's a good hair day for both our blond studs in today's update, with Christian offering advice to Roald about how to make the most of his new hairstyle. The mutual admiration does not stop there of course as they move down each other's bodies, each adfmiring the perfection of the other as they go.
   As beautiful as they both are though it is how they express this admiration during sex that is the hottest thing. Christian is a natural lover, catering to the every need of his partner and is amply rewarded by Roald for his efforts. If 'artistic lovemaking' were an Olympic sport, these 2 would be gold medalists for sure.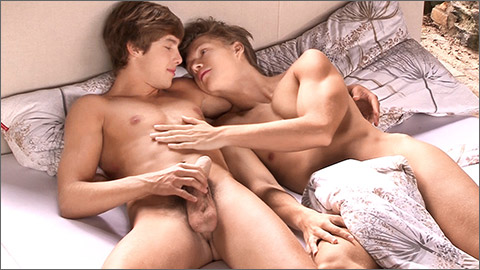 KINKY ANGELS ISSUE 38: HELMUT AND CHRISTIAN PT 1 & 2
Our sexual swashbuckling Musketeers are on a quest of find their own D'Artagnan.
They're not sure if Christian Lundergren has what it takes, but each of them wish to evaluate his "sword" play. Helmut Huxley is the first to test his mettle
   It's all for Christian, and Christian for all, as our ambitious protégé bravely flip flops which each of the Musketeers.
Christian's desire to please is palpable as he and Helmut parry and thrust and impale each other in the most pleasurable ways.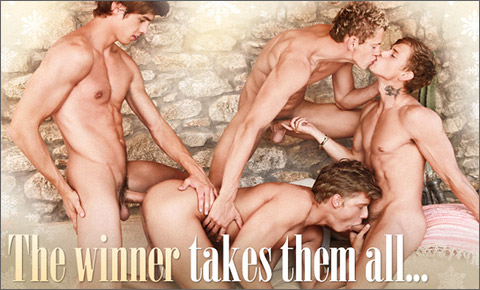 KINKY ANGELS ISSUE 35: THE WINNER TAKES THEM ALL
We observed Jerome seducing Christian followed by Helmut seducing Kevin. Now enjoy all four of them together. It is becoming obvious that Christian enjoys bottoming as much as Marcel. The question remains: Is he fit to become our fourth Musketeer?
GD's note: Well, he's no D'Artagnan. But with a fleur-de-lis tattooed to his shoulder he may become Milady De Winter. He certainly appears to be "the lady" of December.
BEL AMI
BEL AMI'S KINKY ANGELS
CLICK HERE TO GO TO HIS BEL AMI DETAILS