American Military Active Duty Amateur, Christian
Years Active: 2015
ACTIVE DUTY / DINK FLAMINGO INFO:
This is just a sweet, juicy recruit, ripe for the pickin'! Meet Christian, our freshest soldier for your consideration. Christian is a fine young man with a very special sparkle in his eyes. Now I know he's coming in for the first time, but I think it's safe to say that Christian has lots of potential. He seems to be willing, pliable, and all wrapped together in a stunning, well-toned package.
   Claude, with his signature charm, gets Christian to relax and pull his nicely shaped dick out and really get comfortable quickly in front of the camera. When Christian turns over and goes to his knees, we get to have a real nice, tight look at Christian's exquisite hole…WOW! It's the kind of ass that makes your dick swell to just think about. Claude directs Christian to push his oily dick back and up, and we see that Christian could certainly fuck himself…hmmm, perhaps another Christian solo might be in order sooner than later!
   Christian goes back to some intense stroking, before returning to more ass display. This is an area where I think Claude shines. He gets Christian to spread his cheeks and give us another taste of that tight, pink hole. And I can tell it really gets Christian excited.
   Get in there with Claude and experience this hot new recruit. I think you might particularly enjoy Christian's very sexy immediate lead-up to eruption. He gets going with these incredible hip thrusts that drove me RIGHT over the top!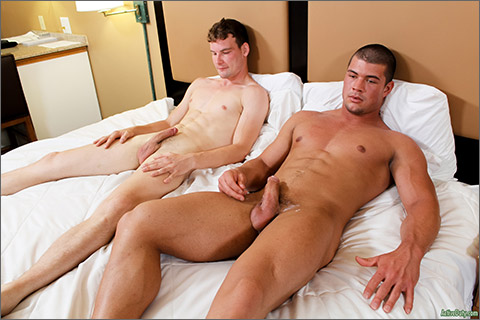 BRAD BANKS FUCKS CHRISTIAN
This time we have two young men paired together, both coming up through our Active Duty recruitment very fresh. This is Brad and Christian. Together, these boys are absolutely firing hot.
   Brad sensed Christian's reticence, but helped him ease into the tub, so to speak. Brad invites Christian to taste his hard dick. Just after they fire up their hard-ons, Christian dives right in, fervently slurping big, sexy Brad's hard cock. Once that awkward ice starts melting, Christian is a starved, fiend-for-dick! Boy, he knows how to properly service a large erection in need. Watch the way he goes to town!
   It's not long before Christian is easing down onto Brad's thick dong and working his ass up to a steady, hard bounce. Watching Brad's face, I can see he's being turned on in ways he certainly did not expect. When Brad slides that hard dick into Christian from behind, he does it slow and easy. We get to watch that perfect body gradually work up to a strong, hard pounding…I know it's just what Christian had been waiting for. Once Brad goes hands-off-the-cock, he really lets his power open up. Take a look at that throbbing dick work! Claude, on top of his game as usual, gets right into the mix, getting a great, tight underneath angle for us. We see awesome, hard fucking from underneath, with Brad's face peeking around his dick at us, looking intensely focus on the passion.
   Eventually, Brad and Christian settle back down on the bed together, just how they started this little adventure for today. See what we're all about here as these two push themselves outside of their comfort zones and experience something special, together in the line of Duty.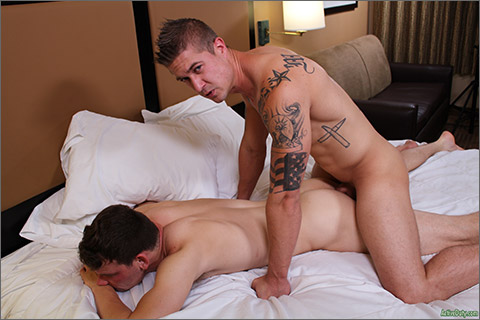 MICHAEL FUCKS CHRISTIAN
Well, thanks to Claude's very special charm, we've been blessed with another appearance from Christian. You might remember how enamored I was with Christian's beautiful, tight hole. I said then that I was hoping he would be back, and paired up with someone aggressive, who might help Christian start to come out of his shell a bit. What a winning match up! When Michael's big, strong cock came out to play, Christian couldn't hold himself back. He pounced on that juicy boner like a cock-starved animal!
   Michael likes to show these fresh, timid recruits that he's boss right from the get go. And I'll be damned if they don't take orders well every time. We see Michael here tell Christian plainly but sternly, 'Suck my cock.' Christian was already salivating! He wraps those nervous lips around Michael's meaty cock and takes it deep, like a soldier willing to accommodate any request from such a dominant, hungry fellow recruit.
   After we have the privilege of seeing Christian fucked for a good little while, Claude gets him to lay on his belly and spread that tasty ass apart. He sure shows us the goods. Claude gets nice and tight, and we get another good look at his inviting, eager hole. Yummy! It's just after that when we see Michael really get serious and deliver a nice, hard fucking. I love the sounds Christian lets out. You can tell he's struggling to take such a large dick. This is a wonderful opportunity to witness some excellent progress. Kick back and savor these moments that are sure to prove instrumental in the personal development of both these fine recruits!