Handsome American Gymnast Gay Porn Star, Chip Tanner
Known Aliases / aka:
Years Active: 2010 – 2015
PARAGON MEN INFO:
Chip Tanner ran off and joined the circus! No clowning! Who doesn't love a big top? This stud is a trained contortionist – who takes direction. He looks up to dominant women and a memorable encounter was with a silicone-tittied fembot type who ordered him to suck himself. So he wrapped his stocky hot legs around his neck and went to town!
   The beauty of those gilded abs, tiny nipples and fat uncut cock with the golden pubes (in an otherwise hairless terrain) was discovered doing stretching videos on Youtube. That landed Chip in porn (Randy Blue, Divine Bitches) and as to the future, who knows? He's in the here and now baby. And wowza – this 5'5" pocket rocket that guarantees explosion!
   With a face that morphs between Disney prince and villain, Chip twists his features to suit your fancy. So when he's good he's very, very good when he's bad he's not just better – he's working!
   If he had a superpower it would be to shoot neverneding loads. He uses this powers strategecially in our penthouse – kaboom, let's hear it for circus freaks!
RANDY BLUE INFO:
When you meet someone and your first impression is 'WOW' then you know you have a good thing going. Chip Tanner comes at you like a bouncing disco ball. First you're hit with his adorable face, youthful yet wise. Then his sexy smooth body which, through years of gymnastics, is honed to tight muscular perfection. Then his energy, which you can't help but get sucked into. You feel your blood pumping just being near him because he's so energetic and fun that you automatically want to catch up with him. And once he knows he's got you, you're in for the ride of your life. With all of his gymnastics training he can bend his bodies in ways you can't even imagine. And when he tosses his legs up over his head and you see that hungry hole staring at you, your mind can only go to one place. When he made his first appearance on Randy Blue Live he made quite an impression on our audience and they kept talking about him all the way into the next show. I know you guys are going to love this video and I can't wait to see what else he can do when I match him up with some of our other guys.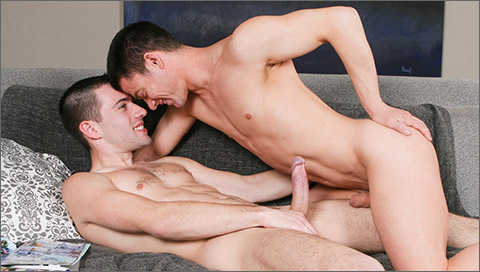 GAYMER ZONE
Dylan Knight and his roommate Chip Tanner don't have much in common besides video games. But when Dylan finds out Chip is gay, video game time becomes a lot more exciting… and arousing. When his confidence is high after finally beating Chip at their favorite game, Dylan decides to go for it and you'll be glad you get to see what happens when he does.
PRIDE STUDIOS
RANDY BLUE
NEXT DOOR STUDIOS
MEN.COM
CLICK HERE TO GO TO HIS PRIDE STUDIOS DETAILS