Corbin Fisher Amateur College Man, Chase
Known Aliases: Shawn at Active Duty, Glen at Sean Cody
Years Active: 2012 – 2016
CORBIN FISHER INFO:
Age: 27
Waist: 30
Eyes: Hazel
Height: 5′ 7″
Weight: 163 lbs
Hair: Dirty Blond
Build: Athletic
Cock: 8.0″ cut
Shoe: 9.5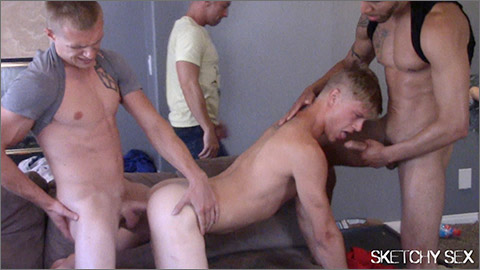 FEEN
On my hands and knees by the front door. Slobbering cum down my chin and begging strangers for another load. One dick isn't enough! I need two in my ass and another one face fucking me till I gag. Dump your warm load as deep into me as you can. I fucking can't get enough of this shit. Just fuck me all day and night. I don't care who you are just pound my guts out.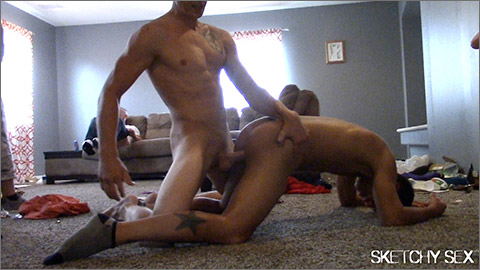 RANDOM LOADS
I crawl around the apartment. These random dudes coming in and out will just use me like a piece of meat. Cum dripping out of my two holes. My ass doesn't stop getting pounded. Dicks shoved in my ass and down my throat. I'll keep doing this until I pass out from exhaustion. Its not fun. Its an addiction.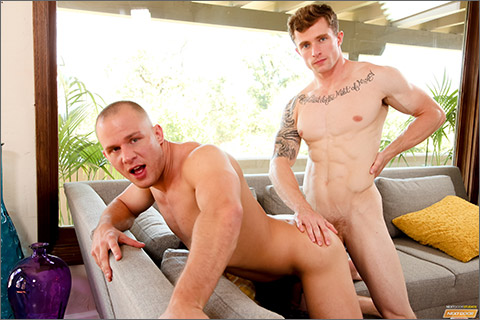 CASTING AUDITION: AUSTIN ANDREWS
Markie More is back for the business in another casting call audition, and this time he's got southern stud at his disposal. Austin Andrews is willing, able, and carrying the right tool to do the job, so Markie wastes no time getting to know him better. Peeling his clothes off, Austin reveals a massive chest and ripped arms, not to mention a great cock and an eager attitude, so Markie goes down on him immediately, as Austin quickly realizes how it's going down. Austin returns the favor, giving Markie enthusiastic head as he whips out the camera for your POV viewing pleasure. But Markie is here to see if Austin can go the full distance, so he bends the newbie over and begins to eat him out, getting Austin's bubble butt ready for a nice pounding. Austin takes it like a champ, spreading his cheeks and letting Markie get all the way inside him, as Markie runs his hands up Austin's ripped back. Austin decides he wants his turn, and so the two guys switch it up, and Austin finishes by showing Markie that two can play this game, proving his dick game is up to standards, before wetting Markie with a healthy load as Markie strokes himself off to completion. Laying there covered in cum, Markie has to admit that Austin has what it takes, but will it be enough to bring him back in the future? You decide?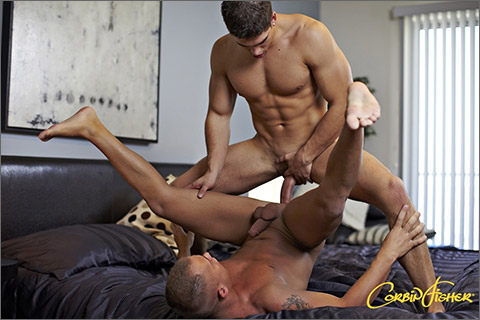 AIDEN HAMMERS CHASE
While hot bodybuilder Aiden gets a lot of attention for his ability to blast out multiple cum shots while getting fucked, our gentle giant is also an incredible top. And Chase finds that out first hand when he gets to take every inch of Aiden!
   These two muscular studs kiss, lick, suck, rim and fuck like there's no tomorrow! Of course, given the way Aiden fucks Chase fast and furiously, there may not be a tomorrow for Chase's ass! But Chase manages to open up for Aiden, who hammers his tight hole with his gigantic tool!
   Chase shoots his load onto his stomach and Aiden shoots his onto Chase's ass and then fucks that creamy load right into Chase's hole!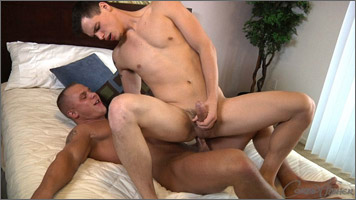 CHASE CREAMS ON PHILIP
Philip tells me time and again that he likes to be the top. But he has such incredible orgasms when he gets pounded, I can't resist having someone fuck him all the time!
   And since Cameron just fucked Chase in front of his fiancee, Olivia … so I figured it was time to let Chase slide his big dick into someone else for a change … so Philip got elected!
   Of course, it's not like Philip doesn't love it. Our new Dean's Lister is versatile, but he does seem to cum a little more intensely when he gets fucked.
   He and Chase prove to have good chemistry together. Chase sucks Philip's nipples and slides his chest against Philip's. "You're so sexy," Philip says as Chase kisses Philip's dick through his underwear.
   The guys 69 each other. Chase goes all the way down on Philip. Chase balls hang low against Philip's face as he swallows Chase's cock. Chase spits on Philip's ass and fingers it. Chase sucks Philip while fingering him.
   Chase tells Philip to finger him, too. Philip keeps sucking Chase's dick. Chase has Philip climb on top of his big cock.
   Philip slides down on Chase's dick. It takes even the experienced Philip a minute to get all the way down that thick cock! Once he's there, he rides with gusto! Philip's dick bounces up and down as he gets fucked.
   Chase drills up into Philip. Philip moves onto his side. Chase pounds him from behind. Philip tells him how good it feels. Chase varies his speed, fucking Philip fast, then slow.
   With one of Philip's legs over his shoulder, Chase pounds Philip harder. "I want you to fucking cum," Philip jerks his cock furiously. Philip shoots his load all over his stomach!
   Chase keeps pumping his dick into Philip. He pulls out and blasts his thick load of cum all over Philip, drenching him!
   I knew I was right! Philip just needs to listen to me all the time!
SKETCHY SEX
CORBIN FISHER
NEXT DOOR STUDIOS
ACTIVE DUTY / DINK FLAMINGO