Staxus Czech Twink Gay Porn Star, Chad Johnstone
Known Aliases: Pedro Donatello
Years Active: 2016
STAXUS INFO:
His active interest in history has led young Chad to visit several famous battlefields, including Wisternitz and Austerlitz. In his spare time he also likes to attend battle re-enactments; although right now, we're pleased to tell you, it's his interest in hard cock and cute twink asses that's taking up most of his energies. Long may that situation continue …
Model Stats:
Date of birth: 9th October 1996
Height: 5'10" / 177 cm
Cock size: 6.5″ / 17cm
Ethnicity: Czech
Role: Top
Interesting Fact:
Chad is a big fan of wrestling and has attended the Greco-Roman Wrestling Championships – admittedly as a visitor, not a contender!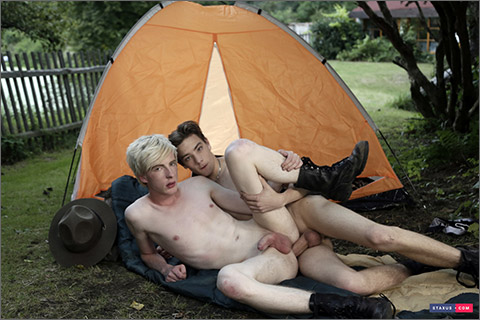 CAMP FUCKERS: ROVING SCOUT TRACKS DOWN HIS FUCK-BUDDY FOR A HARD RAW RIDE
Some guys will cross over hell and high water to get to the man that they love – including, it seems, Mike Branco, who quite literally trundles through a forest to find fellow scout, Chad Johnstone, waiting for him outside their tent. Once safely united, of course, they immediately get down to the very serious business of cementing their affections; and within minutes both lads are stripped down to the waist and exchanging kisses. That, unsurprisingly enough, is but a foretaste of the hardcore action to come.
   Before long, Johnstone has unbuttoned his pal's trousers and is greedily feasting on the fellow's now badly swollen shaft; before Branco promptly returns the compliment by slurping on Johnstone's completely hairless joystick. Indeed, both these boys clearly have a deep-seated appetite for fellatio, finally positioning themselves top-to-toe so that they can indulge in their passion simultaneously. Given what we already know about these two young fuckers, however, it doesn't come as too much of a surprise when they eventually go one stage further in their exploration of each other's bodies; with Johnstone finally thrusting that handsome, uncut shaft of his deep into Branco's divine little fuck-hole.
   It's a move that pitches this outdoor encounter up to whole new level; not least of all because it's not long before the insatiable little blond is soon riding his mate's dick reverse-cowboy style for maximum effect. No fucking wonder that the young explorer is soon erupting for all he's worth; having very enthusiastically creamed Johnstone to a similarly sticky conclusion!
CLICK HERE TO GO TO HIS STAXUS DETAILS