ChaosMen Latin Amateur Gay Porn Guy, Carmine
Known Aliases:
Years Active: 2012; 2016
BRIAN OCKERT / CHAOS MEN INFO:
Start Age: 20
Debuted: April 23, 2012
Height: 5'5″
Weight: 135 lbs
Cock: 9″ Uncut
Carmine is an adorable Puerto Rican twink. He has the PR Dick action going. It is big on it's own, but I think tends to look massive on his small frame.
   He likes guys of all ages, but leans for the more Mature crowd. He likes the Daddies! So a little bit of flirting from both of us going on shooting his photos and videos. I love them Latin guys and he sure did like my mature looks.
   He likes to bottom, but he doesn't consider himself a bottom, but a "Pleaser." Whatever Daddy wants…Daddy gets!
   Carmine has a dirty streak in him. I think ass eating, piss play, creampie, and dirty talk all excite him.
   I loved working with him, and though I am nervous he will not respond well with one of the straight guys who is more interested in using the porn on set for them to watch. Iit throws the gay guys when they realize the dude really isn't into them, and tend to take it personally. Vander and Patrick are some of the few gay guys who know they have to create their own chemistry if it isn't there. So we will see how Carmine does, but I might toss a few Daddies at him to start with!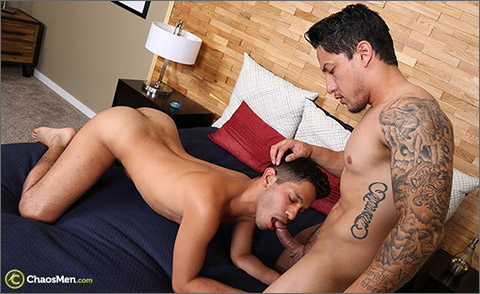 SERVICED: CARMINE & LEDGER
I wanted to pair Ledger with Carmine so we could have a hot Latin suckfest!
   Well, Carmine does all the sucking is this suckfest, but we do get Ledger to stroke Carmine's 9″ uncut cock for a bit. Ledger came sooo close to sucking on it, but alas, it looks like we will have to move through his limits.
   They both have hot steamy energy, and based on Ledger's vibe, you can tell he is going to be a Bossy Top. Although, he sure did enjoy getting is ass rimmed!
   Ledger fucks Carmines face, and then jerks a giant load into Carmine's open mouth.
   I love Ledger's rough trade look, and after doing this video very successfully, I am pretty sure he will jump easily into being a full-on performer.
CLICK HERE TO GO TO HIS CHAOSMEN BIO PAGE