Blond Handsome Surge Studios Falcon Studios American Gay Porn Star, Butch Taylor
Years Active: 1989 – 1992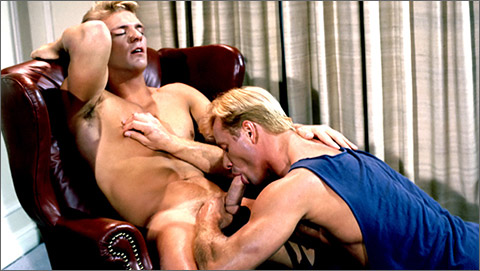 MADE FOR YOU (FVP-063): Rex Chandler fucks Butch Taylor
Butch Taylor enjoys his breakfast while pilot roommate Joe Cade (non-sexual role) leaves for work. Butch goes for walk in the park and runs into blond beefy stud Rex Chandler. Butch brings Rex home for a workout. Rex trips from his jock and shorts, then starts working on Butch, massaging and soothing his tight muscled form. Aroused, Butch kneels between Rex's solid muscular thighs, engulfing his enormous mouthwatering cock from tip to base. Eagerly sucking up and down, Rex forces steve to take it deeper and deeper. Moving out to fht echair and onto the bed, Rex fucks the hell out of Butch's ass. Butch begs for more as Rex's muscular pelvis slams up against his irresistible bubble butt. Rex and Butch exchinge moans of pleasure with each stroke, bringing Butch ever closer to the edge, finally creaming his biggest load all over the sheets. Rex continues grinding and pumping his sizzling meat and with one last mighty plunge, he withdraws — soaking Butch with his load.