Brazilian Lebanese Isreali Gay Porn Star, Bruno Bernal
Years Active: 2014 – 2017
TWITTER @BrunoBernalXXX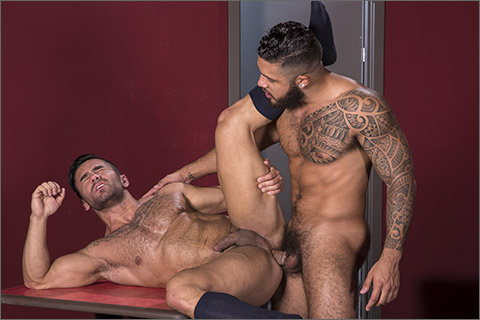 HIGH N' TIGHT: Ryan Cruz fucks Bruno Bernal
As Ryan Cruz sweeps the floor, Bruno Bernal sits in the 'High n' Tight' barbershop's waiting area, fixated on Ryan's ass. When Ryan comes over to ask Bruno what he's looking for, it's clear that what Bruno really wants is Ryan. As they make out, Bruno unbuttons Ryan's jeans and grasps Ryan's thick cock. Pushing Bruno down on the couch, Ryan pulls down Bruno's pants and dives face first into his round, firm ass. As Ryan grinds his beard into Bruno's crack, Bruno helps by fingering his asshole with Ryan's spit. Getting down on his knees, Bruno wraps his lips around Ryan's uncut cock. Ryan puts his hands behind his head, showing off his furry pits, bulging biceps, and pierced nipples. Bruno coats Ryan's cock in a thick layer of spit, prepping to feel it inside him. When Ryan lies down on the ground, Bruno sits down on his cock. Bruno's muscular legs and six-pack abs flex as he grinds Ryan's cock deeper and deeper into his ass. Ramping up the intensity, Ryan fucks Bruno on a table that's at just the right height. Bruno tosses his left leg over Ryan's shoulder, and Ryan pummels Bruno with an intense onslaught of thrusting. Bruno jerks his cock until he busts his nut all over his torso. Leaning back, Bruno hangs his head off the edge of the table and opens his mouth to receive Ryan's load. With his cock just inches above Bruno's open mouth, Ryan strokes out a massive blast of cum: multiple giant ropes that drench Bruno's face and chest.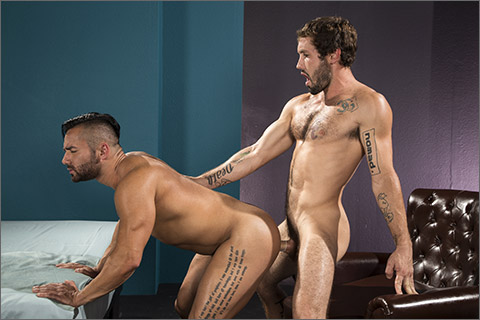 OBJECT OF DESIRE: Jeff Powers fucks Bruno Bernal
Jeff Powers is a sporty jock from the East Coast who likes to take an "active" role. Bruno Bernal is a furry, Brazilian hunk who loves to get his brains fucked out by tattooed studs. Since they're a perfect match for each other, they can't wait to get started. Beginning with deep kissing, Bruno quickly moves so swallow Jeff's lengthy, hard cock. The veins in Jeff's cock stand out as Bruno gets it wet with spit. With Jeff seated in a sturdy chair, Bruno lowers himself down on Jeff's cock, using his thick legs to go for an intense ride. Jeff stands Bruno up on his feet and fucks him from behind, and Bruno bends forward to take Jeff's dick as deep as possible. Jeff's lean, hairy body drips with sweat as he pounds the hell out of Bruno's juicy booty. Laying flat on his back, Bruno puts a leg in the air as Jeff pile-drives his cock into Bruno's hole. As Jeff picks up speed, Bruno strokes his cock until he ejaculates with a burst of cum across his hard abs. Jeff shoots a series of enormous ropes that land right on Bruno's cock and balls.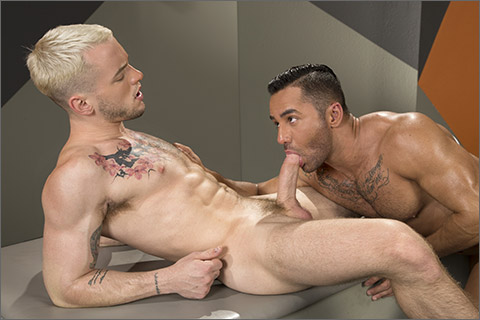 STATE OF AROUSAL: Colton Grey fucks Bruno Bernal
Their tongues intertwined, Colton Grey and Bruno Bernal let go of their inhibitions and submit to the pull of their heightened sexual arousal. Colton's huge cock and heavy balls are irresistible to Bruno, who falls on his knees and inhales Colton's throbbing member. Colton leans back, savoring the sensation and showing off his six pack abs and colorful tattoo. Reaching for Bruno's ass, Colton works a finger into Bruno's hole, foreshadowing what is to come. Colton repositions himself behind Bruno and shoves his face into Bruno's ass. As he works his spit into Bruno's hole, he tugs on Bruno's balls to increase the sensations. With Bruno's hole lubed up, it's time for them to raise the stakes. Bruno sits on Colton's cock and goes for a hell of a ride, using his thick, muscular legs to raise and lower himself on Colton's girthy tool. As he starts thrusting up into Bruno from below, Colton's big balls bounce and slap against Bruno's ass. Moving to missionary position, Bruno puts his left leg up in the air so Colton can pummel his hole with maximum penetration. The intensity of their sexual chemistry increases as their fucking becomes more and more energetic. With Colton pounding his g-spot, Bruno strokes out a thick load that splashes across his leg. Grabbing his cock, Colton lets loose with a massive stream of cum that covers Bruno's torso.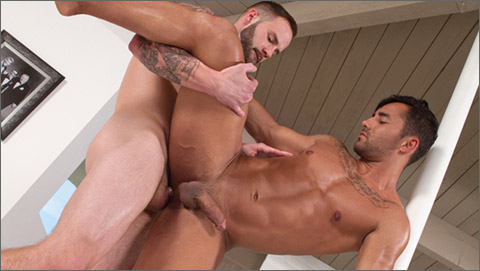 HEATED – PART ONE: Chris Bines fucks Bruno Bernal
After a quick cool-off in the pool, Chris Bines and Bruno Bernal are too 'Heated' to make it to the bedroom, so they ditch their clothes in the hall and make out on the spot. Wandering hands find lengthy cocks and nipples to tease. Bruno dedicates his lips and tongue to Chris' cock and nuts, eliciting groans, but he saves one hand to attend his own ferociously throbbing rod. Chris pulls Bruno to his feet and becomes the one to get on his knees. Grabbing Chris' head, Bruno face fucks him hard. Chris buries his face in Bruno's bubble-butt and jabs wetly with his tongue. Standing behind him, Chris hoists Bruno's leg high in and plunges his cock in. Bruno jacks his dick and squeezes Chris' pecs with each crippling thrust. Switching positions, pre-cum from Chris' swinging cock spatters Bruno's torso. Separating, they lie on the floor head-to-toe and jack out thick loads.

HEATED – PART ONE: Sebastian Kross fucks Bruno Bernal
Emerging from the swimming pool, Bruno Bernal finds himself nose-to-crotch with inked and ripped Sebastian Kross. The bulge in Sebastian's trunks suggests sexual intentions. They make out at the edge of the pool, with the sunlight glinting off their bright tatts. Bruno whets his appetite by licking the perspiration off of Sebastian's hard body, then he takes charge of Sebastian's thick cock like he owns it. Lots of spit helps him swallow the entire huge shaft and Bruno uses his tongue to make Sebastian's balls jump in their sac. Kneeling on the pool deck, Bruno offers his smooth, delicious ass. Sebastian adds his saliva to the droplets of sweat and pool water dripping down the crack, then he gets leverage to spear Bruno's hole. They switch to a sit-fuck, which puts Bruno in charge. He runs the palm of his hand across Sebastian's hard pecs and ridged abs as he bounces. Sebastian picks up the pace, resulting in a shower of cum that douses Bruno's face and neck. He rubs it in like suntan lotion, jacking out his load onto Sebastian's spent body.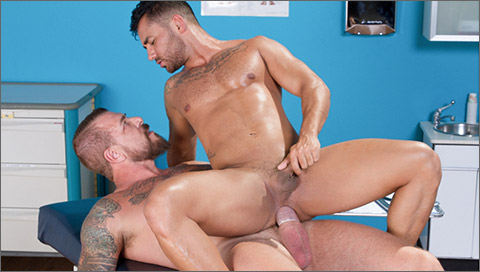 DEEP EXAMINATION: Rocco Steele fucks Bruno Bernal
Gymnast-bodied, Brazilian stud Bruno Bernal has come to see Dr. Rocco Steele for a check-up. Bruno is concerned that he cannot take his boyfriends big dick so Rocco decides to put Bruno's hole to the test. Rocco reveals his thick, hung cock and Bruno lays back on the table to take Rocco's meat down his throat. After probing Bruno's tonsils with his cock, Dr. Rocco bends his patient over and spends extra time inspecting Bruno's willing hole with his mouth. A huge fan of hot ass, Dr. Rocco rims Bruno thoroughly before impaling him with his massive, thick 10-incher. Surprisingly, Bruno takes every last inch of Rocco. After riding Rocco's monstrous cock, Bruno is on his back again taking the doctor's hefty surgical tool up his hole as he jacks out a load onto his abs. Rocco feeds Bruno his own spunk and bends him over once more and erupts a shooting wad onto Bruno's ass cheek covering it in warm cum.

TEACHERS PET
Porn Legend Adam Champ makes his return to the porn spotlight this week, and he does it in style – dressed in full suit and tie. Adam is the hot, masculine professor who we've all lusted over, just like Bruno Bernal lusts over him every day in class dreaming of crawling under his desk and sucking him off till he swallows his load. And finally today he gets to live out his fantasy and get used and abused by his hunky professor. Adam gets in full Muscle Daddy mode, as he slaps, gags, and pounds the young Bruno to within an inch of his life but the sexy bottom takes it like a pro – begging him 'Fuck me Mr Champ' as he gets slammed over the desk. The subservient pupil finally gets on his knees to take his teachers hot load all over his face and licking the last drops of tasty cum from his dick.
RAGING STALLION
FALCON STUDIOS
HOT HOUSE
ALPHAMALES
UK HOT JOCKS
EUROCREME
BULLDOG PIT
MEN AT PLAY
TEACHERS PET
MICKEY TAYLOR & BRUNO BERNAL
JORDAN FOX, JIMY FIX & BRUNO BERNAL
BRUNO BERNAL & ANDRO MAAS
DANIEL JOHNSON MAKES BRUNO BERNAL CUM MORE THAN ONCE!
BRUNO BERNAL & DANIEL JOHNSON
BRUNO BERNAL BLAKE MASON SOLO
HIM – PART 4
RECONCILE
HARD KNOX – PART 1
THE LAW OF MEN – PART 2
HUNG, SUITED & HORNY!
I, SPY – BEHIND THE SCENES
STUDS CAUGHT IN THE ACT
DARIUS FERDYNAND FUCKS BRUNO BERNAL
BRUNO BERNAL FUCKS PEDRO LUCAS
LOCKER JOCK: BRUNO BERNAL
SEX ON CARS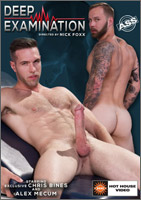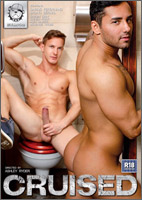 HEATED – PART ONE (FVP-257)
DEEP EXAMINATION
WORSHIPPED
RUINED
CRUISED
BROKEN
I, SPY
ENFORCEMENT